Chelsea welcome Lille OSC to Stamford Bridge in the UEFA Champions League round of 16 on Tuesday (catch the action on CBS and Paramount+), and Thomas Tuchel's men will be keen to avoid a potential banana skin as they seek to reach the quarterfinals.
The Blues continue to win games but are short of the form which saw them crowned European champions last season while Les Dogues are looking for relief away from their Ligue 1 struggles which could mean that this is their last continental outing for a while.
Christian Pulisic and Timothy Weah are USMNT international teammates while the latter also spent time with Tuchel and Thiago Silva at Paris Saint-Germain so there will be no shortage of reunions on the pitch.
However, Chelsea will show little to not charity and Lille will be out to recapture the sort of form which saw them emerge from a group boasting Sevilla, Red Bull Salzburg and VfL Wolfsburg.
Make sure not to miss our expert picks and bold predictions and follow along with all the action below.
Pinned
Viewing information
Date: Tuesday, Feb. 22 | Time: 3 p.m. ET
Location: Stamford Bridge — London
TV: CBS | Live stream: Paramount+
Odds: Chelsea -350; Draw +400; Lille +1100 (via Caesars Sportsbook)
See New Posts
Pinned
Pulisic watch
I'm pretty much lifting this from our slack — which is working again, huzzah — but it's interesting seeing the conversation around Pulisic, who has had a few bright moments and nice interplay with Havertz around the final third. It's the sort of performance that you'd say was an encouraging stepping stone for a key player working their way back to fitness. The issue for the American international is his involvement is so inconsistent, the quality competing with him so vast, that these sorts of games can't just be good for him. He has not been great yet.
Pinned
Renato reaction
Lille less wobbly than I thought they might be when Havertz put them ahead and Sanches, as James pointed out, is at the heart of everything good they are doing at present. They still trail, but reaching half-time with the score the same gives them a good chance to get onto the front foot moving into the second half.
Pinned
Sanches making things happen
Stamford Bridge is not a happy hunting ground for Renato Sanches. When he was here with Swansea his most famous involvement was passing the ball straight into touch, thinking he had seen a teammate when it was actually an advert for Carabao. Now he looks far more dangerous, a gorgeous ball in behind the Chelsea defense summoning Mendy to scamper off his line and clear. Lille are hardly running the game but they're certainly getting back into it.
Pinned
Pinned
13 minutes, one second
That's how long it took for Havertz to better Lukaku's touch count from Saturday, a pass to Hakim Ziyech. It is of course natural that a player like the German should be more involved in the game but the difference between these two is stark. Havertz is so at ease doing what Chelsea need from a center forward, dropping deep and facilitating before spinning and attacking the box.
Pinned
A LOSC cause?
Lille, up against it already, now trail in this tie. Can they muster a response? Regardless, they have to steady the ship after this opening 10 minutes or so and you sense that even that might not be enough to avoid a pasting.
Pinned
GOAL — Chelsea lead at the Bridge
He only needed five touches to put Chelsea ahead in this tie. Havertz's left-footed shot brought a smart save from Jardim in the Lille goal but from the resulting corner he rose highest to flick the ball downwards before it bounced into the roof of the net. "Champions of Europe, we know what we are" echoes around the Bridge.
Pinned
What a miss!
Azpilicueta and Ziyech combine down the right, the former crossing low at the near post. Havertz sneaks in behind the defense but gets his foot under the ball, lifting it over the bar.
Pinned
Elsewhere
Dusan Vlahovic has just raised the bar for tonight's encounter by scoring within the opening minute of his Champions League debut with Juventus against Villarreal. Great finish too! Would not mind an early goal here, but Havertz has ensured that will not be happening — for now.
Pinned
Kick off
Away we go. Immediately Chelsea's attack clicks into gear as Havertz does what Lukaku found so difficult at the weekend, dropping into midfield and flicking the ball on for Pulisic down the left. For a moment it looks like Lille might be tested in behind but they scramble back enough bodies to stop Ziyech when the ball comes to him.
Pinned
Pinned
A big day for Jonathan David
Four years ago Jonathan David had not played a professional game. He had just left Canada for Gent, starting out on a career path that would take him to Stamford Bridge today for one of the biggest games of his fledgling career.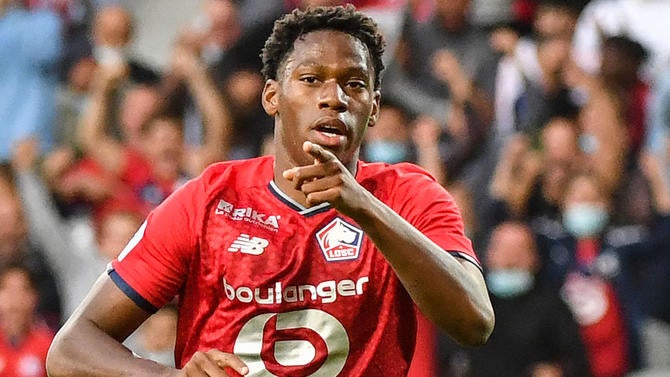 A host of Europe's best and brightest clubs will be watching. Here's why.
Pinned
Tuchel explains Lukaku's absence
"I felt him a little bit tired. He looked a little exhausted and you have to consider that he's played a lot. We've had extra time [in the Club World Cup final], a lot of travelling recently and it wasn't easy for him against Palace."
"Maybe it will be a little bit easier for him to come on from the bench tonight and turn things around if we need him."
Pinned
The Joe Cole derby
The streets of West London will certainly remember Joe Cole fondly, but the streets around the Hauts-de-France region… I am not so sure they will share this tweet's enthusiasm! 
Pinned
Another missing piece for Chelsea?
Though Mateo Kovacic is certainly an adequate alternative it is notable that there's no Jorginho in this side as the Croatian international partners N'Golo Kante in midfield.
Jorginho's absence is all the more apparent because he leads the team in interceptions with 12 and in tackles with 17. The next highest player, Antonio Rudiger, has eight tackles.
Pinned
No Lukaku
The big news from a Chelsea perspective is undoubtedly the absense of Romelu Lukaku, dropped to the bench only a few days after that seven touch horror show of a game against Crystal Palace. In his place comes Kai Havertz, who can do a lot more of what the Belgian found so uncomfortable at Selhurst Park, coming to the ball and linking play. With Pulisic and Ziyech alongside him this is a frontline with a lot of shots and the ability to put together a lot of intricate interplay. Let's not forget, with the German at center forward Chelsea won the Champions League last year, using possession as a defensive weapon and dragging center backs out of position.
Perhaps there's a simpler explanation anyway. Tuchel spoke about helping Lukaku and maybe the most helpful thing to do now is to take him out of the firing line. After all, there's a cup final on Sunday to worry about.
Pinned
More Weah
Looking ahead to Chelsea in particular, you really got the sense that the 22-year-old is looking forward to the pressure release which comes with these Champions League games…
"It has not been perfect but there have been lots of positives like reaching the next round for the first time in the club's history which is great. I felt that we played some good games against Sevilla and Salzburg. It was an interesting and great experience for me and one that I will never forget. I am sure that a lot of the boys will never forget the moment we made the next round. A lot of positives, some negatives, but mostly positives. We are looking forward to playing at Stamford Bridge."
"It is always good to have the mindset to want to go into every game winning. With us up against the previous champions, I think it is always good to have the mindset to go after the but also to stay humble and just play our game. Champions League nights are very different to league games, and I hope that we come out and execute the way we want to. We are all confident and will take it step by step and see what happens in the game."
"You could say that it is just destiny as we pulled the first time and then pulled them again the second. We are meant to play Chelsea and meant to get this experience. I think that Champions League soccer is what it is all about — playing against big teams, seeing the quality of other players, and getting to that level. It is going to be a great experience for us as a team and personally, it is something I have been looking forward to all my life. The Chelseas, the Barcelonas, the Real Madrids and the PSGs — it is fun and a great experience."
"In Ligue 1, you know what you are getting and that is aggression and physical guys. In the Champions League, it is about tactics and chance. UCL is super prestigious and brings a different type of energy when you hear that song go off. Champions League is different to league games and both teams will be at the top of their game in the UCL."
"Jonathan is our fox in the box and a top striker. I love playing with Jonathan. He is always in the right place at the right time and his confidence is super high right now. You can see him getting the goals here and he is also Canada's main guy. I am happy for him; he is one of my best friends on the team and I love seeing him succeed."
Pinned
Reaction
Obviously the main talking point there is no Romelu Lukaku in attack for Chelsea, but I let James fill you in on the reaction from Stamford Bridge shortly. Otherwise, no surprise to me to see Thomas Tuchel go with as much experience as possible given that was always his preference with PSG. Leo Jardim in goal for Lille is a bit of a downer for the hosts as Ivo Grbic has basically gifted recent opponents goals at will so it might actually be a bit tougher to score tonight. Tim Weah on the bench is no real surprise and what a wildcard option Hatem Ben Arfa is. 
Pinned
Team news
Our starting XIs are in…
Chelsea: Mendy; Christensen, Silva, Rudiger; Azpilicueta (c), Kante, Kovacic, Alonso; Ziyech, Havertz, Pulisic.
Lille: Jardim; Celik, Fonte (c), Botman, Djalo; Onana, Xeka, Andre; Sanches, David, Bamba.
Pinned
Good evening from Stamford Bridge
There's quite the buzz around west London right now as the holders return to European action and we're hearing there will be some pretty significant selection decisions made by Thomas Tuchel. More on that very soon.
Pinned
Weah woes
We also heard from LOSC's Timothy Weah ahead of the clash and the USMNT star had some interesting things to say about a few things, including what a difficult season this has been so far for him and his club…
"We are sitting midtable, so it has been difficult. A lot of changes were made, and it just has not clicked for us yet. Every team has ups and downs and our up was winning the championship last season. There was so much expectation and we wanted to bounce back this year, but it has not worked out like that. As a team, I think that we are handling it well. It is just not clicking and that is very visible."
"When you are defending champions, team are going to come out and want to beat you. I just feel that this year has been difficult, and we are just not getting the results that we want. We are just going through a rough patch and that is better now than later. We just need to figure it out and find our way out of it."
"This season has been slow, but I am taking it day after day and step by step. As an attacker, you want to score or assist all the time but sometimes it just does not happen. I am going through one of those seasons of just not scoring but I will keep my morale and team spirit high. Whenever I am out there, I give 100% and do what I can. When I am with the USMNT, though, I feel a bit more comfortable, and I am in my happy space when there. It is just a learning experience and I need to keep going and fight through it."
"(Former boss Christophe Galtier and current coach Jocelyn Gourvennec) are two different coaches with two different styles, two different backgrounds and they were both two different players. I think that they are both great coaches and that they both bring something to the table. We had such a successful year that it is a bit of a rough patch now, but our current coach is a great guy and coach — I love playing for him. It is just not clicking as it should be right now."
Pinned
Lille
Chelsea are at least getting results, unlike French champions Lille. Jocelyn Gourvennec's side have won just two of their last seven games in all competitions and are marooned in Ligue 1's midtable, requiring a swift upturn in form if they are to be back on the European stage next season. 
The champions' stuttering Ligue 1 title defense continued at the weekend as they were held 0-0 at home by Metz. They are now in the midst of a run of four points from four games with just two goals scored. However the Champions League has proven to be something of a solace for Lille, who finished ahead of Red Bull Salzburg, Sevilla and Wolfsburg to top a competitive Group G before Christmas.
Pinned
Chelsea
The Champions League holders might be winning matches but there seems to be plenty of room for improvement, particularly in front of goal, if Thomas Tuchel's side are to have a realistic hope of lifting the trophy once more in three months' time.
As is so often the case at Chelsea of late, all eyes are fixed on Romelu Lukaku. The Belgian set an unwelcome record for the fewest touches by a Premier League player across the course of 90 minutes, just seven in Saturday's 1-0 win over Crystal Palace. Lukaku has made no secret of his difficulties adapting to Tuchel's system but his manager says if he is to adapt the system then the striker will be "part of the solution".
"It's sometimes like this with strikers if they struggle a bit with self confidence, to find the space and get involved against a good defensive side," he added. "It can be like this. It's of course not what we want and not what Romelu wants. It's not the time to laugh about him and make jokes. He's in the spotlight and we will protect him."
Pinned
Welcome
Good evening and welcome to our live updates for the UEFA Champions League round of 16 first leg between Chelsea and Lille at Stamford Bridge. James Benge will be in place shortly and updating on-site while we will keep you posted here with team news, action, goals and other goings-on in London.