While Sacramento Kings fans are lighting the beam, LeBron is making a legitimate run for a fifth ring.
Essentials editors independently choose what to recommend. We may receive commissions from links to products on this page.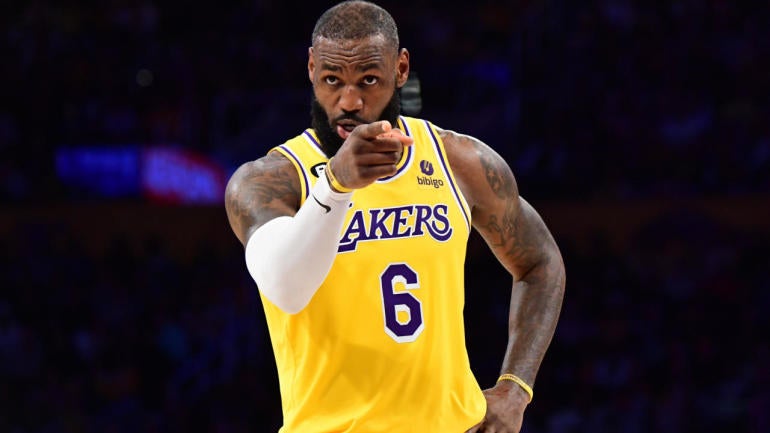 Adam Pantozzi/NBAE via Getty Image
Judging by the first two games of the 2023 NBA playoffs, this season's road to the championship is going to be dramatic. The Golden State Warriors are struggling to defend their 2022 NBA championship against the surging Sacramento Kings.  The Lakers trudged through the 2022-2023 regular season, but LeBron and Co. shut down the Grizzlies in Game 1 with a staggering 128-112 victory. And the Cleveland Cavaliers rebounded in Game 2 with a 107-90 win after a surprise Game 1 loss to the New York Knicks, a game in which the Cavs just couldn't seem to…well, rebound.
Oh, and Golden State's superstar bad boy Draymond Green has already been ejected.  We're not surprised, but we are tuning in.  
---
Watch NBA playoff games on ABC, TNT and ESPN via Sling:
Sling TV Orange and Blue tier, $30 per month for the first month ($60 after)
Shop your favorite NBA player jerseys on Fanatics:
Shop your favorite NBA player's jersey on Fanatics
---
All four California NBA franchises, the Warriors, Kings, Clippers and Lakers, made it to this year's playoffs.  That's an NBA first since the four have been located in the Golden State. New York's two NBA franchises, the Nets and the Knicks, both secured playoff berths. New York's NHL franchises, the Devils, the Islanders and the Rangers, are also making a run for the Stanely Cup – the first time all five New York NBA and NHL teams have punched a ticket to the post season together since 1994. 
All that history making is making for some seriously expensive in-person tickets.  There's no shame in watching from home, but you'll need to know when and how to watch.   
---
When and where to watch the 2023 NBA playoffs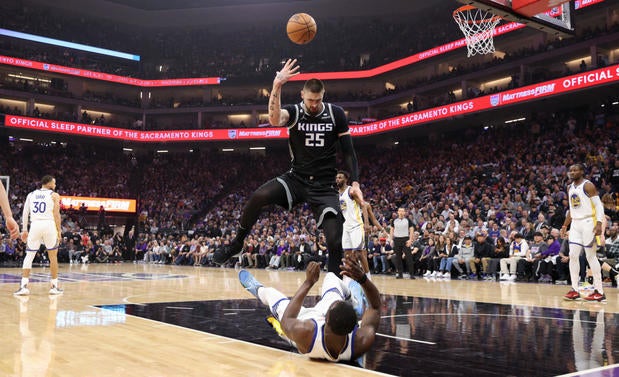 Round 1 is already underway with the best-of-seven-series' already serving major surprises.  Big stars like the Clippers' Paul George, the Grizzlies' Ja Morant and the Bucks' Giannis are already battling injuries early in the first round, making way for potential upsets going into the Conference semifinals. 
How to watch the 2023 NBA playoffs Round 1 
The 2023 playoffs, three conference rounds up to seven games each, will be played now through May 17.  The best-of-seven NBA Finals begin June 1, ending June 9-18 depending on how many games are played.
All playoff games will air on either ABC, ESPN, TNT and NBA TV.  The NBA finals will air live on ABC.  Playoff games will stream on Sling, fubo TV, YouTube TV, Hulu + Live TV, and DirecTV Stream.
Watch NBA Playoffs on Sling TV
Round 1 NBA Playoff matchups and schedule:
Hawks vs. Celtics:  
Game 3: Friday, April 21, Celtics at Hawks, 4 p.m. MST, ESPN
Game 4: Sunday, April 23, Celtics at Hawks, 4 p.m. MST, TNT
Game 5: Tuesday, April 25, Hawks at Celtics (Time, channel TBA)*
Game 6: Thursday, April 27, Celtics at Hawks (Time, channel TBA)*
Game 7: Saturday, April 29, Hawks at Celtics (Time, channel TBA)*
Knicks vs. Cavaliers: 
Game 3: Friday, April 21, Cavaliers at Knicks, 5:30 p.m. MST, ABC
Game 4: Sunday, April 23, Cavaliers at Knicks, 10 a.m. MST, ABC
Game 5: Wednesday, April 26, Knicks at Cavaliers (Time, channel TBA)*
Game 6: Friday, April 28, Cavaliers at Knicks (Time, channel TBA)*
Game 7: Sunday, April 30, Knicks at Cavaliers (Time, channel TBA)*
Clippers vs. Suns: ·      
Game 3: Thursday April 20, Suns at Clippers, 7:30 p.m. MST, NBA TV/Bally Sports Arizona
Game 4: Saturday, April 22, Suns at Clippers, 12:30 p.m. MST, TNT/Bally Sports Arizona
Game 5: Tuesday, April 25, Clippers at Suns (Time, channel TBA)*
Game 6: Thursday, April 27, Suns at Clippers (Time, channel TBA)*
Game 7: Saturday, April 29, Clippers at Suns (Time, channel TBA)**if necessary
Lakers vs. Grizzlies: 
Game 2: Wednesday, April 19, Lakers at Grizzlies, 4:30 p.m. MST, TNT
Game 3: Saturday, April 22, Grizzlies at Lakers, 7 p.m. MST, ESPN
Game 4: Monday, April 24, Grizzlies at Lakers, (Time, channel TBA)
Game 5: Wednesday, April 26, Lakers at Grizzlies (Time, channel TBA)*
Game 6: Friday, April 28, Grizzlies at Lakers (Time, channel TBA)*
Game 7: Sunday, April 30, Lakers at Grizzlies (Time, channel TBA)*
Heat vs. Bucks: 
Game 2: Wednesday, April 19, Heat at Bucks, 6 p.m. MST, NBA TV
Game 3: Saturday, April 22, Bucks at Heat, 4:30 p.m. MST, ESPN
Game 4: Monday, April 24, Bucks at Heat (Time, channel TBA)
Game 5: Wednesday, April 26, Heat at Bucks (Time, channel TBA)*
Game 6:Friday, April 28,  Bucks at Heat (Time, channel TBA)*
Game 7: Sunday, April 30, Heat at Bucks (Time, channel TBA)*
Nuggets vs: Timberwolves:
Game 2: Wednesday, April 19, Timberwolves at Nuggets, 7 p.m. MST, TNT
Game 3: Friday, April 21, Nuggets at Timberwolves, 6:30 p.m. MST, ESPN
Game 4: Sunday, April 23, Nuggets at Timberwolves, 6:30 p.m. MST, TNT
Game 5: Tuesday, April 25, Timberwolves at Nuggets (Time, channel TBA)*
Game 6:Thursday, April 27,  Nuggets at Timberwolves (Time, channel TBA)*
Game 7: Saturday, April 29, Timberwolves at Nuggets (Time, channel TBA)*
Nets vs. Sixers:
Game 3: Thursday, April 20, 76 at Nets, 4:30 p.m. MST, TNT
Game 4: Saturday, April 22, 76ers at Nets, 10 a.m. MST, TNT
Game 5: Monday, April 24, Nets at 76ers (Time, channel TBA)*
Game 6: Thursday, April 27, 76ers at Nets (Time, channel TBA)*
Game 7: Saturday, April 29, Nets at 76ers (Time, channel TBA)*
Warriors vs. Kings: 
Game 3: Thursday, April 20, Kings at Warriors, Chase Center, 7 p.m. MST, TNT
Game 4: Sunday, April 23, Kings at Warriors, 12:30 p.m. MST, ABC
Game 5: Wednesday, April 26, Warriors at Kings (Time, channel TBA)*
Game 6: Friday, April 28, Kings at Warriors (Time, channel TBA)*
Game 7: Sunday, April 30, Warriors at Kings (Time, channel TBA)*
---
Related content on CBS Sports:
Our Latest Essentials Stories