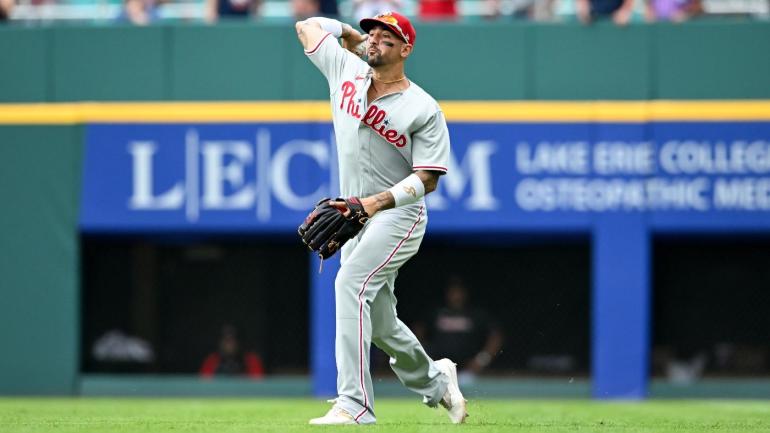 Getty Images
The Philadelphia Phillies pulled out a huge extra-innings win over the Atlanta Braves on Wednesday afternoon, thanks in large part to a bold play by Phillies outfielder Nick Castellanos. At first, it seemed like Castellanos was going to cost his team the game, but he wound up on the highlight reel.
In the bottom of the ninth, with the game tied 4-4 and a runner on third, Ronald Acuña Jr. hit a foul ball deep down the right field line at Truist Park. Normally, an outfielder would just let the ball hit the ground harmlessly because catching could result in the runner tagging from home and scoring.
That is not the approach that Castellanos took. He drifted under the foul ball and caught it for the out while Luke Williams broke for home. Castellanos needed a perfect throw to prevent Williams from scoring, and that is exactly what he provided.
Nick Castellanos the man that you are!!!! pic.twitter.com/xWXjhJH84n

— Philadelphia Phillies (@Phillies) September 20, 2023
On the television broadcast, Phillies color commentator John could be heard yelling, "Let it go! Let it go! No! Yes!"
That was probably the reaction of most Phillies fans, but it all worked out in the end with Philadelphia winning by a score of 6-5 in 10 innings. In his postgame press conference, Castellanos said he had a kind of baseball Jiminy Cricket whispering in his ear on the play.
"I don't know," Castellanos said. "I thought I was gonna drop it, and at the last minute, a voice popped into my head and said, 'Catch it, and throw him out.'"
Castellanos, along with some clutch hitting from Bryson Stott, allowed the Phillies to keep their 3.5-game lead atop the NL Wild Card race.