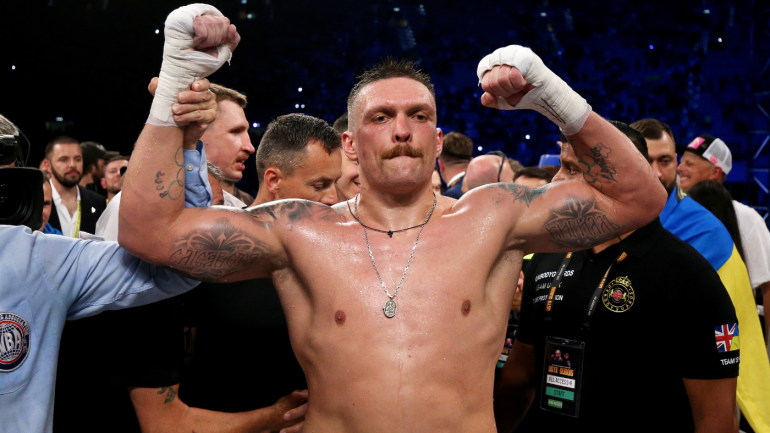 Getty Images
Oleksandr Usyk cashed in as a major favorite against Daniel Dubois on Saturday, but not without controversy. Usyk's impressive defense of his WBA, WBO and IBF heavyweight titles — capped by a ninth-round knockout — will be overshadowed by the referee's decision regarding a potential low blow.
Dubois floored Usyk in Round 5 with a shot the referee ruled illegal. Usyk required the entirety of the five minutes allocated to him to recover. A replay showed a powerful Dubois blow right on the belt line. Debates immediately sparked among fans and commentators about whether Usyk was fouled or dropped clean. Dubois' camp was outraged by the call. They promised to appeal the decision and question why Dubois was not deducted a point if the foul was legitimate.
"I didn't think that was a low blow and I've been cheated out of victory tonight," Dubois said post-fight.
Usyk was composed in the earlier rounds but was more animated after the debated blow. Usyk's commitment to offense spurred an exciting back-half to the fight. Dubois made Usyk uncomfortable with additional bodywork; meanwhile, the champ repeatedly snapped his challenger's head back with jabs and straights. 
Usyk scored the first official knockdown of the fight in Round 8. The champion dropped Dubois with a combination punctuated with a right hook and left cross. Dubois was saved by the bell but could not survive a stiff right hand in Round 9.
Mandatory challenger Dubois was granted his title shot against Usyk after a deeply desired Usyk vs. Tyson Fury fight fell through. Usyk again turns his attention towards an undisputed heavyweight championship fight but has doubts after previous negotiations fell through.
"I'm ready tomorrow…" Usyk said post-fight. "Will Tyson Fury want it? I have no idea. But I'm ready."