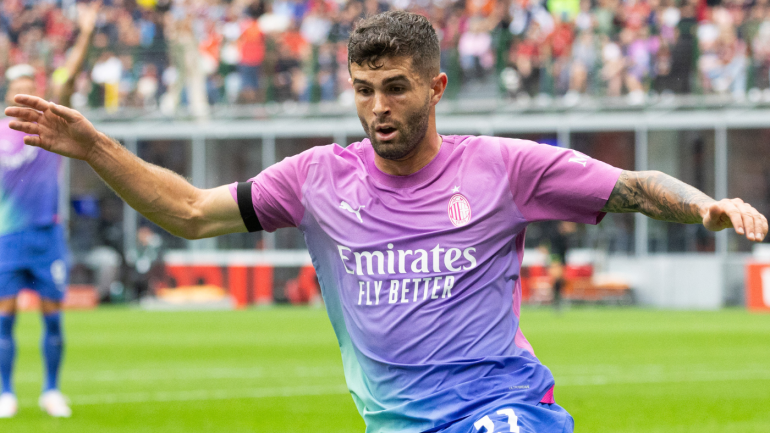 Getty Images
For the first time this season both Yunus Musah and Christian Pulisic started for AC Milan against Hellas Verona. The Rossoneri, despite not having their best performance, managed to win 1-0 thanks to the early goal scored by Rafael Leao but then struggled and didn't find more goals during the rest of the clash. But let's take a closer look on how the two Americans performed. 
Musah played for the first time as a starter on the right wing of the 3-4-3 as a wing back. The former Valencia player showed his potential despite not playing in his natural position as a midfielder, and demonstrated that he could definitely play in this position in the future, even if the side coached by Stefano Pioli changed the tactical system for today's clash due to the injuries of Davide Calabria and Theo Hernandez. 
On the other hand, Christian Pulisic played on the right wing of the attacking line, alongside Rafael Leao and Olivier Giroud. The former Chelsea winger didn't perform at his level and was subbed off in the second half. He only had a single shot in his 80 minutes of action. Pulisic scored two goals in his first two games with AC Milan but then failed to impress in the latest clashes, including the Derby della Madonnina loss 5-1 to Inter last week and on Saturday against Verona. Pulisic didn't start against Newcastle in the opening game of the UEFA Champions League group stage, when the Rossoneri drew 0-0, but came on in the second half. 
AC Milan changed the tactical system for the first time this year against Verona, playing with a three-man defense line and it will be interesting to see if Pioli will continue to play this way when Hernandez and Calabria return to the starting lineup. 
While Musah should be back in the center of the midfield line, Pulisic will definitely play in the same position in the coming games. However, if Pioli sticks to the same system in the imminent future, Musah on Saturday showed that he can play in that position, and this gives to Pioli another option that we were not expecting when AC Milan signed the American international in the summer. AC Milan will play this Wednesday away against Cagliari at 12:30 PM. You can watch all the action on Paramount+.