This is an article version of the CBS Sports HQ AM Newsletter, the ultimate guide to every day in sports. You can sign up to get it in your inbox every weekday morning here.
Please check the opt-in box to acknowledge that you would like to subscribe.
Thanks for signing up!
Keep an eye on your inbox.
Sorry!
There was an error processing your subscription.
---
🎾 Good morning to everyone but especially …
BEN SHELTON
He smiled, he snarled, he shouted, he flexed, he fist-pumped. He attacked, he defended, he covered the court tirelessly. At the end of a grueling third set, he pointed to his ear, urging the crowd to cheer on what they were witnessing. At the end of the decisive fourth, he put his hands on his hips, mimicked picking up a phone and then slammed it down.
Case closed.
He can't even drink yet, legally, but on this night, he was the toast of New York. Friday, he'll try to do it again with a US Open final berth on the line, against arguably the greatest player ever. 
Ben Shelton, full of all the verve — but seemingly none of the nerves — of any 20-year-old, is into the US Open semifinal after an enthralling 6-2, 3-6, 7-6 (9-7), 6-2 win over Frances Tiafoe.
Shelton turned pro only one year ago — after winning an NCAA singles title at Florida — and this is just his fifth career slam.
Shelton is the youngest American man into a US Open semifinal since Michael Chang in 1992.
Ranked 47th in the world, Shelton is the lowest-ranked American man to make a slam semifinal since Pete Sampras in 1991.
Next up for Shelton is Novak Djokovic. No pressure, young man.
👍 Honorable mentions
🤕 And not such a good morning for …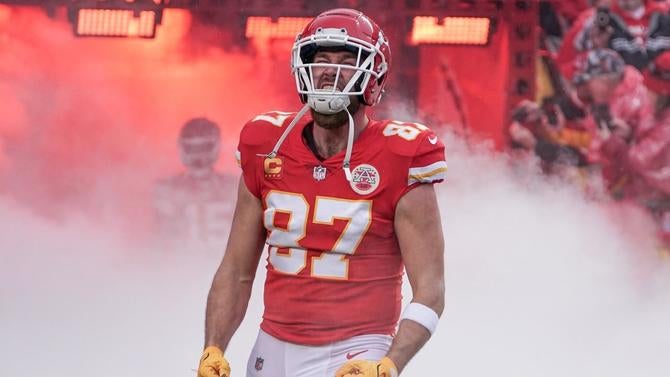 THE KANSAS CITY CHIEFS
For the first time in a decade, the Chiefs might be without Travis Kelce due to injury. The future Hall of Fame tight end hyperextended his knee in practice Tuesday, just two days before Kansas City opens the season against the Detroit Lions. Kelce was able to walk off the field, and his ACL is reportedly intact.
Kelce has made eight straight Pro Bowls. He's fifth all-time among tight ends in receptions, fourth in yards and sixth in touchdowns. His seven consecutive 1,000-yard receiving seasons is the longest streak ever by a tight end.
Kelce, who turns 34 next month, has shown no signs of slowing down. His 110 receptions last year were a career high, and his 1,338 yards receiving trailed only his 2020 campaign.
Since 2018, when Patrick Mahomes became the Chiefs' full-time starter, Kansas City has averaged 6.7 yards per play with both Mahomes and Kelce on the field, compared to 5.0 with Mahomes on and Kelce off.
Noah Gray is the backup tight end in Kansas City, and you can get to know more about him here.
This puts a ton of pressure on everyone involved — from Mahomes to Andy Reid to Gray and the other tight ends to the wide receivers and the offensive line — and it's not like they have a ton of time to adjust. That's especially true for a young and unheralded wide receiver group, one that's used to being boosted by Kelce's presence.
But Mahomes and Reid are one of the great duos in the sport's history, and I took a look at some of the ways their offense might look different, including …
Pereles: "Without Kelce, Mahomes in particular favors his teammates lined up wide (40% target share compared to 36% when Kelce is on the field). The slot target share dips (34% to 28%) as a result. Mahomes also gets the ball out faster and shorter without his top tight end. With Kelce on the field, Mahomes throws 43% of his passes in under 2.5 seconds. That figure jumps to 48% without Kelce on the field. Likewise, Mahomes' air yards per attempt drop precipitously from 8.3 with Kelce to 6.2 without Kelce. That has meant fewer explosive plays, but it's also meant fewer sacks and fewer big negative plays."
I absolutely agree with that Zach Pereles guy. It seems like he really knows what he's talking about.
The Chiefs have already fallen from 6.5-point favorites to 5-point favorites. And Kelce isn't the only big name whose status is in doubt: There's reportedly been "no progress" on the Chris Jones extension front as the star defensive lineman continues to not report.
👎 Not so honorable mentions
👊 Colorado jumps into AP Top 25, plus Dennis Dodd's first Power Rankings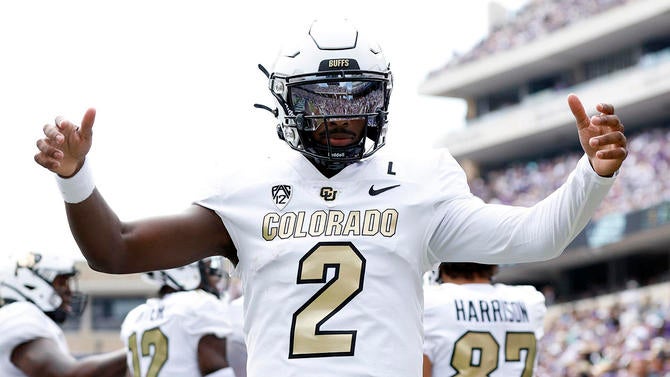 We unofficially declared Colorado back in Tuesday's newsletter. The AP Top 25 officially declared the Buffaloes back a few hours later. The Buffs joined the AP Top 25 for the first time since a brief stay in 2020, jumping to No. 22 after a thrilling win over TCU. But Deion Sanders is making sure his team isn't overlooking its next test: a "personal" battle with Nebraska.
Also making the jump from unranked to ranked is No. 21 Duke after the Blue Devils beat Clemson. Dabo Swinney's squad fell from No. 9 to No. 25.
The top of the rankings got a little shake up as well.
Georgia (previous: 1)
Michigan (2)
Alabama (4)
Florida State (8)
Ohio State (3)
Yes, that's Ohio State dropping two spots despite winning. The Buckeyes offense wasn't particularly impressive in a 23-3 win over Indiana, and their quarterback battle will continue into Week 2.
There's also a new Coaches Poll as well as Dennis Dodd's College Football Power Rankings, which looks unlike the polls — part of what makes it so great. Penn State and Washington fans will enjoy Dennis' thoughts there.
🏈 Pete Prisco's NFL Power Rankings, plus a surprise Super Bowl pick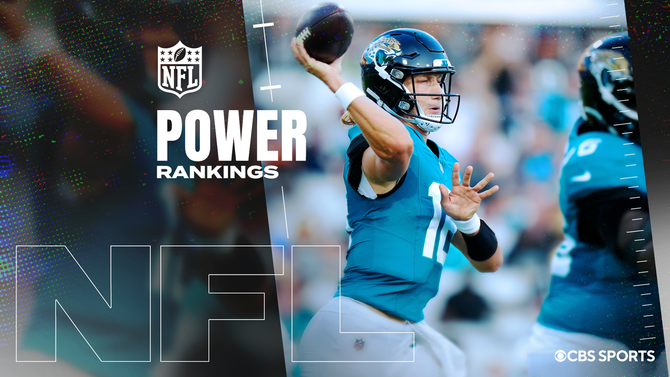 We're one day away from the NFL season opening, and Pete Prisco is amped up and ready to go with his first NFL Power Rankings of the season. Here's his top five:
Chiefs
Eagles
Bills
Bengals
49ers
Only one of Pete's top five teams, though, features in his Super Bowl prediction.
Prisco: "The Jaguars have a young roster, but the offense, led by Trevor Lawrence, is loaded. That unit will score 500 points this season as Lawrence wins the MVP. Yes, bold for sure, but it's what I think will happen. … As for the 49ers, they have stars all over the field on both sides of the ball, which always matters. … Both teams have coaches who are among the best in the league in Doug Pederson (Jaguars) and Kyle Shanahan (49ers)."
As Pete mentions, it certainly doesn't hurt that Jacksonville and San Francisco don't exactly play in the toughest divisions. The AFC South has three of Pete's bottom 11 teams, while the NFC West has his two worst (the Rams and Cardinals).
I'm sure everyone will agree with Pete's rankings — insert sarcasm there — including Lions, Giants and Vikings fans. But I won't reveal anything else. You'll have to read for yourself!
🏀 Team USA into FIBA World Cup semifinal after blowing out Italy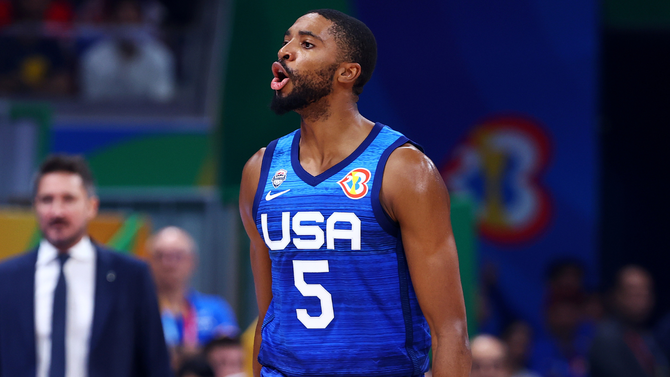 After a surprising loss to Lithuania, Team USA bounced back and then some — and then a lot, really — plastering Italy, 100-63, in the FIBA World Cup quarterfinals. The Americans will take on Germany in the semifinal.
Mikal Bridges led all scorers with 24 points on 8 of 11 shooting, adding seven rebounds. Tyrese Haliburton had 18 points on six 3-pointers with five assists.
Eleven of the 12 USA players who played in the game ultimately scored.
Team USA officially secured a better finish at the World Cup than in 2019 when it finished seventh.
Overall, it was exactly the type of performance the Stars and Stripes needed, writes Ameer Tyree.
Tyree: "Many American fans heralded Anthony Edwards as Team USA's ideal lead scorer ahead of the 2023 FIBA World Cup. While the Minnesota Timberwolves star did erupt for 35 points in the loss to Lithuania, his offense has been up and down in the tournament. … Bridges has matched or improved upon the scoring output from his previous outing with each appearance this tournament and was clearly the engine that powered Team USA through the quarterfinals. … Then there's Haliburton, who's proved to be a valuable bench spark alongside Austin Reaves over the last five weeks."
As for the USA's neighbors to the North, Canada clinched its Olympic berth, and with a plethora of stars, James Herbert says it's time for the Canadians to take the next step forward.
📺 What we're watching Wednesday
🏀 Storm at Dream, 7 p.m. on NBATV
⚽ KC Current vs. NC Courage, 8 p.m. on CBS Sports Network
⚽ OL Reign vs. Racing Louisville, 10 p.m. on CBS Sports Network