Seth Rollins' cackling can border into absurdity, but when you're a superstar of a certain caliber you can afford to push boundaries. Rollins spent the last several years teetering in and out of a main event scene he once dominated. A newfound dramatic flare was the necessary change to stave off stagnation.
Reinvention is the name of the game in sports entertainment. Some of the industry's most enduring forces have done so through evolution. "Hollywood" Hulk Hogan hit professional wrestling like an earthquake. The "Hollywood" version of The Rock remains the refined fan's favorite. Chris Jericho has tweaked his character more times in the last two decades than there have been U.S. presidents in the last two centuries. "Redesign. Rebuild. Reclaim." That was the foundation of Rollins' recalibration from cocky, black-clad killer to ludicrous Met Gala model.
"I think I learned a lot about how to take chances and have a little bit more confidence in myself," Rollins told CBS Sports while promoting WWE's new product collaboration with C4 Ultimate Energy, the official sponsor for WWE SummerSlam. "I think it's one of those things where I lived in my comfort zone for such a long time that I thought I knew better. I thought I knew what I was. I was comfortable with my identity. And it was hard to look in the mirror and go, 'OK, this is working but what can we do to go to the next level?' 
"Revamping your whole presentation is a difficult choice to make. You think it won't work. You think it'll fail, people won't like it or you won't be able to do it. All of these types of things. Sometimes you just have to dive in and see what happens and have confidence in your ability to make anything work. If you are experienced and talented and committed and passionate, no matter what is given to you or no matter what you choose to do, you can find a way to make the absolute best of it."
Check out the full interview with Seth Rollins below.
The outlandish version of Rollins currently presented in WWE is a reimagining of other flamboyant gimmicks used by Gorgeous George, Ric Flair, Rick Martel and Shawn Michaels. It's more a personification of the cartoonish Joker from "Batman: The Animated Series" than the psychologically complex variants portrayed by Heath Ledge and Joaquin Phoneix. A little much? Perhaps. But it's become tremendously endearing to the fans who sing along to Rollins' theme song every week.
Rollins' swanky threads took their "baby steps" during the global pandemic. WWE built an audience-less arena dubbed the ThunderDome in response to government restrictions. The lack of a crowd necessitated a different approach and permitted superstars to push the creative envelope, but it's hard to gauge the ceiling of a gimmick without an ear for the crowd.
"When I really started to notice what I was doing was hitting was during my rivalry with Edge because people really started to take notice of the colorful outfits," Rollins said. "They started to make fun of them. They started to have fun with them. I wore an all-silver, bright aluminum foil-looking suit on television one time and I got 'Baked potato' chants. If you can get baked potato chants based on what you're wearing, I think you're onto something. It took a while to grasp that moment, hone it and figure it out, but it started to catch on. People started to wonder what kind of outlandish crap I was going to wear the next week and it caught fire."
This month, WWE and C4 expanded their multi-year partnership with co-branded pre-workout powders and energy drinks. Available exclusively at GNC, the collaboration features unique product designs and five special edition flavors, including Ruthless Rasperry and Berry Powerbomb energy drinks along with Pomegranate PileDriver, Bare Knuckle Blood Orange and Nectarine Guava Knockout powders.
Rollins' quality as an in-ring performer has never been in doubt. He was trusted over the last few years to welcome Cody Rhodes into the main event scene, provide a suitable challenge for Roman Reigns, elevate United States champion Austin Theory and even lead Logan Paul through a WrestleMania match. The former WWE champion was relegated to bridesmaid status, but his reputation as a workhorse and fan-favorite character was finally rewarded with gold. 
Triple H unveiled a new world heavyweight championship exclusive to Raw in response to Roman Reigns' inactivity as undisputed WWE universal champion on SmackDown. The introduction immediately framed the world heavyweight title as a secondary prize in the eyes of some viewers. For Rollins — an athlete driven by a desire for more — that doubt was exactly the motivation he needed as he prepares for a second title defense against Finn Balor at SummerSlam on Saturday.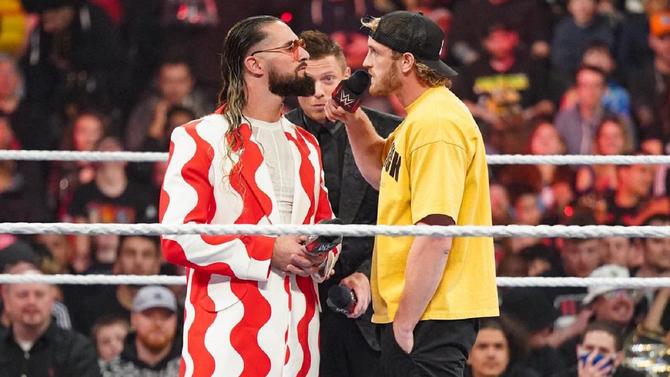 "Oh, there's always a chip on my shoulder. It never goes away. I'm never just coasting. I'm never just being OK with being OK," Rollins said. "If it's not wanting to win a world championship or establish a world championship. Now I've got people calling my world championship a secondary world championship. So now I'm out here trying to prove everybody wrong on that. I'm not going to be naive and think that we ain't got a lot of work to do. Establishing a new title is difficult work. It is a hard job. Somebody's got to do it. And I am very honored to have the responsibility to be the guy to do that."
Rollins channels motivation in the same way as sports legend Michael Jordan. By finding something, anything to tick him off.
"Anytime we go to any arena in the country and anybody else gets credit for filling a house or being on top or popping a rating or anything like that, I'm always going to feel slighted by it," Rollins said. "Not in a way that I'm jealous. I'm thrilled. Business is huge. We are the hottest ticket in town anywhere we go. We are sold out left and right. Houses are up. Ratings are up. It's crazy to be a part of WWE right now.
"But I'm always, always wanting to be the guy. Always wanting to be the marquee. Whatever it is. That's where I want to be. And if I feel like I'm not there, I'm going to be hustling. I'm like Michael Jordan, man. I'm going to find something. Even if there's nothing. Even if everything's cooking and cruising and perfect, I'm gonna go out and I'm going to find something to piss me off. I'm going to find something that I can sink my teeth into. I'm going to make an enemy out of somebody so that I got something to work for because that's just how I operate. That's how I flow. I don't know how to do it any other way."