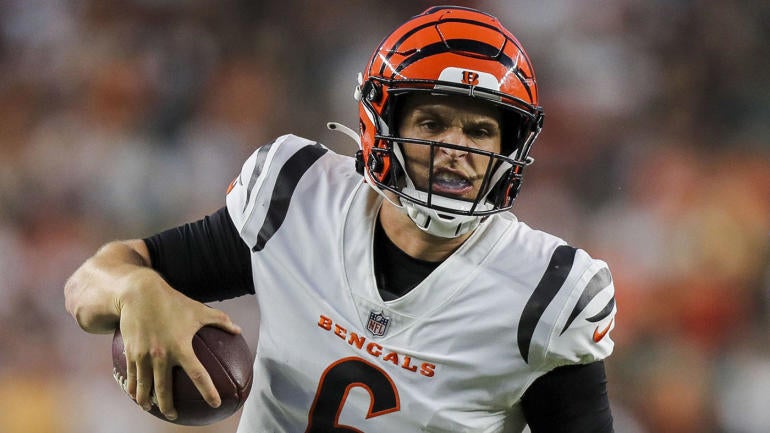 USATSI
Cincinnati Bengals quarterback Joe Burrow may be sidelined on Monday night against the Los Angeles Rams after aggravating a calf injury he initially suffered during the preseason. 
Most people, football fan or not, know who Burrow is, but who is backing up the highest-paid player in the league?
Quarterback Jake Browning is the one tasked with that role. The 27-year-old has never completed a pass in the NFL, but he may be leading the Bengals against the Rams on prime time in just a few days.
Since we could see Browning under the bright lights, let's take a look at the resume of the lesser known J.B.
His career began back in 2019 when the Minnesota Vikings signed him as an undrafted free agent out of University of Washington and was immediately signed to the practice squad.
He was waived by the Vikings during the 2020 season during final roster cuts. He signed a reserve/future contract in January 2021 and in August 2021 was waived.
He joined the Bengals in 2021 when he was signed to their practice squad. He signed a reserve/future contract in February 2022, was waived in August 2022, signed to the practice squad the next day, then signed a reserve/future contract in January 2023.
The backup job was between Trevor Siemian and Browning and it was the latter who came out on top. His first regular-season appearance came in the Bengals' first game of the 2023 season against the Cleveland Browns. His one pass attempt was incomplete.
In college, he played 54 games with the Washington Huskies, starting all of them, with a record of 39-15. He had 958 completions on 1,484 attempts with 12,296 yards, 94 touchdowns and 34 interceptions. He also had 16 rushing touchdowns.
He was the Pac-12 Offensive Player of the Year in 2016 and was first-team All-Pac-12 in the same year.