This is an article version of the CBS Sports HQ AM Newsletter, the ultimate guide to every day in sports. You can sign up to get it in your inbox every weekday morning here.
Please check the opt-in box to acknowledge that you would like to subscribe.
Thanks for signing up!
Keep an eye on your inbox.
Sorry!
There was an error processing your subscription.
---
🏀 Good morning to everyone but especially …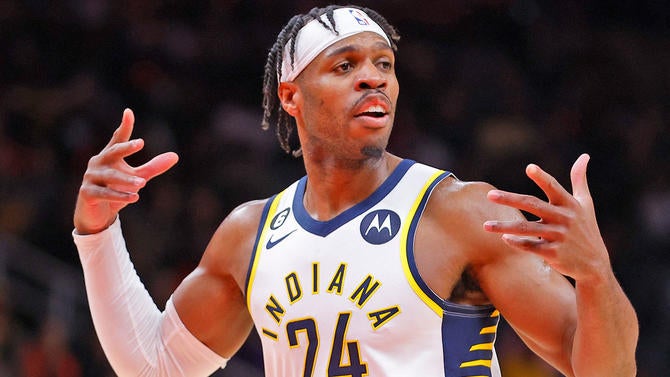 NBA TEAMS SEEKING AN ELITE SHOOTER
With trade rumors following him seemingly his entire career, Buddy Hield has been on far more hypothetical teams than real teams. This time, it looks like a move is actually going to happen. The Pacers are reportedly exploring trade destinations for Hield as training camps are set to open next week.
Hield, 30, has averaged 16.1 points on 40.2% 3-point shooting over his career. Very quietly, since Hield entered the league in 2016-17, only Stephen Curry has made more 3-pointers. Last year, only Klay Thompson made more.
That's simply because Hield is an outstanding shooter. Another reason? He's quite durable having played in 548 games since entering the league, most of any player.
Outside shooting plus durability? Sounds like exactly what NBA teams covet. The Lakers were in trade talks with the Pacers regarding Hield last season and again ahead of this summer's draft.
😄 Honorable mentions
🐻 And not such a good morning for …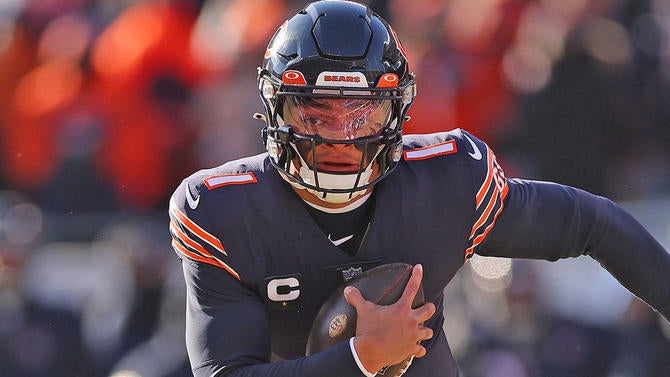 JUSTIN FIELDS AND THE CHICAGO BEARS
Oh boy. Where do we start with this one?
Saying things are not looking good in Chicago is putting it too lightly. The Bears — two weeks into the season — already seem like they're coming apart.
Wednesday, quarterback Justin Fields said he felt like his play was "robotic" and "not like [himself]." The reason for those struggles, according to the third-year quarterback? "Coaching."
Fields later attempted to walk it back, saying, "I'm not blaming anything on the coaches. I'm never going to blame anything on coaches, never going to blame anything on my teammates. … Put it on me."
Still, the message was loud and clear. Fields said his goal this week was "to say 'F it.' Play football like I know how to play football."
This season, Fields ranks near the bottom in most major passing categories, including 28th in interception rate and 31st in sack rate. He has a league-worst 19% negative play rate.
Three things are true here, all unfortunate for the Bears:
Fields has not been good. Doug Clawson has a great breakdown of Fields' struggles.
The circumstances around him are not good. The coaching is poor, the offensive line is bad, and the weapons — while improved — aren't great. Things got even worse Tuesday as starting left tackle Braxton Jones hit the IR with a neck issue.
Fields calling out the coaching is not good. If he's truly going to just say "F it" and play his way, why should the coaches even bother?
And that's just the offense.
Also Wednesday, defensive coordinator Alan Williams resigned to focus on his health and his family. He was not with the team last week, and coach Matt Eberflus called defensive plays. Keep in mind this is a team that has lost 12 straight games while allowing at least 25 points in each one. That's the longest streak in NFL history.
Oh yeah, the Bears face the reigning Super Bowl-champion Chiefs this week. Have fun with that!
😟 Not so honorable mentions
👀 Rams trade Cam Akers to Vikings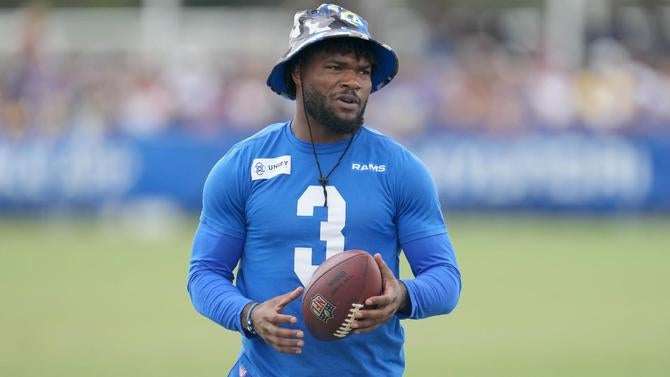 Cam Akers' tenure with the Rams — short, strange and Super Bowl-winning — is over. Los Angeles traded its 24-year-old running back to the Vikings for a 2026 late-round pick swap.
After a solid rookie season, Akers tore his Achilles in the summer of 2021. He somehow made it all the way back within seven months and was the Rams' feature back in their Super Bowl triumph over the Bengals.
Things got weird in Akers' third season. He and Sean McVay publicly had their differences, Akers missed time for "personal reasons," and the team explored trade options. However, Akers ended up staying and actually finished strong with three consecutive games of at least 100 yards rushing.
After a 22-carry, 29-yard, one-touchdown Week 1, Akers was a healthy inactive in Week 2, and with Kyren Williams taking over the backfield, the Rams finally found a trade partner for Akers.
If Akers can put his considerable promise on display more consistently, the Vikings can certainly use his help. They're averaging a measly 2.7 yards per carry, 30th in the NFL. As such, Minnesota got a "B" in Bryan DeArdo's trade grades.
DeArdo: "Give credit to the Vikings for actively trying to improve their situation at running back. It was clear after two weeks that they needed something to kickstart their ground game, and in Akers the Vikings have a former second-round pick who is familiar with Kevin O'Connell. Minnesota got extra credit for acquiring Akers for minimal cost."
🏈 QB Power Rankings: Tua (NFL), Shedeur (college) rise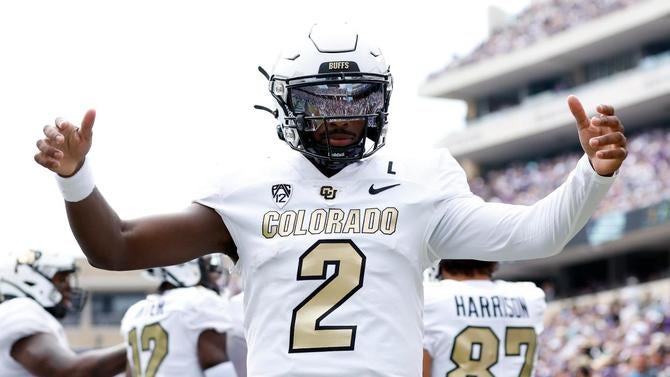 Quarterbacks make the world go 'round. If you have one, you have a chance. If you don't, well, you don't. Tua Tagovailoa has spent his entire career trying to prove the Dolphins have one. Injuries have gotten in the way, but this season, he's once again showing just how good he can be in Mike McDaniel's wonderful, whimsical offense. He's up to No. 2 in Cody Benjamin's latest NFL QB Power Rankings.
Benjamin: "So, by the looks of it, the early 2022 explosion was not a fluke. Does he underthrow a ball here and there? Sure. But how about every other pass, when he's dropping dimes to effortlessly execute Mike McDaniel's speed attack? He's got 'it.'"
Tagovailoa currently leads the NFL in yards passing, yards per attempt and yards per completion. Seems pretty good to me. Here's Cody's top five:
Patrick Mahomes
Tua Tagovailoa
Brock Purdy
Jordan Love
Josh Allen 

When Tagovailoa is healthy, I truly believe the Dolphins can play with anyone, and Cody ranks the Dolphins third-best among the nine undefeated teams.
Looking at the college side of things, Shedeur Sanders also had plenty to prove transferring from Jackson State to Colorado, and he has absolutely proved it. He's up to third in Tom Fornelli's College Football QB Power Rankings.
Fornelli: "He didn't look great for most of the game, but in crunch time, he turned into the greatest QB of all time while leading the Buffs on a comeback victory. Clutch goes a long way at the QB position."
Here's Tom's top five:
Caleb Williams
Sam Hartman
Shedeur Sanders
Michael Penix Jr.
Quinn Ewers
⚽ Champions League recap, updated Power Rankings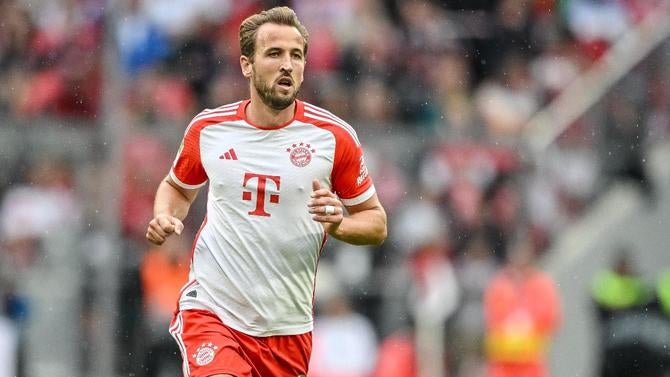 A 4-3 scoreline doesn't tell the full story: Bayern Munich cruised past Manchester United, leading by multiple goals much of the match before a couple of late goals from the Red Devils made the final closer than it really was in their UEFA Champions League opener, writes Jonathan Johnson.
Manchester United was chasing the game after Andre Onana conceded a 28th-minute shocker. Onana took blame for the loss after the match, but Jonathan wonders if manager Erik ten Hag might pay the price.
Johnson: "It is not all doom and gloom for ten Hag as his players are clearly still putting in the effort and trying to execute his game plans, but there is no legislating for Onana making such a basic error while Christian Eriksen was just unlucky. Things can still turn around but they need to as soon as possible before this spirals further out of Ten Hag's control."
It's safe to say Onana — and all other Manchester United players — aren't making James Benge's Champions League team of the week. The Red Devils also fell in Chuck Booth's Power Rankings.
Here are all of Wednesday's results and takeaways, highlighted by Jude Bellingham's late game-winner for Real Madrid.
📺 What we're watching Thursday
⚾ Orioles at Guardians OR Mets at Phillies, 7:15 p.m. on Fox
🏈 Georgia State at Coastal Carolina, 7:30 p.m. on ESPN
🏈 Giants at 49ers, 8:15 p.m. on Prime Video