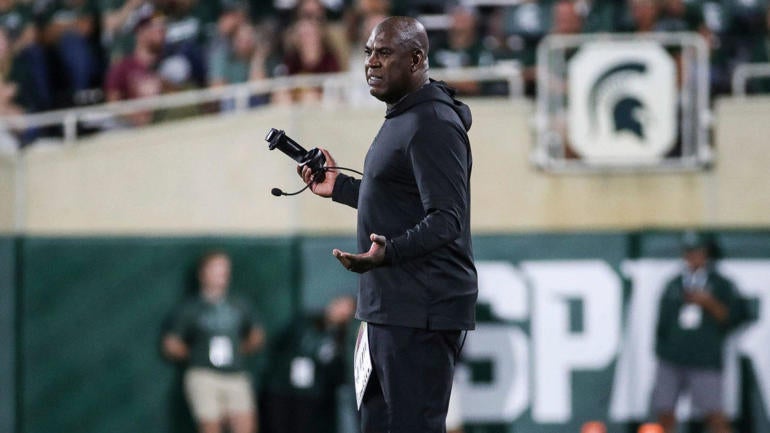 USATSI
Attorneys representing suspended Michigan State coach Mel Tucker have issued a response to the university's intent to terminate him for cause, taking aim at its investigation and intentions. The 25-page document from Foley & Lardner LLP, obtained by ESPN, includes a lengthy response to Michigan State's allegations, along with a list of reasons Tucker shouldn't be fired for cause. 
"(Tucker) did not engage in unprofessional or unethical behavior or 'moral turpitude' by any stretch of the imagination," the document states. "In fact, as discussed below, under Michigan law, assault and battery does not even constitute 'moral turpitude,' and the flimsy foundation of the university's finding — a private relationship involving mutual flirting and one instance of consensual phone sex — falls far short of the mark."
Michigan State athletic director Alan Haller said the university intends to fire Tucker on Sept. 26 unless given sufficient reason otherwise. Tucker has been accused of sexual misconduct by Brenda Tracy, a prominent sexual assault activist who visited the campus in 2021. If Tucker is indeed fired for cause, Michigan State avoids paying his $79 million buyout. Tucker initially signed the contract in Nov. 2021 amidst an 11-win campaign capped with a Peach Bowl trophy, but he is 9-7 since.
"If the university investigated your private life or that of any other employee, it would certainly find something 'embarrassing' to presumably justify your or their termination," the response says. 
Michigan State opened its investigation in Dec. 2022. Tucker's attorneys contend that Tucker did not breach his contract and questions the validity of the school's investigation, which it calls "terribly flawed, unfair, biased, and devoid of due process." Tucker has maintained that what he and Tracy engaged in was consensual. 
"Let's be clear. I don't believe MSU plans to fire me because I admitted to entirely consensual, private relationship with another adult who gave one presentation at MSU, at my behest, over two years ago," Tucker said.