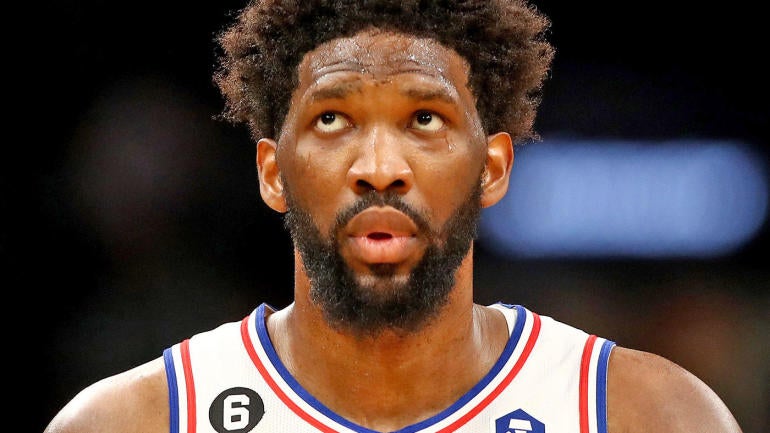 Getty Images
Joel Embiid is officially on the clock to make a decision about whether he'll play for the French national team at the 2024 Olympics in Paris. The French basketball federation has given the reigning NBA MVP a deadline of Oct. 10 to inform them of his decision to play for France, a choice that will have a significant impact on Team USA's roster building for next summer's competition.
"It will happen very quickly in all cases," French basketball president Jean-Pierre Siutat said on French radio show the "Stephen Time Show." We hope so and I think he knows it. We may have an answer by October 10. We have set this deadline."
Embiid has a difficult decision to make, as he can choose between playing for France, where he gained citizenship in 2022, Team USA, where he's lived since he 16, or Cameroon, where he was born. France and the United States already have their tickets punched to the Paris Games, while Cameroon gained a spot to compete in a pre-Olympics qualifying tournament.
The value in adding Embiid to any of these teams cannot be understated, especially for France who could have a trio of bigs in Embiid, Rudy Gobert and Victor Wembanyama if they all play next summer. France would be an incredibly difficult team to beat just from a size standpoint, something that Team USA surely knows. But the French national team isn't banking on having him on the roster just yet.
"We never communicated anything official about Joel Embiid," Siutat said. "There was buzz created from everywhere, and I repeat that I want him to come. However, we made no communication about the fact that he was with us. Today, he is still not with us. We are working on it, we have a firm desire to do it. He knows it. We had the opportunity to discuss it with him and we are awaiting a decision. The American team is very interested in the idea of having him. Cameroon is qualified for the pre-Olympics. It's a delicate situation for him."
With the French team giving Embiid a firm deadline to make a decision, it sounds like we'll get some clarity on his position in the next two weeks.