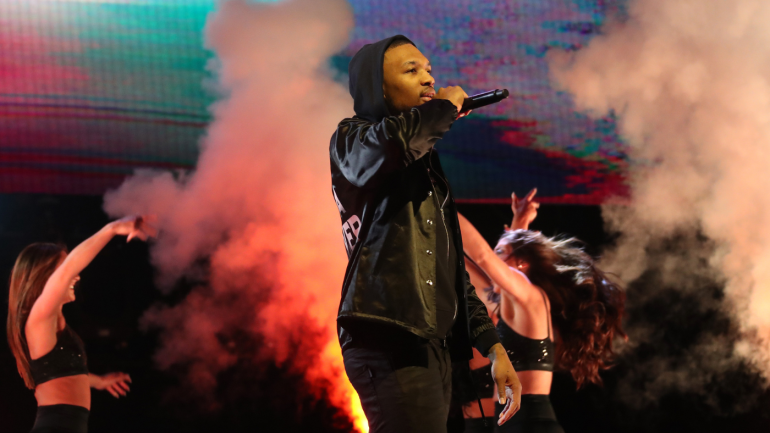 Getty Images
The one-time Trail Blazer walk-off shot artist has just delivered a walk-off shoutout.
Just a hours after the news broke that Damian Lillard was traded to the Milwaukee Bucks, the 33-year-old guard released a single titled "Farewell" under his artist handle Dame D.O.L.L.A. as a thank you to Portland fans after 11 seasons with the team. 
The photo used for the single is Lillard walking away with his phone and bag in his hands. Oregon's Mount Hood is fittingly in the background.
"Amazing what I get in return for this labor. I continue leaving Trails but it won't be for the Blazers," go part of the "Farewell" lyrics. "To the fans, man, I love you. It's unconditional. Reasons for me leaving the city is nothin typical, so it's imperative not to believe the narrative. Just know that what I left is better than what I inherited."
Known for delivering iconic buzzer-beaters on the court and multiple rap albums in the studio, this was a genius marketing move by the NBA star, who was trending on social media all day. The acronym on Lillard's artist name stands for "Different on Levels the Lord Allowed." He has collaborated with other well-known rappers, including Lil Wayne and Snoop Dogg. 
As confirmed by CBS Sports' Bill Reiter, Lillard left as part of a three-team deal that also included the Phoenix Suns. The seven-time NBA All-Star had been loyal to the Blazers ever since they took him in as the sixth overall pick in the 2012 draft. 
Lillard had been the face of the franchise for a decade, but he was not able to win an NBA championship ring with them. And despite Portland landing a quality draft pick in Scoot Henderson in June, the timeline for the Blazers path to title contention no longer fit with the likely arc of the remainder of Lillard's NBA career. He requested a trade over the summer, and now his chapter with the Blazers will come to a close.
"I'll leave at peace 'cause I know in the end that this is business. Hope you remember all the things you got to sit and witness," Dame raps. "In the future, man, I hope we greet with hugs and kisses but you should know they the ones who chose another mission."