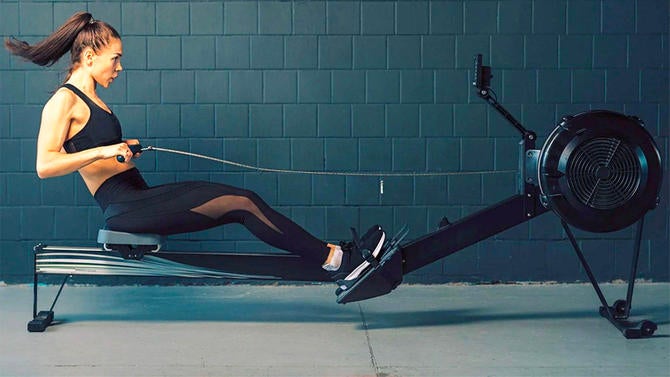 It's hard to beat a rowing machine when it comes to getting a full-body strength and cardio workout all in one session on one piece of equipment. Better yet, you're seated the entire time, so rowing is a great low-impact option for anyone who needs to be kinder to their joints. The only downside is that rowers tend to be pricey compared to other home gym equipment. 
That's why the best move is to watch and wait for the right deal so you can snag a premium rowing machine without paying a premium to get it. And now is precisely that moment, with Amazon offering up deep discounts on top-rated rowing machines like this Hydrow, which can you get for $300 off, or this Fitness Reality, which is on sale for over 40% off.
With so many great deals, there's bound to be a rowing machine that fits your budget (and your home gym space). Just remember to add a pair of sweat-proof headphones to your cart, too, because these rowers will have you working up a serious sweat. 
---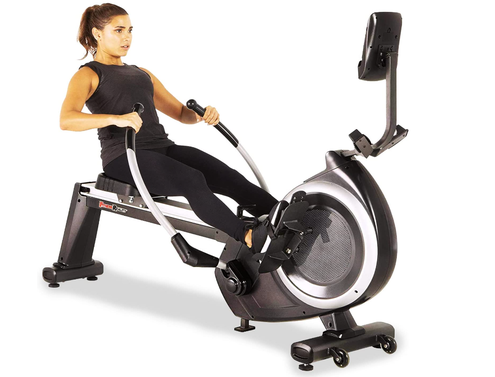 If you love the idea of having a rowing machine at home but you don't love the idea of a single piece of equipment dominating the whole room, the Fitness Reality rowing machine is for you. The foldable design and transportation wheels make it easy to tuck into a corner in between workouts. 
When it's time to break a sweat, unfold and choose from 10 preset workouts or create your own custom program to follow. 
Instead of the front-facing handle attached to a cord, the Fitness Reality features two independent handles that move more like actual paddles. So you get the full range of motion, activating the full range of muscles that would be activated if you were rowing an actual boat. 
What we like: 
Features 16 levels of resistance so you can adjust the intensity of your workout.
Includes a variety of preset or custom workouts so you can change things up.
Its foldable design makes this rower ideal for smaller home gyms.
---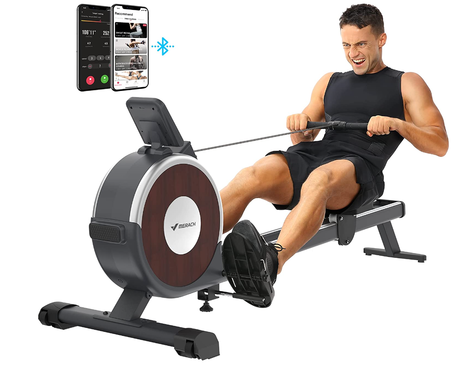 This budget-friendly rowing machine packs a surprising number of premium features, including Bluetooth connectivity so you can automatically log your workouts on the Merach app. 
That app also gives you access to a library of fitness classes and workout videos so you can get even more out your workouts. Open the app from your tablet and mount it to the built-in tablet holder for a more immersive workout experience. 
As for the machine itself, you get 16 levels of resistance, non-slip pedals, and a whisper-quiet design that won't bother your family or your downstairs neighbors. 
Amazon is currently offering the Merach magnetic rowing machine for $100, but be sure to apply the $110 Amazon coupon to save even more before checkout.
What we like about the Merach magnetic rower:
It's easy to assemble — you can put it together in as little as 30 minutes.
The double-track slide rail makes for a more smooth and stable glide with each rep.
Transportation wheels make it easy to store this in a corner when not in use.
---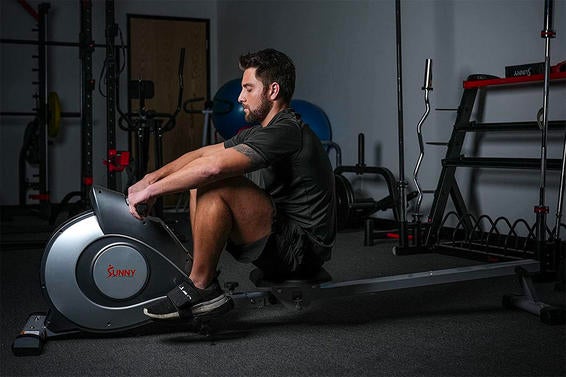 This popular Sunny Health rowing machine has earned more than 11,800 5-star ratings on Amazon. Reviewers love that it's sturdy, quiet, and both the seat and the rowing handle move smoothly with each repetition.
"My only regret was not buying this sooner," said one reviewer. The adjustable resistance levels make it easy to alternative between high intensity sessions and easier recovery workouts.
Plus, when you're done for the day, you can fold it up and stash it in a corner or a closet. Rated 4.4 stars. Be sure to apply the coupon before checkout to get the best price on this rower.
What we like about the Sunny Health magnetic rower:
Features eight levels of magnetic resistance.
Assembly is easy and straightforward.
The digital monitor tracks workout time, reps and calories burned.
Amazon reviewers say its quieter than non-magnetic machines.
The machine can support up to 250 pounds.
---
Shop more top-rated rowing machines on Amazon:
---
Related content on CBS Sports: