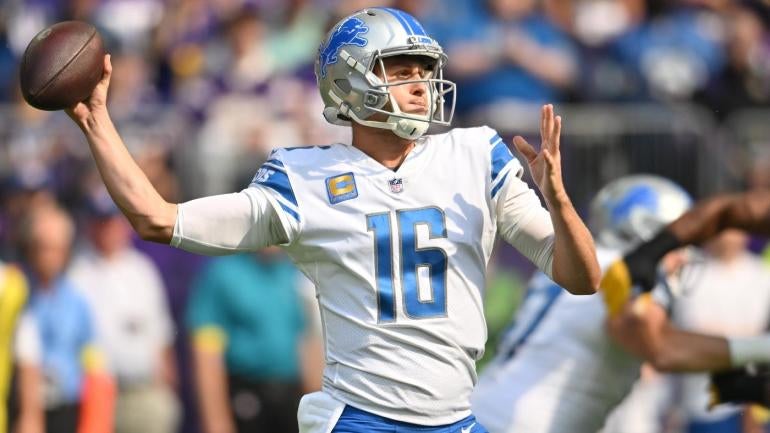 USATSI
For many, many years, the Detroit Lions were a perennial NFL cellar dweller. That's no longer the case in 2023, and Lions quarterback Jared Goff is making sure the entire football world knows it following his team's domineering 34-20 road win at Lambeau Field against the Green Bay Packers, the longtime standard bearers in the NFC North.
Detroit jumped out to a 27-3 halftime lead, becoming the first team to lead Green Bay by 24 or more points at Lambeau Field since Chad Pennington's New York Jets did so against Brett Favre's Packers in 2006. The Lions six consecutive division wins going back to the 2022 season are tied for their longest division winning streak in the Super Bowl era.  Goff threw for 210 passing yards, a touchdown and an interception on 19-of-28 passing Thursday while Lions running back David Montgomery bludgeoned the Packers defense into submission with 121 rushing yards and three touchdowns on 32 carries. That made him the first Detroit player with 100 or more yards and three rushing touchdowns in a game against the Packers. 
"Send us anywhere and we'll be ready," Goff said postgame on Thursday after his team's dominant win over the host Packers. And that's the way we're built. "We have that confidence. Like I said, send us anywhere. Line us up against anyone, and we feel like we can go in there and beat them, and that's a good feeling to have. Is it always gonna happen? I don't know, but we feel like we can. We have that confidence in ourselves, in our coaches and each other. We're working together really well right now."
Why wouldn't the Lions feel this way? They went into Arrowhead Stadium on the NFL's opening night and stunned NFL MVP Patrick Mahomes and the defending Super Bowl champion Chiefs, and this week, they entered Lambeau Field, punched the Packers in the mouth and left with a resounding win. Detroit has taken on the feisty persona of head coach Dan Campbell, and that attitude plus a well-built roster has the Lions sitting at 3-1 near the first quarter mark of the 2023 season.