For anyone who has followed boxing closely over the last decade, it has been difficult to ignore just how different undisputed junior middleweight champion Jermell Charlo has sounded as he sets for the biggest fight of his professional career against Canelo Alvarez. 
Charlo (35-1-1, 19 KOs) will boldly move up two divisions to challenge Alvarez (59-2-2, 39 KOs), the undisputed super middleweight champion, in the first meeting in men's boxing history between reigning four-belt kings. Yet as we draw closer to this superfight inside T-Mobile Arena in Las Vegas (Showtime PPV, 8 p.m. ET), gone has been the typically nasty, intense version of the Houston native who, like twin brother and WBC middleweight champion Jermall Charlo, completely embodies their "Lions Only" branding. 
In its place has been a mature version of the 33-year-old Charlo, who has given Alvarez his props at just about every turn and appears ready for the daunting challenge ahead of him as a 3-1 underdog set to face one of the pound-for-pound best fighters of the modern era.
"I think it's just maturity, at the right time, for the biggest moment," Charlo's trainer, Derrick James, told CBS Sports last week. "But at the same time, you can never really wear your emotions on your sleeve or can never let a guy know how you truly feel about him. You have to be calculated where you have particular feelings towards him but you don't have to let him know because he is expecting it. You have to just be subtle in your life and subtle in your situations."
While James, boxing's trainer of the year in 2022, believes this evolved demeanor will make Charlo even more dangerous because he's leaning even heavier on his intellect in order to avoid being reactionary, it's simply a far cry from the same fighter who has taken his two career blemishes as a professional — a disputed 2018 decision loss to Tony Harrison and a controversial draw with Brian Castano in 2021 — and avenged both via emotional late knockouts. 
Can't get enough boxing and MMA? Get the latest in the world of combat sports from two of the best in the business. Subscribe to Morning Kombat with Luke Thomas and Brian Campbell for the best analysis and in-depth news, including a complete preview of Canelo Alvarez vs. Jermell Charlo in Las Vegas on Saturday below.
The Charlo of old seemed to buck the common working theory within boxing that fighting emotional is a negative thing. It's something Charlo, himself, explained to "Morning Kombat" last month when asked how he has been able to consistently raise his game and thrive when his back has been most against the wall. 
"A lot of points in life is chaotic. A lot of people give you a lot," Jermell Charlo said. "When you use boxing as therapy and you go through something while you are in there, it's easy to fight adversity and face whatever you have to face to make yourself better. Everything isn't always going to be copacetic. Getting to the top, being successful; it's always going to be a tough road. So, when that bell rings, I'm already preparing for squiggly lines yet I come out on top."
In the past, Charlo admits he has resigned himself to an "I don't give a f— attitude" in order to tune out the opinions of others. Interviews with both Charlo brothers have often been explosive, with both viewers and interviews alike trained to expect that any given question could produce tears, laughter or rage from the talented twin champions. 
But not this version of Charlo. And certainly not for this fight. 
"I don't need to trash talk or do all that," Jermell Charlo said. "I wish that I never would've presented such a negative or bad energy but this is just who I am. I am going to give you all what it is. If you piss me off, I'm going to give you the attitude. [But] you can't care about what some other somebody else says. If you focus more on that, you won't be able to do your job."
With the demeanor of an emotionless hit man who has arrived in Sin City for a business trip, Charlo has come across as, well, remarkably normal ahead of this self-proclaimed "life-changing opportunity," even though the path that led to him initially getting the phone call to fight Alvarez — at the same time his twin brother's personal life spiraled into chaos — was so abnormal, at best. 
---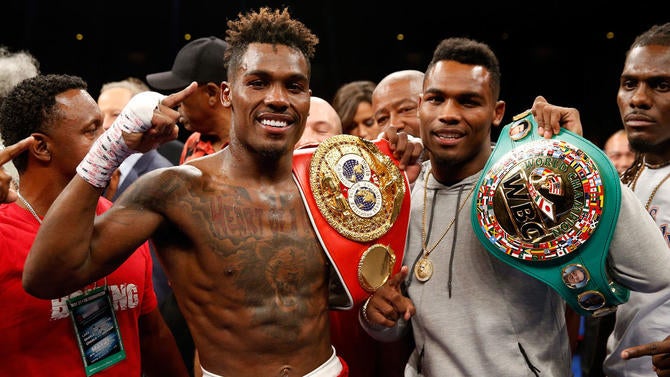 Whether it's unfair or expected given their identical looks and similar skill sets, it has been hard for the boxing world to separate the identities of the Charlo twins, who are often talked about in unison. 
Both fighters possess an impressive mix of speed, technique and the kind of punching power that has been so fueled by their stacks-of-chips-on-their-shoulders demeanor. And while Jermall was initially seen as the naturally bigger and stronger puncher of the two compared his slicker younger brother of one minute, once Jermell left initial trainer Ronnie Shields for James in 2015, which produced an immediate stretch of four devastating knockouts, it became even harder to separate them. 
Jermell turned pro first, some 10 months before Jermall made his debut in 2008. But it was Jermall who beat his twin to a 154-pound world title by knocking out IBF champion Cornelius Bundrage in 2015, eight months before Jermell did the same to John Jackson in their meeting for the vacant WBC title. 
Their identities finally separated a bit once Jermall moved up in weight in 2018 to capture the WBC middleweight title while Jermell focused on his systematic march toward eventually becoming the first undisputed champion at 154 pounds in the four-belt era. But when news first hit that Alvarez would be returning to Showtime and Premier Boxing Champions for the first of a three-fight deal this fall, the early rumor mill seemed to support the idea that the bigger Charlo would become the Mexican icon's first opponent. 
Jermall did receive that call. Yet, in the midst of a two-year layoff fueled by injury, divorce and the spiraling of his mental health, he told PBC founder Al Haymon he couldn't be ready for September. So, when Alvarez's return was announced, only to find out that Jermell was the opponent, most boxing experts could be forgiven for assuming it was a social media typo.
Yet it was Jermell, who had twice been forced to postpone undisputed 154-pound title defenses against rising Australian star Tim Tszyu due to a left hand injury, who accepted the fight without hesitation. 
"I'm not surprised by that," James said. "We talked about it and he asked me a couple of questions. I told him what I felt. In the space we are in, to be at the top of the game, we can all lie and say we have a plan. But I think it's more about making situations happen. I believe that we are not supposed to be in this space but that we forced our way into this. So we need to be able to capitalize on the situations that we were presented with." 
While all of that was great for Jermell, it was hard not to ponder what that meant for Jermall and, more importantly, the already volatile and unique relationship between them as twins. 
The Charlo twins have always been there for one another in their biggest moments, including celebrating inside the ring after championship wins. But they have also been each other's competitive measuring stick since the beginning, which created the type of relationship that hasn't been without some very public pitfalls along the way. 
The two brothers famously didn't speak for nearly two years fueled, in part, by a 2020 Instagram live video in which their sibling rivalry boiled over in a very public and negative way. The brothers spoke about that chasm between them during an emotional dual appearance in May on the "I Am Athlete" podcast with former NFL stars Brandon Marshall and DeSean Jackson.  
"We have had our back and forths," Jermell said. "We went through almost two years when he had a sour wife. I didn't like her and he wanted to fight me all the time. I tried my best to make it coherent but she was damn near putting us at war. Once he woke up and realized, the best of the best was us sticking together.
"I understood him early but the rest of the world really never understood my brother. So I can let some things go. He can be all tripping and the next morning, I don't even need that phone call [apologizing]. I don't need that. I know what time it is. He's different. But for the rest of the world, it's going to be difficult to understand that he really meant good for you. The energy he has, it has nothing to do with the upbringing. He really is different. He's one of a kind. I'm one a kind, but we are twins."
During the same interview, when asked if the two brothers would ever box for real, Jermall answered, "If the bag is big enough, I would go big brother your ass." But he went on to admit that the separation anxiety caused by the constant arguments between them, is often what has led him down dark paths. 
"The encouragement that he gave me, no one can give it to me," Jermall said. "And if you go so long without it, it kind of gets you to the point where you have to make that. That's why I had to go get therapy for it. I don't have to be away from my brother because we will argue and get mad at each other. If we are away from each other too long, that's when y'all see what you see."
The hot-and-cold relationship appeared to survive the June announcement that Jermell would be fighting Alvarez. But a July appearance at the Terence Crawford-Errol Spence Jr. fight turned tumultuous when the wife and the ex-wife of each twin came to blows in the parking lot. Both the skirmish, and the subsequent altercation between Jermall and Caleb Plant, went viral on social media.
According to subsequent interviews, it became clear that neither brother had talked to each other about the incidents. Fast forward to the August press conference in New York to formally announce the Alvarez fight, and it became clear the Charlo twins hadn't talked at all and don't plan to ahead of this weekend. 
"I don't know what he is going to do or what type of support I am going to get from him or if he is thinking whether I'm going to win or lose," Jermell said after the press conference. "Because he said he has [Alvarez] next but maybe I'll beat [Alvarez] and get a rematch." 
Jermell then appeared to take a subtle dig at his twin during Wednesday's final press conference that didn't go unnoticed on social media. 
"You will see us back again for a rematch [against Alvarez] because this is my moment," Jermell said. "I represent the Charlos. I'm one of them Charlo Twins, I'm one of them 'Lions Only' guys. Yeah, we said a lot of things but we backed it up. Well … I know I have. It is what it is."
While it remains uncertain as to whether Jermall will support his brother in person this weekend, he appears to be in better overall spirits. Two weeks ago, he spoke to a scrum of media members in Pensacola, Florida, where Jermall is temporarily living and training with Hall of Famer Roy Jones Jr. 
Although Jermall said he intends to stay with Shields as his head trainer, the work with Jones has inspired his plans for a comeback, which Jermall said could include a comeback fight in December before a possible meeting with Alvarez, should he defeat Jermell, next year. But he also commented on the status of his relationship with his twin. 
"A lot of people say that my back was against the wall but, shit, my back was against the ground. I hit rock bottom," Jermall said. "I'm still the champ and I'm still undefeated, but I feel like I lost everything — the relationship my mom and my dad, and with my twin brother. He's getting ready to fight Canelo now and I still haven't talked to him. Things like that just kind of have to repair itself. I have just learned how to distance myself from things that really aren't making me happy and are taking my peace.
"This is motivating me to get myself back together. Let my brother have his outings with Canelo. I pray for him and I wish him and his family the best. But sometimes you have to part ways for someone to get stronger. And then when he sees how strong I am at, we will link up and connect like we always did. But at this time I can be a distraction for my brother. I don't want to be that type of person for him."
---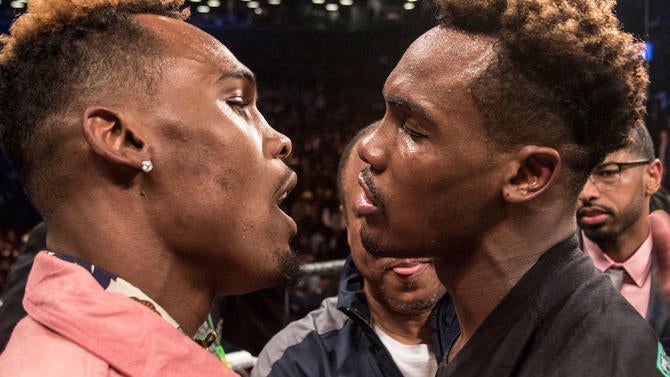 The Charlo brothers previously used to revel in their labels as misunderstood, with the 2007 hip hop song of the same name by Common serving as an unofficial theme song. Jermell went as far as revealing on the "I Am Athlete" podcast that previously he had the word the same adjective tattooed on the back of his leg until a revelation led him to cover it. 
"I want people to understand what we really meant," Jermell said. "We are misunderstood but I don't want to die and somebody look at this body and say, 'Oh, well, he died because he's misunderstood.' Let me fix that."
The origin of their intense boxing persona seems to be rooted in lessons handed down early on from their father, Kevin Charlo, a former boxer who began bringing his sons to the gym at an early age. 
"At the end of the day, what we grew up doing can never leave us," Jermell said. "It's going to stick to my heart. One thing that is part of that heart that is still inside that glass is the way we were raised in Texas. We had to have that ruthless heart. As my daddy always told us, 'They are trying to kill you out there.' That made us lions."
"His exact words," Jermall said of his father, "were, 'let your offense be your defense.'" 
Jermell's nickname of the "Iron Man" was given to him by Kenny Porter, the trainer and father of former two-time welterweight champion Shawn Porter. And although he said he has been mindful to act in a more sophisticated manner outside the ring as he matures as a man, he retains that deadly mindset inside of it to align with his moniker. 
"The 'Iron Man' is a character, yes. But the [reason] I call myself that is you can unscrew my heart," Jermell said. "Remember, [Iron Man] had a heart that you had to screw in and out to make it work. I don't know why [Kenny Porter named me that] but I took that and dug a little bit deeper. I was like, 'Yeah, I'm the Iron Man. I'm heartless in this game.' But as I got older and started making money and doing my thing, I had to realize that boxing is boxing and making money is making money." 
James has credited Jermell becoming a father and the relationship he has with his wife, Chy Westbrook, for helping him mature to a point where he's fully ready for a challenge as difficult as one Alvarez brings. 
"I think that it's great to see a cultured man who is married with family," James said. "There is something in him you can see is real."
For Jermell Charlo, now it's just about melding that maturity with the same fire and intensity that has taken him to this point, on the doorstep of an upset victory that would cement his status as a pound-for-pound elite and stamp his passport to the Hall of Fame should he join Crawford as the only two-division undisputed champions of the four-belt era. 
"I just have it in me," Jermell told CBS Sports. "It was built in me and instilled in me. I grew with this and I have a fire in me so I just need to keep that thing lit. I hope you all are peeping the maturity that I have been through and the lessons of life that taught me that I'm growing and learning as a man, now. And growing as a man has put me in position to fight Canelo.
"Y'all are going to see that, dang, we underestimated Jermell Charlo. I like when I got haters and doubters and people that don't really know me yet. They don't really know how hard I hit because they haven't been in the ring with me yet. Hopefully, after the fight, Canelo can let you all know that I'm one of the most dangerous fighters he has fought."