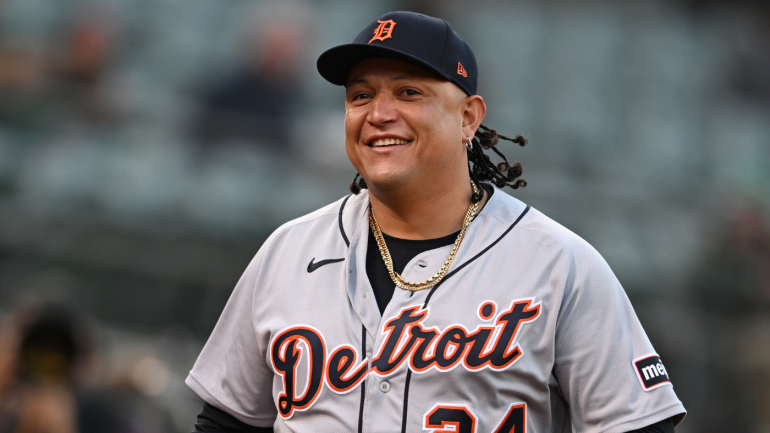 Getty Images
The Detroit Tigers announced Friday that Miguel Cabrera will remain with the organization and serve as a special assistant to the president of baseball operations once he wraps up his playing career this weekend against the Cleveland Guardians.
Scott Harris, who currently holds the president of baseball operations title with the Tigers, said as part of the announcement: "Lessons like how to deal with praise and pressure are exactly what we want Miguel teaching players throughout our organization. I'm honored to have him as part of our staff, and know he will continue to make the Tigers better in his new role."
Cabrera, 40, is putting the final touches on a storied 21-year big-league career. After spending his first five seasons with the Miami Marlins organization, he's since tallied 16 seasons with the Tigers. Overall, he's amassed a .306/.382/.518 (140 OPS+) career line to go with 3,170 hits, 511 home runs, and 67 Wins Above Replacement, according to Baseball Reference's estimates.
Cabrera has earned a lengthy list of achievements beyond the statistical kind. He's a two-time Most Valuable Player Award recipient, as well as a 12-time All-Star, a seven-time Silver Slugger Award winner, and a one-time Triple Crown winner. He was also part of the Marlins' 2003 World Series title win.
It's unclear how much input or influence Cabrera will actually have within the Tigers baseball operations department. Oftentimes, these moves are glorified ways of keeping popular or meaningful contributors around the club. Still, this is the second notable addition the Tigers have made to their front office in the past month. Earlier in September, they named Jeff Greenberg (formerly of the NHL's Chicago Blackhawks) as their new general manager.