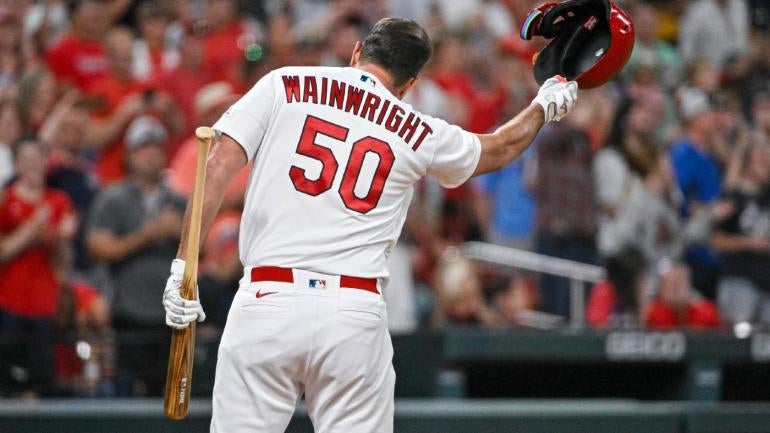 USATSI
Cardinals veteran moundsman Adam Wainwright is retiring at the end of the season after parts of 18 major-league seasons, all with St. Louis. He recently notched career win No. 200, but shoulder and rib problems mean he won't be able to take the mound again. In order to give Wainwright a fitting send-off during the Cardinals' final series of the season, manager Oli Marmol said he would look for an opportunity to give him an at-bat, provided the outcome of the game didn't hang in the balance and matter in the postseason chase. 
Such an opportunity presented itself in the series opener against the Reds on Friday night at Busch Stadium. Cincinnati, still clinging to slim wild-card hopes, barged to a 14-2 lead, and in the sixth inning Wainwright got his chance as a pinch-hitter for DH Luken Baker. Here's a look at his reception by the home crowd: 
Wainwright, who homered three times during batting practice before the game, fouled a 93-mph fastball from Brandon Williamson straight back and then hit a sharp ground-out to second. Notably, the grounder left Wainwright's bat at a robust 102.1 mph. Wainwright has long been a useful hitter by the standards of pitchers. In the pre-universal DH days, he won a Silver Slugger and hit 10 home runs in his career. 
In lieu of taking the mound one last time in St. Louis, an at-bat and a thorough feting by the Busch Stadium crowd will certainly do as a capstone for Wainwright's career.