The 2023 MLB playoff bracket will be finalized Sunday as the regular season draws to a close. The 12-team field is set after five clubs clinched postseason spots on a hectic Saturday night. The AL West and wild-card seeding in both leagues remain undecided entering Sunday, and you can follow the action here.
The Rangers and Astros are still battling for the AL West title. The division crown comes with the No. 2 seed in the American League bracket and a first-round bye. The Orioles, Twins, Rays and Blue Jays round out the AL playoff field.
Things are more settled in the National League with the top four seeds set in stone: No. 1 Braves, No. 2 Dodgers, No. 3 Brewers and No. 4 Phillies. The Marlins and Diamondbacks complete the NL bracket, and Miami — back in the playoffs in a full season for the first time since 2003 — is in the driver's seat for the No. 5 seed.
Below is a look at the MLB playoff bracket entering Sunday, as well as seeding possibilities, clinching scenarios and the schedule for the first two rounds of the playoffs. The best-of-three Wild Card Series gets started Tuesday (Oct. 3) and the League Division Series kicks off next Saturday (Oct. 7).
2023 MLB playoff bracket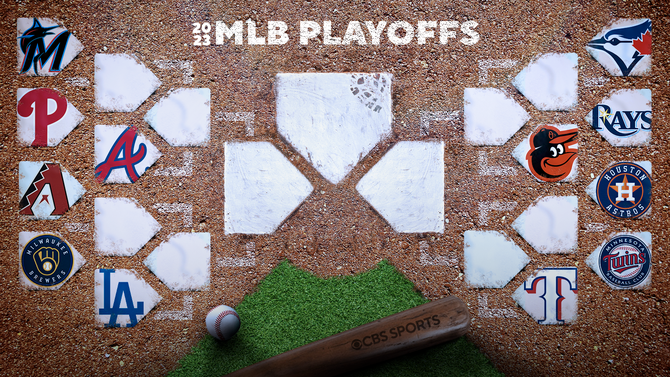 MLB playoffs seeding
American League
No. 1: Orioles
No. 2: Rangers or Astros
No. 3: Twins
No. 4: Rays
No. 5: Blue Jays or Rangers or Astros
No. 6: Astros or Blue Jays
National League
No. 1: Braves
No. 2: Dodgers
No. 3: Brewers
No. 4: Phillies
No. 5: Marlins or Diamondbacks
No. 6: Diamondbacks or Marlins
Sunday clinching scenarios
The Rangers clinch the AL West with a win or an Astros loss.
The Astros clinch the AL West with a win and a Rangers loss.
The Blue Jays clinch the AL's No. 5 seed with an Astros loss or with a win and a Rangers win.
The Marlins clinch the NL's No. 5 seed with a win or Diamondbacks loss.
The Astros clinch the AL's No. 5 seed with a win, a Rangers win and a Blue Jays loss.
Wild Card Series schedule
All games on ABC, ESPN, ESPN2, Fox and FS1 will be streaming on fubo (try for free).
Tuesday, Oct. 3
Game 1: No. 3 Brewers vs. NL No. 6 (ABC/ESPN/ESPN2)
Game 1: No. 4 Phillies vs. NL No. 5 (ABC/ESPN/ESPN2)
Game 1: No. 3 Twins vs. AL No. 6 (ABC/ESPN/ESPN2)
Game 1: No. 4 Rays vs. AL No. 5 (ABC/ESPN/ESPN2)
Wednesday, Oct. 4
Game 2: Brewers vs. NL No. 6 (ABC/ESPN/ESPN2)
Game 2: Phillies vs. NL No. 5 (ABC/ESPN/ESPN2)
Game 2: Twins vs. AL No. 6 (ABC/ESPN/ESPN2)
Game 2: Rays vs. AL No. 5 (ABC/ESPN/ESPN2)
Thursday, Oct. 5
Game 3*: Brewers vs. NL No. 6 (ABC/ESPN/ESPN2)
Game 3*: Phillies vs. NL No. 5 (ABC/ESPN/ESPN2)
Game 3*: Twins vs. AL No. 6 (ABC/ESPN/ESPN2)
Game 3*: Rays vs. AL No. 5 (ABC/ESPN/ESPN2)
Divisional round schedule
Saturday, Oct. 7
ALDS Game 1: No. 1Orioles vs. TBD (Fox or FS1)
ALDS Game 1: TBD vs. TBD (Fox or FS1)
NLDS Game 1: No. 1 Braves vs. TBD (TBS)
NLDS Game 1: No. 2 Dodgers vs. TBD (TBS)
Sunday, Oct. 8
ALDS Game 2: Orioles vs. TBD (Fox or FS1)
ALDS Game 2: TBD vs. TBD (Fox or FS1)
Monday, Oct. 9
NLDS Game 2: Braves vs. TBD (TBS)
NLDS Game 2: Dodgers vs. TBD (TBS)
Tuesday, Oct. 10
ALDS Game 3: TBD vs. Orioles (Fox or FS1)
ALDS Game 3: TBD vs. TBD (Fox or FS1)
Wednesday, Oct. 11
NLDS Game 3: TBD vs. Braves (TBS)
NLDS Game 3: TBD vs. Dodgers (TBS
ALDS Game 4*: TBD vs. Orioles (Fox or FS1)
ALDS Game 4*: TBD vs. TBD (Fox or FS1)
Thursday, Oct. 12
NLDS Game 4*: TBD vs. Braves (TBS)
NLDS Game 4*: TBD vs. Dodgers (TBS)
Friday, Oct. 13
ALDS Game 5*: Orioles vs. TBD (Fox or FS1)
ALDS Game 5*: TBD vs. TBD (Fox or FS1)
Saturday, Oct. 14
NLDS Game 5*: Braves vs. TBD (TBS)
NLDS Game 5*: Dodgers vs. TBD (TBS)