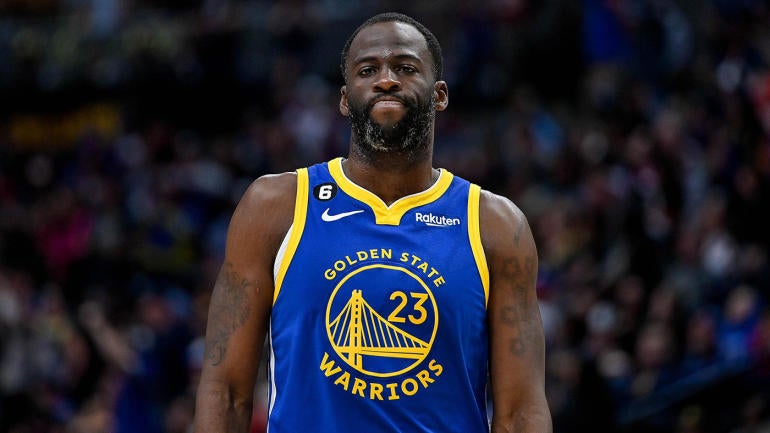 Getty Images
The Golden State Warriors' starting lineup for the upcoming season could potentially boast four stone-cold Hall of Fame locks. The downside, however, is that all four are at least 33 years old with notable injury history. As such, the team and its fans would be well served to prepare themselves for bumps and bruises that sporadically keep their stars out of action throughout the season.
It didn't take long for an injury to surface, as Draymond Green recently suffered a left ankle sprain during a pickup game, as first reported by Jason Dumas of KRON4 and later confirmed by Green to Andscape's Marc J. Spears. Green said that he expects to miss at least a month with the injury, adding that he "dodged a bullet" and is pleased by the way his ankle progressing.
A four-to-six week timetable would see Green back on the court around early-to-mid November, meaning he would miss at least the first four games of the Warriors' 2023-24 regular-season schedule. More information should be forthcoming at Golden State's media day on Monday.
After recovering from a serious back injury suffered during the 2021-22 campaign, Green played 73 games last season, earning a second team All-Defensive selection and leading the team in assists, while logging his highest scoring average since 2017-18.
There were rumors that Green might seek a change of scenery during this summer's unrestricted free agency, but instead he agreed to a four-year, $100 million deal to stay in Golden State.
"We're really excited to have Draymond back," Kerr said in early July. "He's been such a huge part of this decade run and, as he showed this past year, he still has plenty left in the tank. … Given that he plays so well with Steph [Curry] and Klay [Thompson], it was really a no-brainer to try to bring him back."
An injury before the official start of training camp isn't ideal for the Warriors as they begin to acclimate offseason acquisition Chris Paul into the mix, but the organization is certainly taking a long-haul approach to this season, hoping that everyone is healthy and productive by the time the playoffs roll around.