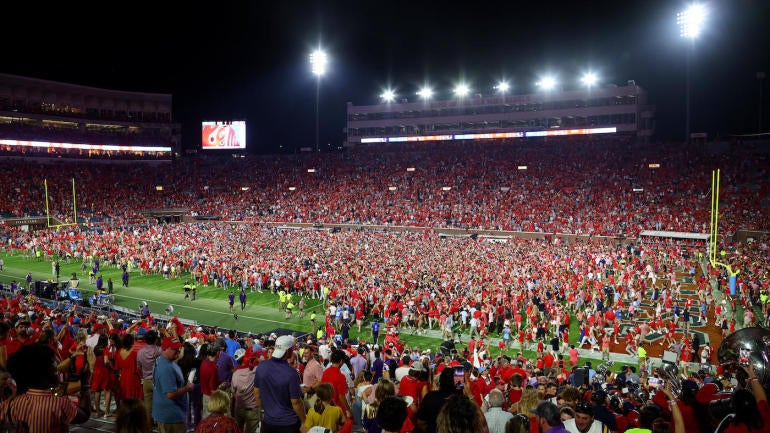 Getty Images
Ole Miss was hit with a $100,000 fine from the SEC in wake of fans storming the field at Vaught-Hemingway Stadium following the Rebels' Week 5 home win against LSU, the conference announced Sunday. The penalty constitutes as Ole Miss' first violation of the the SEC's access to competition area policy, which was revised during the conference's spring meetings earlier in the year. 
LSU will be the benefactor of that fine, as the SEC's policy state that fines are paid to the opposing institution when they stem from a conference matchup. Fines would increase for Ole Miss in the event of future violations, moving to $250,000 for a second offense and $500,000 for a third and subsequent offenses.
Ole Miss' 55-49 win against LSU Saturday was the highest-scoring matchup in series history. The Rebels and Tigers combined for more than 1,300 yards of total offense. Ole Miss outscored LSU 21-7 in the fourth quarter, registering the game-winning touchdown with just 39 seconds to play. It gave the Rebels their second victory against LSU in the last three meetings after dropping five straight from 2016-20. 
The Rebels, in their fourth season under coach Lane Kiffin, improved to 4-1 (1-1 SEC) with the victory. The Tigers dropped to 3-2 (2-1 SEC) in their second season under coach Brian Kelly.