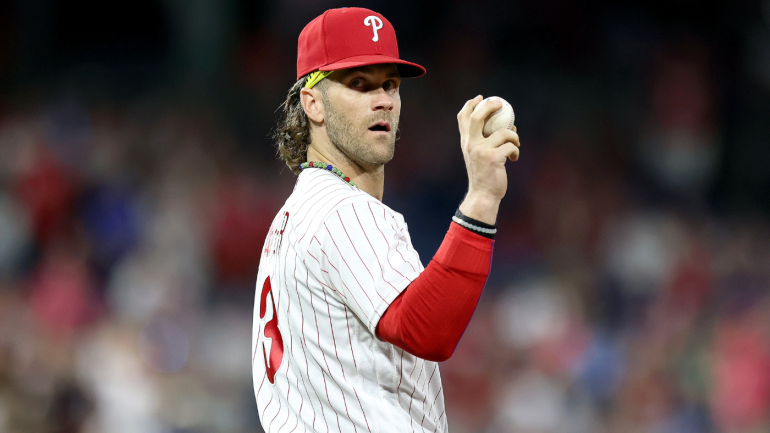 Getty Images
Major League Baseball's 2023 postseason kicked off Tuesday with four Wild Card Series Game 1s. In the finale of Tuesday's four game, the Philadelphia Phillies host their National League East rivals, the Miami Marlins, in the opener of their best-of-three wild-card clash. The Phillies, who won the NL pennant in 2022, returned to the postseason this year thanks to a 90-72 record and claimed the top wild-card spot. The Marlins, meantime, made the playoffs in a full season for the first since 2003, when they won the World Series. 
Miami under first-year manager Skip Schumaker went 84-77 but clocked those 84 wins despite a minus-56 run differential. That was made possible by the team's 33-13 record in games decided by one run. During the regular season, the Marlins won seven of 13 head-to-head contests against the Phillies, but they were out-scored in those contests by a margin of 64-55. 
You can view the full postseason schedule by clicking here, and here's the 2023 playoff bracket. Now, let's get to the important stuff for the series and Tuesday's Game 1.
Phillies vs. Marlins schedule
Game 1: Phillies vs. Marlins, 8:08 p.m. ET
Game 2: Phillies vs. Marlins, 8:08 p.m. ET
Game 3*: Phillies vs. Marlins, 8:08 p.m. ET or 7:08 p.m. ET
How to watch Game 1
Date: Tuesday, Oct. 3 | Time: 8:08 p.m. ET
Location: Citizens Bank Park (Philadelphia)
TV channel: ESPN | Live stream: fubo (try for free)
Starting pitchers: LHP Jesús Luzardo (10-9, 3.63 ERA) vs. RHP Zack Wheeler (13-6, 3.61 ERA)
Phillies vs. Marlins odds
Series odds: PHI -200 | MIA +170
Game 1 odds: PHI -170 | MIA +143 | O/U: 7.5
Game 1 preview
On the surface, these two starting pitchers look pretty similar. Drill down a bit, and you'll find more statistical similarities. Wheeler this season struck out 26.9% of opposing batters — a strong figure for a starting pitcher — and posted a career-best 5.44 K/BB ratio. Luzardo, meantime, struck out 28.1% of opposing batters across his first ever qualifying workload. He also logged a K/BB ratio of 3.78. Platoon splits are relevant here, as Luzardo is a lefty and Wheeler a righty. The Phillies this season ranked eighth in MLB with an OPS of .779 versus left-handed pitching. Miami ranked just 20th in OPS against right-handed pitching in 2023. That could be the potential edge for the host Phillies in Game 1. 
Game 1 prediction
Based on those handedness trends noted above, we'll say the Phillies strike first at home behind a strong effort from Wheeler. 
Pick: Phillies 4, Marlins 2