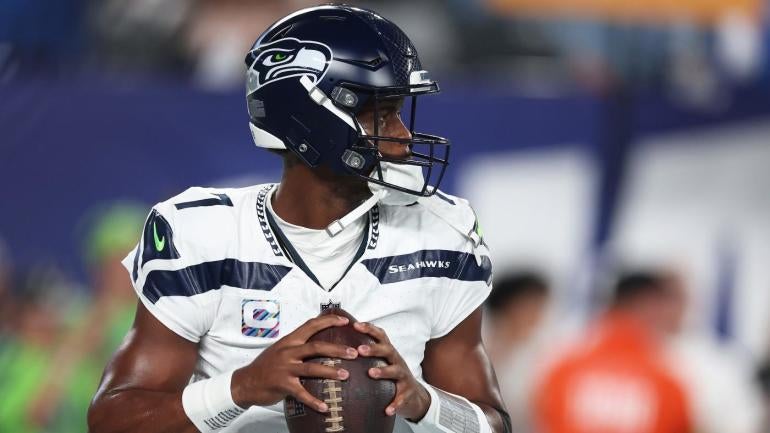 Getty Images
The Seahawks struck first on Monday night against the Giants, with Geno Smith finding DK Metcalf for the game's first touchdown. Then they avoided a long-term injury scare later in the first half, with Smith hurting his knee on a sideline tackle after catching his own deflected pass. Backup quarterback Drew Lock took over with three minutes left in the second quarter, but Smith returned to the lineup after halftime, despite being carted from the sidelines to the locker room for further evaluation. 
The Seahawks had officially ruled Smith questionable to return after his exit. Smith had attempted a short pass over the middle with 10:07 left in the first half, only for Giants defensive lineman D.J. Davidson to knock the ball into the air — and back into Smith's arms. Linebacker Isaiah Simmons then chased Smith down toward the sideline, eventually dragging the QB to the ground. After spending an extra moment seated, Smith showed a limp as he walked, then returned to the Giants sideline to bark frustration at the opposing team.
Smith stayed on the field for the ensuing play, then threw his helmet in added frustration as he returned to his own sidelines on fourth down. Lock, who did not take a single snap as Seattle's No. 2 QB in 2022, began warming up during the play immediately following the apparent injury, while Smith paced around the sidelines before receiving trainers' attention in the Seahawks' medical tent.
Lock started 21 games during a three-year stint with the Broncos to start his NFL career, joining Seattle as part of the Seahawks' trade of Russell Wilson to Denver ahead of the 2022 season. He went 2 of 5 for 63 yards, guiding a touchdown drive, in Smith's absence.