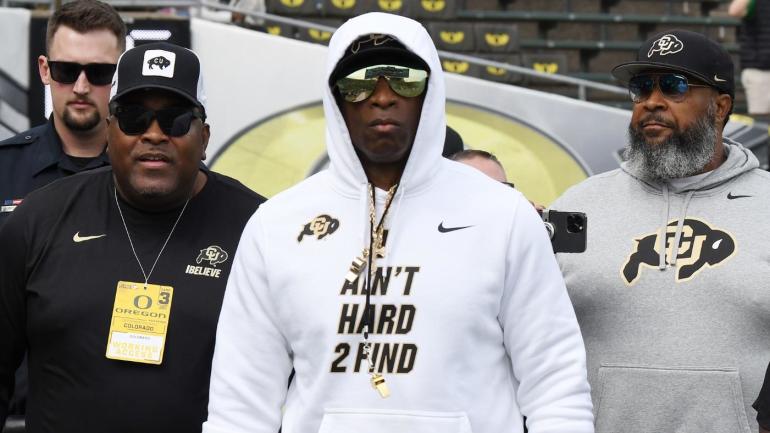 Getty Images
As they opened training camp in Colorado, the Philadelphia 76ers got to hear from the legendary Deion Sanders. More specifically, reigning NBA MVP Joel Embiid got an important message from Sanders, now the head coach of the Colorado Buffaloes.
While addressing the 76ers at a dinner, Sanders spoke about his love for superstar matchups in sports. Sanders cited Michael Jordan, saying the Chicago Bulls superstar "wanted that smoke."
That's when Sanders turned his attention to Embiid and Denver Nuggets star Nikola Jokic, who have been locked in an MVP battle over the last couple of years. Sanders said, if a game is billed as Embiid vs. Jokic, that is what he wants to see when it tips off.
"A lot of folks duck that smoke right now," Sanders said. "They want to be Tarzan on paper. Don't sell me the game that when I turn on the TV, this is what I'm gonna get. Then I turn on the TV, and I don't get that. I don't like that. If Embiid is playing the Joker, I want to see Embiid vs. the Joker. … I love the matchup. I want to see it. That's why I stayed up. If somebody else is on the Joker, I ain't got time for that. I'll watch the BET Awards."
In a matchup between the Nuggets and 76ers late last season, Embiid was notably absent due to a lingering calf issue. Perhaps Sanders was trying to needle Embiid about that incident in an attempt to get him motivated for those types of clashes in 2023-24.
Embiid went on to win the 2023 MVP award anyway, but Jokic had the last laugh. He led the Nuggets to an NBA title and won the Bill Russell Finals MVP Trophy.