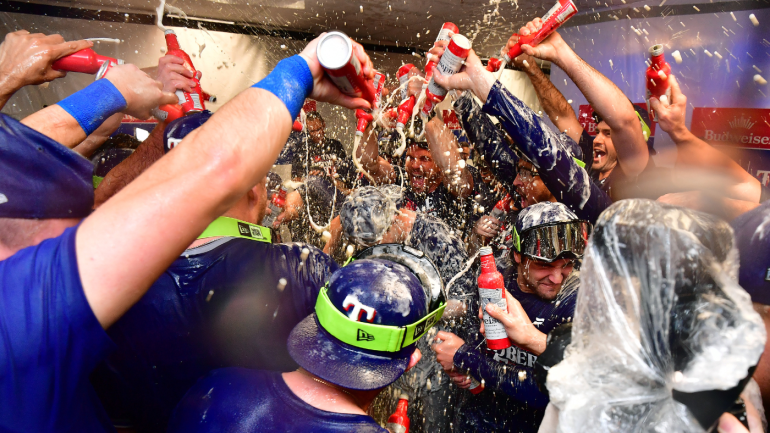 Getty Images
The Texas Rangers are heading to the American League Division Series. The Rangers completed the two-game Wild Card Series sweep against the Tampa Bay Rays at Tropicana Field on Wednesday (TEX 7, TB 1) and will take on the Baltimore Orioles in the ALDS. That series begins Saturday at Camden Yards.
Texas shut the Rays down in both games this series and Tampa's postseason offensive futility approached historic levels. Curtis Mead's seventh-inning RBI single plated the Rays' first postseason run since Jose Siri's sixth inning solo homer in Game 1 of last year's Wild Card Series against the Cleveland Guardians. Here are the longest postseason scoreless streaks in baseball history:
Los Angeles Dodgers, 1966-74: 34 innings
Tampa Bay Rays, 2022-23: 33 innings (snapped in Game 2)
Baltimore Orioles, 1974: 30 innings
Pittsburgh Pirates, 1991-92: 29 innings
Philadelphia Athletics, 1905-10: 29 innings
As if the scoreless streak isn't bad enough, the Rays have now lost seven consecutive postseason games dating back to Game 1 of the 2021 ALDS against the Boston Red Sox. That is the tied for the longest active postseason losing streak in baseball (the Blue Jays also lost their seventh straight playoff game on Wednesday). The Minnesota Twins snapped their historic 18-game postseason losing streak Tuesday.
As for the Rangers, the Wild Card Series sweep is their first postseason series win since the 2011 ALCS against the Detroit Tigers. They lost the 2012 AL Wild Card Game and both the 2015 and 2016 ALDS before returning to the postseason this year. Rookie Evan Carter's two-run homer was the big blow Wednesday.
At 21 years and 36 days, Carter is the 11th youngest player in history to hit a postseason home run, and the third youngest US-born player to go deep in October. Only Bryce Harper (19 years and 362 days) and inner circle Hall of Famer Mickey Mantle (20 years and 352 days) hit homers in the playoffs at a younger age than Carter among US-born players.
Carter, who was not called up until Sept. 8, slashed .306/.413/.645 with five home runs in 23 regular season games. He went 3 for 4 with two doubles, one homer, three walks, one strikeout, and one hit by pitch in the two-game Wild Card Series. If there were such a thing as a Wild Card Series MVP, Carter would have taken it home this week.
The Rangers advance to the ALDS and the Rays head home after what was, frankly, an embarrassing postseason performance. They opened the regular season with a historic 13-game winning streak but didn't even win the AL East, and then went two-and-out in the postseason. A disappointing year no matter how you slice it.