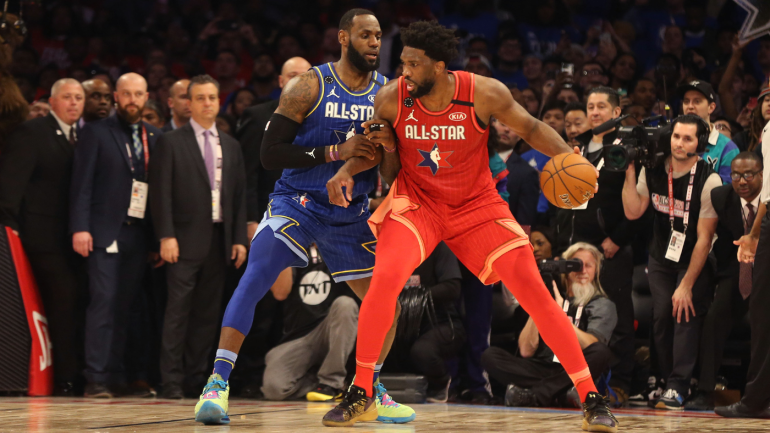 Getty Images
Team USA's roster at the 2024 Olympic Games could be its best in decades. Joel Embiid committed on Thursday to play for the United States, joining a constellation of stars who have pledged to participate. If everybody stays healthy and sticks to his word, then this iteration will, like the 1992 Dream Team, honor the best players of a generation and feature several superstars in or approaching their respective primes.
Before projecting the 12-man roster, here's a (long) list of other players who want in:
Also of note:
So, who makes the cut?
For the purposes of this exercise, let's assume everybody mentioned above is healthy and willing to play, so USA Basketball can effectively have anybody it wants. What might this loaded 12-man roster look like?
We can start by including the reported ringleader and all the big names he has recruited: James, Curry, Durant, Green, Tatum, Davis, Booker. That's seven spots gone already.
Embiid is obviously a lock, and Adebayo is reportedly a done deal. That's nine.
If Leonard is really on board, you don't turn him down. Ten.
Lillard wasn't particularly great for the Tokyo Games in 2021, but he was hurt. Time for him to make up for that. Eleven.
Want another guard? I could easily see Irving getting the nod. He or Morant would be the way to go if you're looking for star power, but Edwards has more size and would give the team a connection to the group that showed up this summer. From a team-building perspective, VanVleet would make sense, too, given his ability to contribute without getting many touches.
Want another big? Jackson is probably the next man up, and Lopez is another, bulkier option. Holmgren could play the role Davis played in 2012.
Judging by the way USA Basketball has constructed its rosters before, though, I suspect it will lean into their biggest advantages: Length, athleticism and defensive versatility. Bridges would be an absolutely perfect fit, but, if George wants to participate, I think the vet is getting the invite.
So what would this look like? Who starts?
Ha! Does it even matter? Kerr could use Curry as a sixth man if he wants to. He could start the five big wings (James, George, Tatum, Leonard and Durant) and switch everything. The possibilities are endless.
But here's one hypothetical look:
Starters: Curry, Booker, Durant, James, Embiid
Reserves: Lillard, George, Leonard, Tatum, Green, Davis, Adebayo 
I might go with one of the Clippers over Booker in order to make the defense as intimidating as possible. The defense should be pretty awesome regardless, though, given that nobody has to worry about playing heavy minutes or carrying an enormous load on offense.
If the actual roster ends up resembling this one, don't be surprised if Kerr experiments with the rotation throughout the tournament and benches someone you don't expect. If Booker, for example, ends up on the second unit, it might be because the coaching staff wants him to play the bench-scorer role that Dwyane Wade played (and Edwards didn't) for Team USA.
Our Latest NBA Stories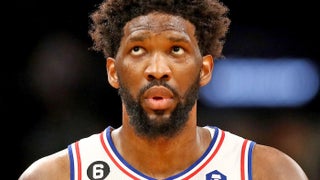 Watch Now: