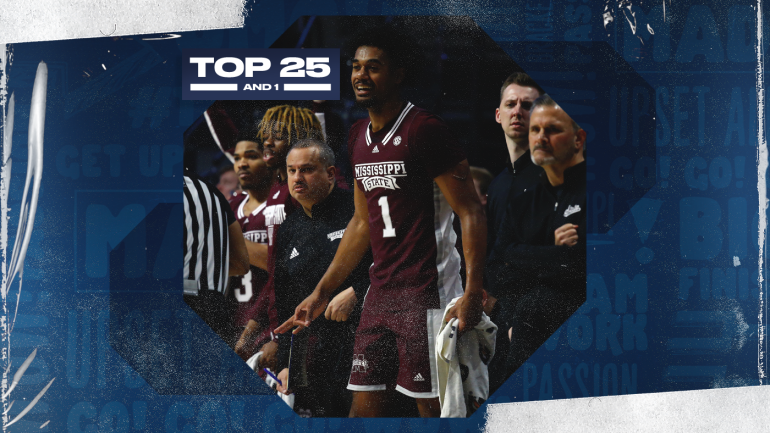 USATSI
College basketball's offseason starts in April and lasts until November. It's basically a seven-month block of time where the early weeks are filled with departures from rosters and additions to rosters. Eventually, though, things settle down, projected lineups start to take form, and that's when fanbases of teams that appear good on paper begin to get excited and look forward to what's to come.
Mississippi State was one of those fanbases.
And I hope Mississippi State is still one of those fanbases. But there's no getting around the fact that some optimism was ripped away from the program Thursday when the school announced that Tolu Smith, a preseason All-American candidate, suffered a foot injury that will sideline him until sometime after the calendar flips to 2024.
"We're going to support and care for Tolu's mental and physical well-being during every step of the recovery process," said Mississippi State coach Chris Jans. "We will continue to move forward with our preparations for the upcoming season as Tolu and his family would expect us to. He will continue to serve as a team leader from the sidelines until we welcome him back on the floor."
Simply put, it's a big blow.
Smith averaged 15.7 points and 8.5 rebounds in 27.6 minutes per game last season. He was the star of a team that secured a No. 11 seed in the NCAA Tournament, and the biggest reason why the Bulldogs were 25th in Version 21.0 of the 2023-24 CBS Sports Preseason Top 25 And 1 college basketball rankings. But now that it's clear that Smith won't be available to start this season, and isn't expected back until at least January, it's sensible to drop the Bulldogs from Version 22.0 of the Top 25 And 1.
MSU has been replaced by Alabama.
Yes, the Crimson Tide lost five of the top six scorers from last season's team that earned the No. 1 overall seed in the NCAA Tournament. But they still have an elite coach in Nate Oats, a returning double-digit scorer in Mark Sears, two other returning rotation players in Rylan Griffen and Nick Pringle, and enough reinforcements via the transfer portal and high school ranks to make it reasonable to assume they'll be talented enough to compete for a third trip to the Sweet 16 in what would be a four-year span.
Top 25 And 1 rankings
Biggest Movers
| Rk | Teams |   | Chg | Rcrd |
| --- | --- | --- | --- | --- |
| 1 | Kansas | This ranking is based on the Jayhawks returning three starters – Dajuan Harris, Kevin McCullar and K.J. Adams – from a team that won the Big 12 regular-season title before securing a No. 1 seed in the 2023 NCAA Tournament. Bill Self has reshaped the roster with a top-10 recruiting class highlighted by former Michigan All-American Hunter Dickinson, former Towson sharpshooter Nick Timberlake and five-star freshman Elmarko Jackson. | — | 28-8 |
| 2 | Purdue | This ranking is based on the Boilermakers returning six of the top seven scorers – everybody except Brandon Newman – from a team that won the Big Ten regular-season title and Big Ten Tournament before securing a No. 1 seed in the 2023 NCAA Tournament. CBS Sports National Player of the Year Zach Edey is the favorite to win another POY award after withdrawing from the 2023 NBA Draft in the final hours. | — | 29-6 |
| 3 | Duke | This ranking is based on the Blue Devils returning the top four scorers – Kyle Filipowski, Jeremy Roach, Tyrese Proctor and Mark Mitchell – from a team that finished 10-1 in its final 11 games and won the ACC Tournament. Duke is also enrolling a top-two recruiting class and will be among the most talented teams in the country, per usual. | — | 27-9 |
| 4 | FAU | This ranking is based on the Owls returning all five starters from a team that won the C-USA regular-season title and the C-USA Tournament before advancing to the 2023 Final Four. FAU should be the AAC favorite in its first season in its new conference. | — | 35-4 |
| 5 | Michigan St. | This ranking is based on the Spartans returning five of the top six scorers – everybody except Joey Hauser — from a team that advanced to the Sweet 16 of the 2023 NCAA Tournament. Michigan State will combine that core with a top-five recruiting class headlined by five-star prospects Xavier Booker and Jeremy Fears. | — | 21-13 |
| 6 | Marquette | This ranking is based on the Golden Eagles returning every relevant player – except for Olivier-Maxence Prosper – from a team that won the Big East regular-season title and the Big East Tournament before securing a No. 2 seed in the 2023 NCAA Tournament. Tyler Kolek and Kam Jones should provide Shaka Smart with a core capable of competing for a national championship. | — | 29-7 |
| 7 | Houston | This ranking is based on the Cougars returning five of the top eight scorers – Jamal Shead, J'Wan Roberts, Emanuel Sharp, Ja'Vier Francis and Terrance Arceneaux – from a team that won the AAC regular-season title before securing a No. 1 seed in the 2023 NCAA Tournament. The addition of Baylor transfer LJ Cryer should have Houston competing for a league title in its first season in the Big 12. | — | 33-4 |
| 8 | UConn | This ranking is based on the Huskies returning three of the top five scorers – Tristen Newton, Alex Karaban and Donovan Clingan – from a team that won the 2023 NCAA Tournament. That core combined with a top-five recruiting class – highlighted by five-star guard Stephon Castle and Rutgers transfer Cam Spencer – should have UConn as a real contender to win back-to-back national championships. | — | 31-8 |
| 9 | Creighton | This ranking is based on the Bluejays returning everybody except Ryan Nembhard and Arthur Kaluma from a team that won 24 games and advanced to the Elite Eight of the 2023 NCAA Tournament. The addition of Steven Ashworth, a transfer from Utah State, is significant considering he's a point guard who averaged 16.2 points per game for a team that made the 2023 NCAA Tournament. | — | 24-13 |
| 10 | Miami | This ranking is based on the Hurricanes returning three starters – Nijel Pack, Norchad Omier and Wooga Poplar – from a team that shared the ACC regular-season title with Virginia and advanced to the 2023 Final Four. The addition of Florida State transfer Matthew Cleveland should help offset the loss of Isaiah Wong and Jordan Miller. | — | 29-8 |
| 11 | Arkansas | This ranking is based on the Razorbacks returning four of the top eight scorers – Trevon Brazile, Davonte Davis, Makhi Mitchell and Jalen Graham – from a team that advanced to the Sweet 16 of the 2023 NCAA Tournament. Five-star prospects Baye Fall and Layden Blocker, plus transfers Tramon Mark and Khalif Battle, will combine with that core and give Eric Musselman a chance to make a fourth straight Sweet 16. | — | 22-14 |
| 12 | USC | This ranking is based on the Trojans returning four of the top seven scorers – Boogie Ellis, Kobe Johnson, Joshua Morgan and Vincent Iwuchukwu – from a team that won 22 games and secured a No. 10 seed in the 2023 NCAA Tournament. USC is also enrolling two heralded guards – Isaiah Collier, the No. 1 prospect in the Class of 2023, and Bronny James, the son of NBA legend LeBron James. | — | 22-11 |
| 13 | San Diego St. | This ranking is based on the Aztecs returning four of the top six scorers – Darrion Trammell, Lamont Butler, Jaedon LeDee and Micah Parrish – from a team that won the Mountain West Conference regular-season title and the Mountain West Tournament before advancing to the championship game of the 2023 NCAA Tournament. Another MWC title seems likely for San Diego State. | — | 32-7 |
| 14 | Tennessee | This ranking is based on the Vols returning three of the top four scorers – Santiago Vescovi, Zakai Zeigler and Josiah-Jordan James – from a team that secured a No. 4 seed in the 2023 NCAA Tournament and made the Sweet 16. Chris Ledlum, a transfer from Harvard, should slide into the starting lineup and help the Vols make the NCAA Tournament for the fourth straight year. | — | 25-11 |
| 15 | Texas A&M | This ranking is based on the Aggies returning four starters – everybody except Dexter Dennis – from a team that won 25 games and secured a No. 7 seed in the 2023 NCAA Tournament. A second straight trip to the NCAA Tournament is a likely scenario for Texas A&M. | — | 25-10 |
| 16 | Kentucky | This ranking is based on the Wildcats enrolling the nation's top-ranked recruiting class featuring four five-star high school prospects – among them Justin Edwards, DJ Wagner and Aaron Bradshaw — plus West Virginia graduate-transfer Tre Mitchell. Those newcomers will pair with Antonio Reeves and give John Calipari a decent chance to make the Final Four for the first time since 2015. | — | 22-12 |
| 17 | Arizona | This ranking is based on the Wildcats returning two of the top four scorers – Oumar Ballo and Pelle Larsson – from a team that won the Pac-12 Tournament before securing a No. 2 seed in the 2023 NCAA Tournament. If Kylan Boswell and Alabama transfer Jaden Bradley have breakthrough sophomore seasons, and North Carolina transfer Caleb Love has a nice bounce-back year, Arizona should compete for the Pac-12 title. | — | 28-7 |
| 18 | Baylor | This ranking is based on the Bears returning three of the top six scorers – Jalen Bridges, Langston Love and Jonathan Tchamwa-Tchatchoua – from a team that won 23 games and secured a No. 3 seed in the 2023 NCAA Tournament. The loss of Adam Flagler (NBA Draft), Keyonte George (NBA Draft) and LJ Cryer (transfer portal) will be tough to overcome but should be somewhat offset by the arrival of top-45 freshmen Ja'Kobe Walter, Yves Missi and Miro Little – plus Toledo transfer RayJ Dennis, who is the reigning MAC Player of the Year. | — | 23-11 |
| 19 | Gonzaga | This ranking is based on the Zags returning three of the top seven scorers – Anton Watson, Nolan Hickman and Ben Gregg – from a team that shared the West Coast Conference title with Saint Mary's before making the Elite Eight of the 2023 NCAA Tournament. Mark Few will combine that core with a recruiting class headlined by transfers Ryan Nembhard (Creighton), Graham Ike (Wyoming) and Steele Venters (Eastern Washington). | — | 31-6 |
| 20 | Texas | This ranking is based on the Longhorns returning two of the top five scorers – Tyrese Hunter and Dylan Disu – from a team that won the Big 12 Tournament before securing a No. 2 seed in the 2023 NCAA Tournament. The enrollment of Max Abmas, a transfer from Oral Roberts who has scored 2,562 points in four years of college, is a big addition. | — | 29-9 |
| 21 | Saint Mary's | This ranking is based on the Gaels returning four of the top five scorers – everybody except Logan Johnson – from a team that shared the West Coast Conference title with Gonzaga before securing a No. 5 seed in the 2023 NCAA Tournament. Aidan Mahaney returns as one of the best point guards in the country. | — | 27-8 |
| 22 | N. Carolina | This ranking is based on the Tar Heels returning two of the top three scorers – R.J. Davis and Armando Bacot – from a team that spent much of the season ranked in the top 30 at KenPom.com. The addition of Harrison Ingram, Cormac Ryan and Jae'Lyn Withers via the transfer portal, and five-star prospect Elliot Cadeau via reclassification, should provide Hubert Davis with enough to return to the 2024 NCAA Tournament after UNC missed it in 2023. | — | 20-13 |
| 23 | Illinois | This ranking is based on the Illini returning three of the top four scorers – Terrence Shannon, Coleman Hawkins and Dain Dainja – from a team that secured a No. 9 seed in the 2023 NCAA Tournament. Oregon transfer Quincy Guerrier is among the newcomers expected to help Illinois compete at the top of the Big Ten. | — | 20-13 |
| 24 | Villanova | This ranking is based on the Wildcats returning two of the top three scorers – Eric Dixon and Justin Moore – from a team that won six of its final eight Big East games. The addition of transfers Tyler Burton (Richmond), Hakim Hart (Maryland) and TJ Bamba (Washington State) should be enough to help Kyle Neptune get Villanova back where the program lived under Jay Wright. | — | 17-17 |
| 25 | St. John's | This ranking is based on first-year coach Rick Pitino retaining Joel Soriano and remaking the rest of the Red Storm's roster by enrolling Iona transfer Daniss Jenkins, Penn transfer Jordan Dingle, UMass transfer RJ Luis, Oregon State transfer Glenn Taylor and top-50 freshman Simeon Wilcher. No new coach has done a better job of positioning himself for first-year success than Pitino. | 1 | 18-15 |
| 26 | Alabama | This ranking is based on the Crimson Tide returning three rotation pieces – Mark Sears, Rylan Griffen and Nick Pringle – from a team that won the SEC regular-season and SEC Tournament before securing the No. 1 overall seed in the 2023 NCAA Tournament. That core will be joined by heralded transfers Aaron Estrada (Hofstra) and Grant Nelson (North Dakota State) – plus a top-20 recruiting class highlighted by top-50 prospect Jarin Stevenson. | NR | 31-6 |
In: Alabama
Out: Mississippi State
Our Latest College Basketball Stories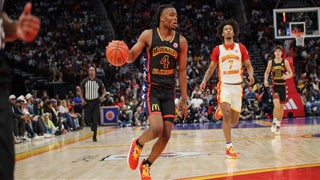 Watch Now: