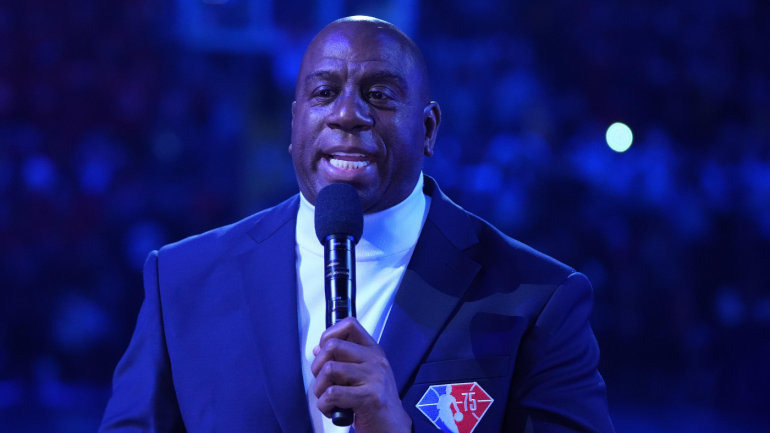 usatsi
The Chicago Bears entered Thursday night with a 14-game losing streak, the longest active streak in the league and in team history. However, the Washington Commanders graciously allowed the visiting Bears to explode out to a 17-0 lead that became a 27-3 halftime edge en route to a 40-20 Chicago victory. Bears wide receiver DJ Moore looked like the second coming of Jerry Rice with 230 receiving yards and three touchdowns, both career-highs which made him the first Chicago player with 200 or more receiving yards and three or more touchdowns in a game since Harlon Hill all the way back in 1954, 12 years before the start of the Super Bowl Era. 
Given the Bears offensive onslaught and that the Commanders defense has allowed 30 or more points in four straight games, tied for the longest stretch of Ron Rivera's head-coaching career, one of Washington's new owners has already had enough: Magic Johnson.
"Tonight the Commanders played with no intensity or fire," the Basketball Hall of Famer and Commanders limited owner tweeted postgame. "We didn't compete in the first half and got down 27-3 heading into halftime. It was too big of a hole to climb out of and that is why we ended up losing 40-20."
Plays like the one below where Bears running back Khalil Herbert took a shotgun handoff up the middle for 16 yards on third-and-seven just before halftime probably contributed to raising Johnson's blood pressure during the game. The two highest total value contract on the Commanders payroll below to defensive tackles: Daron Payne (four years, $90 million) and Jonathan Allen (four years, $72 million). Seeing his team get run over despite the presence of both of those players likely annoys Johnson and the rest of the Commanders fanbase. 
The Bears outran the Commanders by 149 yards, 178 to 29, as Washington quarterback Sam Howell ended up as the team's leading rusher with 19 yards on four carries. According to Pro Football Focus, Washington dropped back to pass 55 consecutive times without a design run from midway through the second quarter through the end of the game. That marks the most for a team in a game since 2006, the start of PFF's database. Johnson won't be too pleased if he takes a closer look at Thursday's box score.