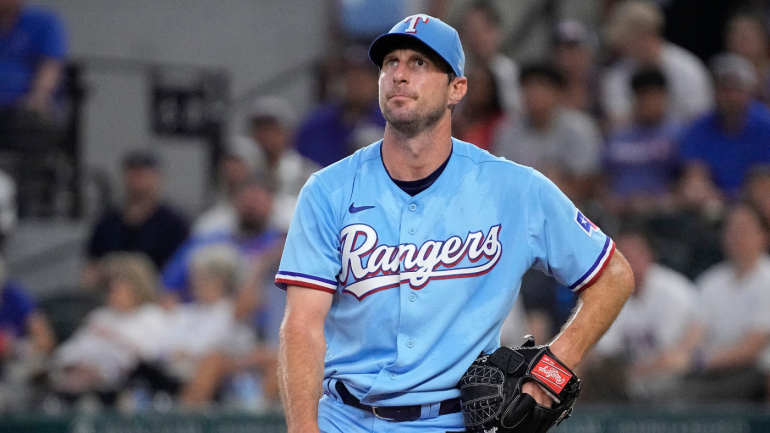 Getty Images
Veteran right-hander Max Scherzer has been left off the Texas Rangers' roster for their American League Division Series against the Baltimore Orioles because of the shoulder strained that's sidelined him since Sept. 12. The last-minute nature of the decision raises the possibility that Scherzer could be a part of the team's ALCS roster should they advance that far. However, the 39-year-old three-time Cy Young winner won't be a part of the Rangers' efforts to upset top-seed Baltimore in the ALDS.  
Hopes were initially raised when Scherzer was able to take a significant step forward on Friday by throwing two simulated innings of live batting practice. "I'm in a learning curve," Scherzer said afterward. "I'm coming out of a shoulder problem here, and I'm learning what my shoulder can and can't do. So much of this battle for me getting back has been in the recovery process from throwing. It's a positive sign to go out there and go against hitters, but I've got to recover." 
That recovery,  however, presumably wasn't sufficient to land him on the roster for the second round of the postseason. What Scherzer's playoff role when and if he's able to return – meaning, mostly, whether he'll be stretched out enough to make a start or instead pitch out of the bullpen – remains to be seen, but his return to any role should be a boon to Texas. Given the Rangers' bullpen issues this season, Scherzer as a reliever would be a compelling wrinkle for this series. Now, though, Texas will have to make it at least to the LCS round to find out. 
The Rangers acquired Scherzer from the Mets leading up to the trade deadline. Down the stretch, he made eight starts for Texas, and over that span he pitched to a 3.20 ERA with a 3.53 K/BB ratio in 45 innings. Overall this season, Scherzer has an ERA+ of 114 in 152 2/3 combined innings for the Mets and Rangers. For his career, Scherzer has worked 133 1/3 innings spread over nine different postseasons. If he's to add to that tally, then it will come against the Astros or Twins in the ALCS.