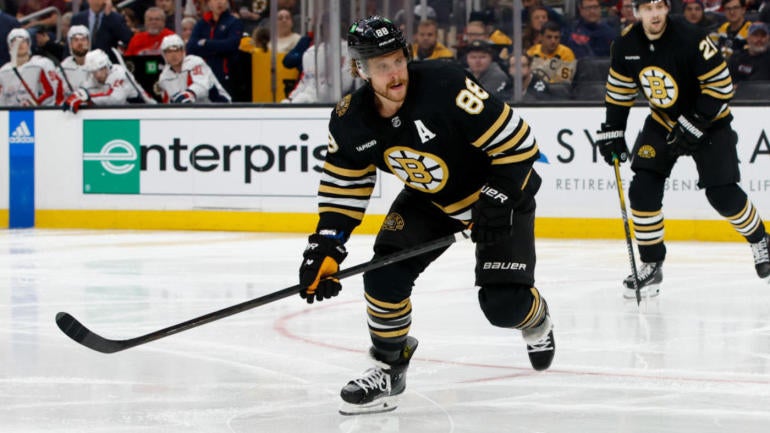 Getty Images
The 2023-24 NHL season is right around the corner, and that signifies the moment where the crystal ball comes out. 
Hope springs eternal for every NHL franchise as they start with a clean slate. Following a very intriguing offseason, the Vegas Golden Knights will be defending their first Stanley Cup in team history, and many teams will be giving them their best shot on a nightly basis. With that in mind, we have assembled our individual picks for all of the major awards in addition to our selection for who will be raising the Stanley Cup in June. 
Chris Bengel
Austin Nivison
Stanley Cup Predictions
Bengel
Western Conference Final: Colorado Avalanche over Vegas Golden Knights
Eastern Conference Final: Carolina Hurricanes over Toronto Maple Leafs
Stanley Cup Final: Carolina Hurricanes over Colorado Avalanche
The Hurricanes have loaded up for a run at the Stanley Cup, and I believe it's going to pay off. Michael Bunting may be the most underrated move of the offseason, and he's joining a top six that already includes Sebastian Aho, Andrei Svechnikov and Martin Necas. If it weren't for injuries to some of their top forwards, Carolina may have made it to the Stanley Cup Final a season ago. The biggest X-factor for the Hurricanes is if goaltender Frederik Andersen can stay healthy. Even if he doesn't, I believe Pyotr Kochetkov can build off of his phenomenal rookie campaign and be the elite goalie this team needs. The Hurricanes will hoist Lord Stanley's Cup for the second time in franchise history.
Nivison
Western Conference Final: Colorado Avalanche over Edmonton Oilers
Eastern Conference Final: Toronto Maple Leafs over New Jersey Devils
Stanley Cup Final: Colorado Avalanche over Toronto Maple Leafs
The path for the Toronto Maple Leafs to take the top spot in the Atlantic Division and reach the Stanley Cup Final is clear. The Boston Bruins and Tampa Bay Lightning have some very big questions heading into the 2023-24 season. That opens the door for the Leafs to go on a run. That is, of course, assuming they don't shoot themselves in the foot as is tradition. Still, I think Auston Matthews and Co. elevate their game but fall just short of a Cup. That's because the Colorado Avalanche will be on a mission to wash the taste of last year's playoff performance out of their mouth. The Avs dealt with horrific injury luck last year, and that made it easy to forget how dominant this team is at its peak. Colorado made some solid roster upgrades in the offseason, and it still has Nathan MacKinnon, Mikko Rantanen and Cale Makar leading the way. The Avalanche bring the Stanley Cup back to Denver, beating the Maple Leafs in six games.
Our Latest NHL Stories