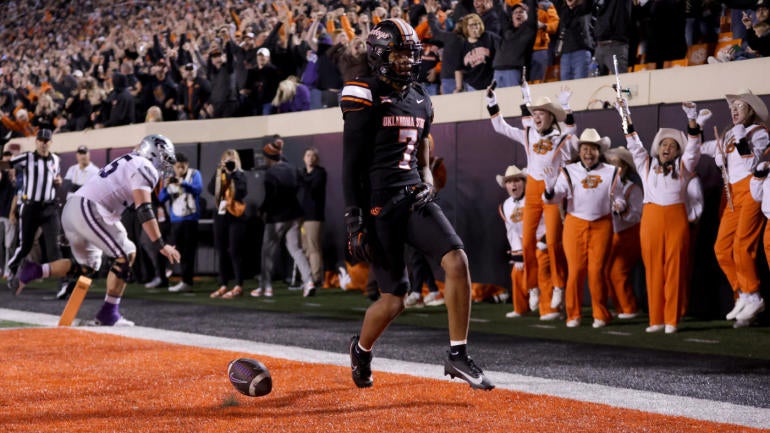 THE OKLAHOMAN
Oklahoma State held off a late rally from Kansas State and secured a 29-21 win over the reigning Big 12 champions at home Friday night. The win has a chance to be a season-changer for the 11.5-point underdog Cowboys, who came into the contest reeling after ugly back-to-back losses to Iowa State and South Alabama. .
"You know, the last few weeks — and I told the staff, so I wasn't scared to share it publicly — I didn't think we did a very good job coaching," Oklahoma State coach Mike Gundy said. "I thought we were excellent tonight. But the players bought in they didn't let the outside noise affect them. They played really hard tonight (and) we beat a good team. "
Oklahoma State (3-2, 1-1) sprinted out of the gate, taking a 26-7 lead in the third quarter after kicker Alex Hale drilled his fourth field goal of the night. Cowboys running back Ollie Gordon had a season-high 136 yards rushing and recorded his second consecutive 100-yard rushing performance.  
Texas Tech transfer quarterback Alan Bowman was 19 of 35 for 235 yards. He's emerged as the team's clear starter after Gundy started the year with a three-quarterback rotation that included Bowman, Garrett Rangel and Gunnar Gundy, who is the son of the longtime OSU coach. 
Kansas State (3-2, 1-1 Big 12) cut the deficit to eight points late in the fourth quarter and had a couple of chances to tie the game in the final minutes. The Wildcats second-to-last drive ended when quarterback Will Howard was intercepted by Cowboys linebacker Nickolas Martin, who finished the day with a career-high 17 tackles and a sack. 
Howard and the Kansas State offense would get one more shot after an Oklahoma State punt, but the Cowboys defense forced a turnover on downs to seal the win. 
Kansas State came into the season with New Year's Six and College Football Playoff aspirations, but finds itself at just 3-2 after the loss. It leaves just three Big 12 teams without a conference loss in Oklahoma, Texas and West Virginia. That number will shrink to two Saturday when the Sooners and Longhorns renew the Red River Rivalry.
Next week Oklahoma State hosts Kansas at home. Kansas State will try to bounce back in a road trip to Lubbock, Texas to face Texas Tech.