Before every season, NBA officials are presented with a series of "points of emphasis" or "points of education," which highlight either existing rules that need to be more strictly enforced or new rules that will be put in place. The focus of the past few seasons has been eliminating non-basketball actions from the game — when players are trying to deceive the refs into calling a foul rather than actually trying to play the game.
They've done a wonderful job recently, as those plays where a ball-handler stops abruptly in front of the defender or kicks his legs out on a jump shot have largely been called either offensive fouls or no-calls, successfully removing it from most players' arsenal. It has improved the flow of the game by eliminating unnecessary free throws, and has significantly improved the product for viewers.
Another rule that was changed about a decade ago was the officiating of the "rip through" move that so many players have adopted into their games. Kevin Durant's was able to draw free throws by mastering the move, which the NBA ruled in 2011 that such fouls would no longer result in two free throws, but would instead be deemed a non-shooting foul.
The change certainly didn't stop Durant from doing it, as the "rip through" has remained a staple in not only his game, but also countless other prolific NBA scorers. Entering this season, however, the league has once again targeted the move, this time ruling that a "rip through" that isn't a genuine shot attempt will be deemed a no-call.
"A new addition to non-basketball moves this season is the rip through," said NBA head of referee development and training Monty McCutchen. "Specifically in regards to the offensive player either moving the ball upward while facing away from the basket, or moving the ball upward in a direction away from the basket."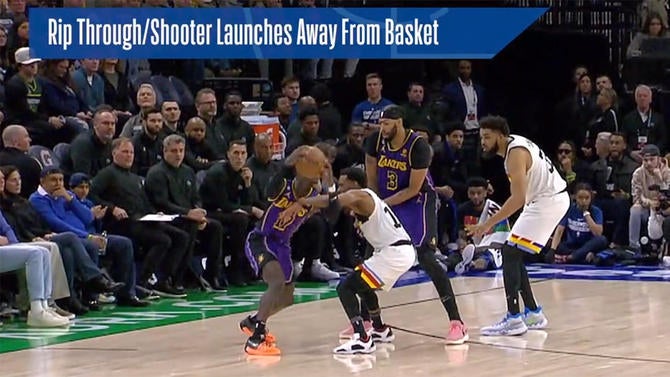 The explanation video produced by the NBA specifically highlights one of Durant's moves that resulted in a foul last season. This season, however, it will be a no-call.
"The offensive player, Kevin Durant, abruptly swings his arms through the right arm of his defender, Nicolas Batum, to initiate contact. But, since Durant moved the ball upwards while he was facing away from the basket, this will not be considered a legitimate shot attempt, but instead a non-basketball move. And the ruling here would be a no-call, and a play-on situation."
This rule change may not seem like a big deal since rip throughs were already deemed non-shooting fouls. But keep in mind that savvy players often use the move once the other team is in a penalty situation, when it results in two free throws. Newest Golden State Warrior Chris Paul is one of the architects of this technique.
With that in mind, ruling some rip throughs as no-calls could affect the scoring production of star players, and even the results of some games. For example, when the initial rip through rule was changed back in 2011, Durant's free throw attempts per game dropped from 8.7 to 7.6.
Last season, Durant averaged just over seven free throw attempts per game between the Nets and Suns, so it will be interesting to see if that number — and consequently his scoring average — decline due to the new NBA officiating.