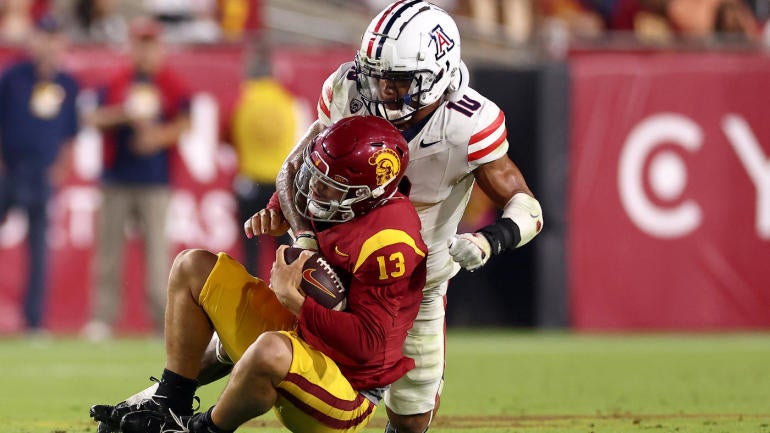 Getty Images
These are not your grandparents AP Top 25 voters. For years the AP poll was pretty simple. If you won, you either moved up or stayed where you were. If you lost, you dropped. That is not how this year's panel is treating the USC Trojans.
The Trojans fall from No. 9 to No. 10 after a 43-41 triple-overtime win over Arizona Saturday night. USC initially fell behind the Wildcats 17-0 before battling back to eventually win the game. It's the third week in a row the Trojans have fallen despite winning. They have gone from No. 5 to No. 8 to No. 9 last week following a 48-41 win at Colorado. It didn't matter to voters that Colorado never had the ball with a chance to tie or win the game, as they clearly felt USC should've blown the Buffaloes out long beforehand. How far will USC fall if it beats Notre Dame next week?
Elsewhere in the department of teams being rewarded, Oklahoma jumped from No. 12 to No. 5, replacing the Texas team they beat 34-30 in the top five. The Longhorns didn't fall too far, though, dropping six spots to No. 9, two spots ahead of No. 11 Alabama, whom they beat in Week 2.
The week's other big movers were Louisville, which climbed 11 spots to No. 14 after beating Notre Dame 33-20. The Irish matched the Cards the other way, falling 11 spots to No. 21. Then there's Miami, whom the voters took mercy on by following Mario Cristobal's lead and opting not to kneel on the Hurricane's Top 25 status. Miami fell eight spots to No. 25 after a baffling 23-20 loss to Georgia Tech.
AP Top 25 poll
Georgia (50 1st place votes)
Michigan (11)
Ohio State (1)
Florida State (1)
Oklahoma
Texas
USC
Alabama
Louisville
Notre Dame
Miami
Others receiving votes: Missouri 69, Wyoming 42, Air Force 41, Wisconsin 41, Tulane 27, West Virginia 26, Clemson 17, Maryland 9, Iowa 7, James Madison 7, Texas A&M 5