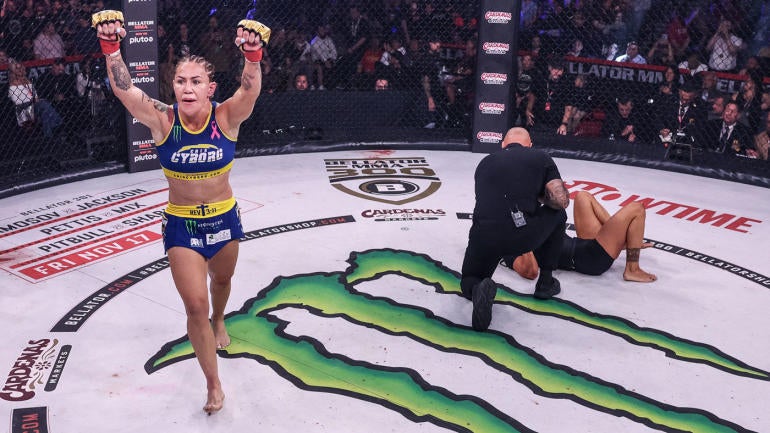 Bellator MMA
The trash talk between Cris Cyborg and Cat Zingano was far more competitive than their fight. Cyborg steamrolled Zingano in less than five minutes at Bellator 300 on Saturday to make the fifth defense of her women's featherweight championship.
Cyborg's reputation as arguably the most powerful woman in mixed martial arts has persisted for the better part of 18 years. That strength is still on display at age 38. Cyborg rag-dolled Zingano every time the challenger initiated a takedown and snapped back her head with punches. Cyborg chipped at Zingano's face and confidence until Zingano crumbled from the pressure.
The finish came when Cyborg landed a sneaky counterpunch off Zingano's takedown attempt. Zingano tried to find separation but soon wilted and covered up under Cyborg's hammer fists. The referee intervened moments later.
Cyborg attempted to embrace Zingano post-fight but was chewed out by the fallen challenger. Zingano was more complimentary of Cyborg once the results were announced as she applauded the champion. Cyborg credited Zingano for her heart before teeing up Leah McCourt, who upset Sara McMann earlier that night, as her next challenger. Cyborg also expressed her desire to fight in Japan before retiring. McCourt entered the cage and the two fighters shook hands before facing off.
Cyborg improved to 27-2, 1 NC with 21 KOs. She is the only fighter in MMA to win and successfully defend for major world championships. Cyborg is a former UFC, Strikeforce and Invicta women's featherweight champion as well as the reigning Bellator champ.
Can't get enough boxing and MMA? Get the latest in the world of combat sports from two of the best in the business. Subscribe to Morning Kombat with Luke Thomas and Brian Campbell for the best analysis and in-depth news.