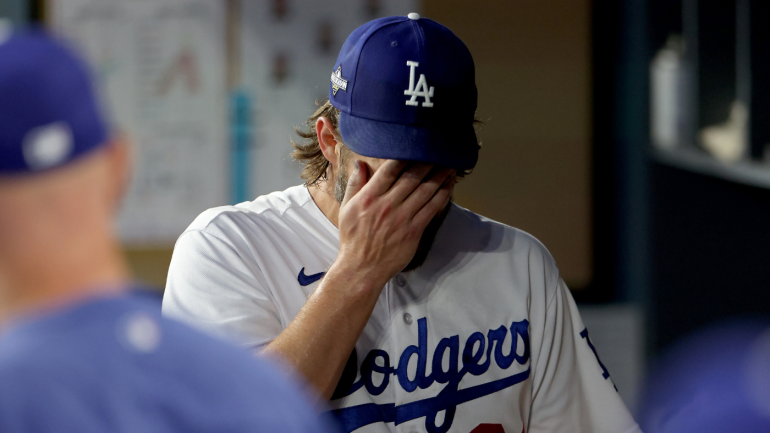 Getty Images
Dodgers starting pitcher Clayton Kershaw endured the worst start of his postseason career in Game 1 of the NLDS against the Dodgers (ARI 11, LAD 2). His outing Saturday night went off the rails immediately. 
"Disappointing. Embarrassing. There's no excuses," Kershaw about his ugly Game 1 start. "I let everybody down."
Arizona leadoff man Ketel Marte sent a line drive to center that should have been caught by James Outman, but it fell out of his glove. Even if you wanted to argue Kershaw deserved this to go down as an error instead of the hit it was ruled, Marte hit the ball 115.7 miles per hour. For those unfamiliar with exit velocity, 95-plus is considered a hard hit ball. This thing was scorched. 
Corbin Carroll followed with an RBI single. Tommy Pham singled. Christian Walker doubled home Carroll. And then Gabriel Moreno hit the Big Blow of the inning: 
"The velocity was up. I thought the stuff was good," Dodgers manager Dave Roberts said about Kershaw after the game, adding the left-hander is healthy. "He's going to pitch Game 4."
Moreno's three-run blast gave the D-Backs a 5-0 lead before the Dodgers even batted. The Snakes weren't done, though. After Kershaw finally recorded his first out, Alek Thomas drew a walk and then Evan Longoria hammered a ball in the left-center gap to score Thomas. 
It was 6-0 D-Backs and the end of the night for Kershaw. 
"He just made mistakes and they capitalized on them," catcher Will Smith said about Kershaw's outing.    
This was the worst playoff outing of Kershaw's Hall of Fame career. Let's break it down:
The 1/3 of an inning marks the shortest start by a significant margin. His previous shortest start in the playoffs was in Game 1 of the 2018 NLCS, when he lasted just three innings against the Brewers. 
His high in runs allowed is eight, but that happened in 6 2/3 innings (2014 NLDS Game 1). He also allowed seven runs in four innings in NLCS Game 6 in 2013. 
Giving up six earned runs while recording just one out works out to a 162.00 ERA, for anyone curious.
Kershaw hadn't even given up more than four runs in any start this season before Game 1. 
The most runs ever allowed in just 1/3 of an inning in a playoff start is seven, so he came just short of arguably the worst playoff outing ever. 
There's long been a narrative surrounding Kershaw that he couldn't pitch well in the playoffs or shrunk from the biggest moments or something in that ballpark. He has actually had a good number of stellar playoff outings, but there's a reason the bad ones stick out in the minds of so many people. He has a 2.48 ERA in his career in the regular season. 
In the playoffs? He's pitched in 194 1/3 innings and has a 4.49 ERA. When the ERA jumps nearly two runs and it isn't a small sample, there's simply no arguing that something has been different.