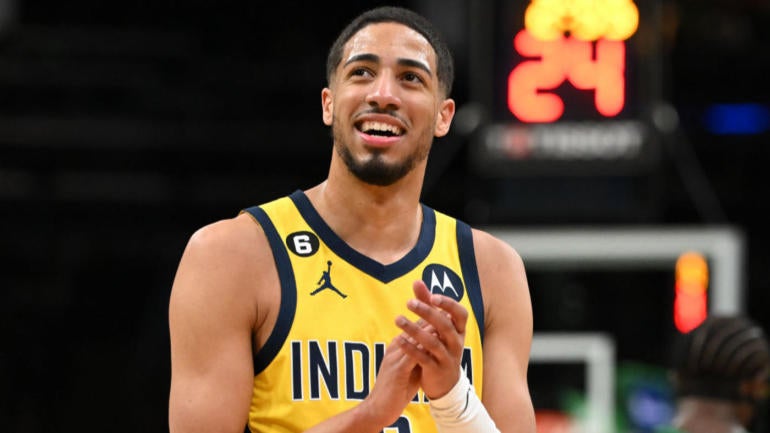 Getty Images
Although Tyrese Haliburton is ready to get the NBA preseason rolling, the Indiana Pacers guard delayed his trip to Memphis so he could attend WWE Fastlane. He will still participate in Sunday night's game against the Grizzlies.
As his social media posts have made clear, Haliburton is a huge WWE fan and did not want to miss this event featuring John Cena, which took place on Saturday. According to Pacers coach Rick Carlisle, Haliburton asked for permission to make his own travel arrangements well in advance.
"He talked with me about this around six weeks ago," Carlisle said after Saturday's practice. "… I'm very curious to see what they have in store for him. As long as they don't put him in the sleeper hold, that'll be good. I'm sure whatever it is it will be entertaining."
Haliburton had a front row seat, but he also got to do a little bit more than just watch the action. The 2023 NBA All-Star also decided to sit in during press conferences and even asked a question — which showed how closely he pays attention to WWE.
This was far from Haliburton's first event. He was also at the WWE Smackdown at Gainbridge Fieldhouse last November.
When explaining where this passion comes from, Haliburton said he loves WWE thanks to an old family tradition.
"My uncle Gary, he's deceased now, but when I was a kid he used to come to my house and we'd always watch it together," Haliburton told reporters before the event. "Every time I think about it, I think of my uncle Gary. He knew my mom would pay for the pay-per-views if I cried hard enough for it. It's just a memory I have with him. And my dad always took me whenever they came to Wisconsin. Every WWE event I always take my dad, so I'm looking forward to tonight."
Haliburton and the rest of the Pacers are taking on the Grizzlies on Sunday at 8 p.m. ET.