The ALDS and NLDS are underway in Major League Baseball's 2023 postseason. The NLDS resumes Monday night with Game 2s from Atlanta and Los Angeles. Both home teams, the Braves and Dodgers, are looking to bounce back after dropping Game 1s on Saturday night against the Phillies and Diamondbacks, respectively.
On the AL side of the bracket, the Rangers head home to Texas with a commanding 2-0 ALDS lead over the top-seeded Orioles. The Twins, meanwhile, evened up their series with a Game 2 win over the Astros as Carlos Correa had a strong performance against his former team.
Eight teams remain in the playoff bracket as the Phillies, Diamondbacks, Twins and Rangers pulled off Wild Card Series sweeps in the first round. The Braves, Dodgers, Orioles and Astros played Saturday for the first time this postseason after earning first-round byes. The Marlins, Brewers, Blue Jays and Rays were all eliminated from the playoffs on Wednesday.
The ALDS and NLDS are best-of-five series and the round could last through Saturday, Oct. 14. The 2023 MLB playoffs will last until at least Oct. 31, and a World Series Game 7 would take place on Saturday, Nov. 4.
Monday's playoff schedule
Monday, Oct. 9
NLDS Game 2: Braves vs. Phillies, 6:07 p.m. ET (TBS) — Philadelphia leads 1-0
NLDS Game 2: Dodgers vs. Diamondbacks, 9:07 p.m. ET (TBS) — Arizona leads 1-0
2023 MLB playoff bracket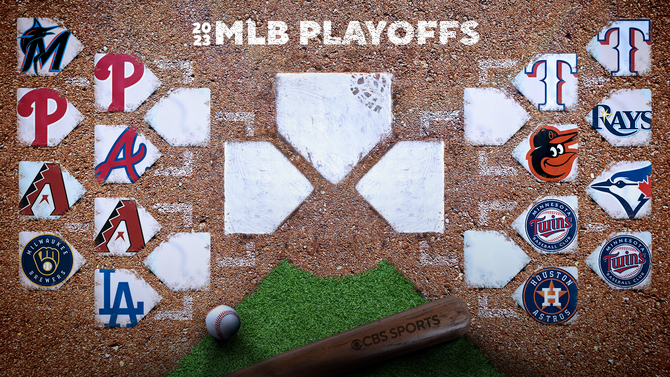 And now, let's look at the complete schedule. ALDS and ALCS games will air on Fox and FS1. NLDS and NLCS games will air on TBS. The World Series airs on Fox. 
All games on Fox and FS1 will be streaming on fubo (try for free).
(*-denotes if necessary)
Divisional round schedule
Monday, Oct. 9
NLDS Game 2: Braves vs. Phillies, 6:07 p.m. ET (TBS)
NLDS Game 2: Dodgers vs. Diamondbacks, 9:07 p.m. ET (TBS)
Tuesday, Oct. 10
ALDS Game 3: Twins vs. Astros, 4:07 p.m. ET (Fox)
ALDS Game 3: Rangers vs. Orioles, 8:03 p.m. ET (Fox)
Wednesday, Oct. 11
ALDS Game 4: Twins vs. Astros, 2:07 ET (FS1)
NLDS Game 3: Braves vs. Phillies, 5:07 ET (TBS)
ALDS Game 4*: Rangers vs. Orioles, 7:07 ET (FS1)
NLDS Game 3: Dodgers vs. Diamondbacks, 9:07 ET (FS1)
Thursday, Oct. 12
NLDS Game 4*: Phillies vs. Braves, 6:07 ET (TBS)
NLDS Game 4*: Diamondbacks vs. Dodgers, 9:07 (TBS)
Friday, Oct. 13
ALDS Game 5*: Twins vs. Astros, 4:07 ET (FS1)
ALDS Game 5*: Rangers vs. Orioles, 8:03 ET (FS1)
Saturday, Oct. 14
NLDS Game 5*: Braves vs. Phillies, 6:07 ET (TBS)
NLDS Game 5*: Dodgers vs. Diamondbacks, 9:20 ET (TBS)
League Championship Series
Sunday, Oct. 15
ALCS Game 1: TBD vs. TBD (Fox or FS1)
Monday, Oct. 16
NLCS Game 1: TBD vs. TBD (TBS)
ALCS Game 2: TBD vs. TBD (Fox or FS1)
Tuesday, Oct. 17
NLCS Game 2: TBD vs. TBD (TBS)
Wednesday, Oct. 18
ALCS Game 3: TBD vs. TBD (Fox or FS1)
Thursday, Oct. 19
NLCS Game 3: TBD vs. TBD (TBS)
ALCS Game 4: TBD vs. TBD (Fox or FS1)
Friday, Oct. 20
NLCS Game 4: TBD vs. TBD (TBS)
ALCS Game 5*: TBD vs. TBD (Fox or FS1)
Saturday, Oct. 21
NLCS Game 5*: TBD vs. TBD (TBS)
Sunday, Oct. 22
ALCS Game 6*: TBD vs. TBD (Fox or FS1)
Monday, Oct. 23
NLCS Game 6*: TBD vs. TBD (TBS)
ALCS Game 7*: TBD vs. TBD (Fox or FS1)
Tuesday, Oct. 24
NLCS Game 7*: TBD vs. TBD (TBS)
World Series
Friday, Oct. 27
World Series Game 1: TBD vs. TBD (Fox)
Saturday, Oct. 28
World Series Game 2: TBD vs. TBD (Fox)
Monday, Oct. 30
World Series Game 3: TBD vs. TBD (Fox)
Tuesday, Oct. 31
World Series Game 4: TBD vs. TBD (Fox)
Wednesday, Nov. 1
World Series Game 5*: TBD vs. TBD (Fox)
Friday, Nov. 3
World Series Game 6*: TBD vs. TBD (Fox)
Saturday, Nov. 4
World Series Game 7*: TBD vs. TBD (Fox)
---
Divisional round scores
Sunday, Oct. 8
ALDS Game 2: Rangers 11, Orioles 5 (Rangers lead 2-0)
ALDS Game 2: Twins 6, Astros 2 (Series tied 1-1)
Saturday, Oct. 7
ALDS Game 1: Rangers 3, Orioles 2 (Rangers lead 1-0)
ALDS Game 1: Astros 6, Twins 4 (Astros lead 1-0)
NLDS Game 1: Phillies 3, Braves 0 (Phillies lead 1-0)
NLDS Game 1: Diamondbacks 11, Dodgers 2 (Diamondbacks lead 1-0)
Wild Card Series scores
Wednesday, Oct. 4
Game 2: Rangers 7, Rays 1
Game 2: Twins 2, Blue Jays 0
Game 2: Diamondbacks 5, Brewers 2
Game 2: Phillies 7, Marlins 1
Tuesday, Oct. 3
Game 1: Rangers 4, Rays 0
Game 1: Twins 3, Blue Jays 1
Game 1: Diamondbacks 6, Brewers 3
Game 1: Phillies 4, Marlins 1