Led by Zach Edey, the reigning national player of the year, Purdue is aiming for another Big Ten title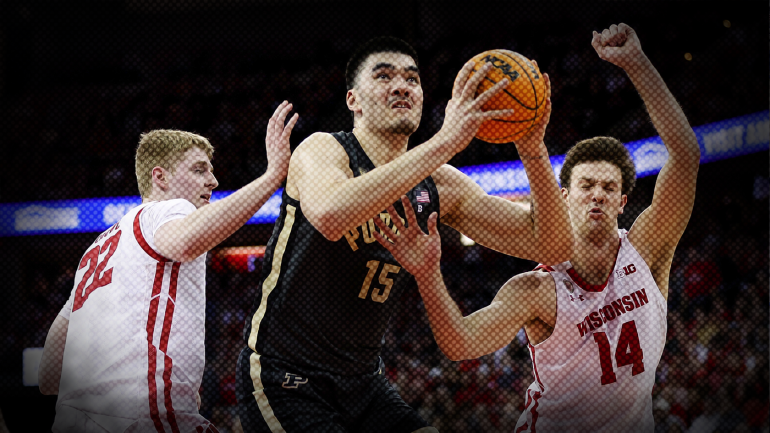 Getty Images
Among college basketball's top six conferences, only the Big 12 sent a greater percentage of its teams to the 2023 NCAA Tournament than the Big Ten, which put eight of its 14 squads in the Big Dance. But by the tournament's second weekend, only No. 7 seed Michigan State remained, and the Spartans fell in the Sweet 16.
No. 1 overall seed Purdue's stunning first-round loss to No. 16 seed Fairleigh Dickinson underscored the conference's postseason futility and added fuel to the league's reputation for flopping in March. But it's hard to question the Big Ten's regular-season prowess. During one stretch in nonconference play, the Boilermakers rattled off consecutive victories over Marquette, West Virginia, Gonzaga and Duke, all of whom finished inside the 2023-24 season inside the top-20 at KenPom.com.
Illinois picked up wins over top-five KenPom finishers UCLA and Texas. Even Nebraska, which missed the NCAA Tournament, produced a non conference road win over a Creighton team that came one possession away from reaching the Final Four. So why did the Big Ten fail to send a team past the Sweet 16 for a second consecutive year?
Pinpointing a single reason is tough, but the conference has one last chance to erase its reputation for March sadness before realignment arrives and disrupts the sport. The Big Ten's last national title came from Michigan State in 2000 when the league boasted a mere 11 teams. It expanded to 12 for the 2011-12 season and 14 for the 2014-15 campaign. Good basketball has been played since then — eight or more Big Ten teams have reached the past four NCAA Tournaments — but a national breakthrough has yet to come. Will 2023-24 be the year?
CBS Sports Big Ten Preseason Player of the Year
Edey brought a sigh of relief to Purdue fans and may have caused a groan of despair from opposing Big Ten coaches when he announced his return for a fourth season with the Boilermakers. The 7-foot-4 behemoth and reigning CBS Sports National Player of the Year led the country in double-doubles with 27, finished second in rebounds per game (12.9), sixth in points per game (22.3) and 21st field goal percentage (60.7%) during the 2022-23 season. His conditioning is phenomenal for a player of such rare size, and so is his knack for avoiding fouls (1.6 per game). Those traits enabled Edey to log 31.7 minutes per game while leading Purdue to Big Ten regular season and tournament titles. Fueled by the frustration of an embarrassing NCAA Tournament loss, he is back to push Purdue toward redemption.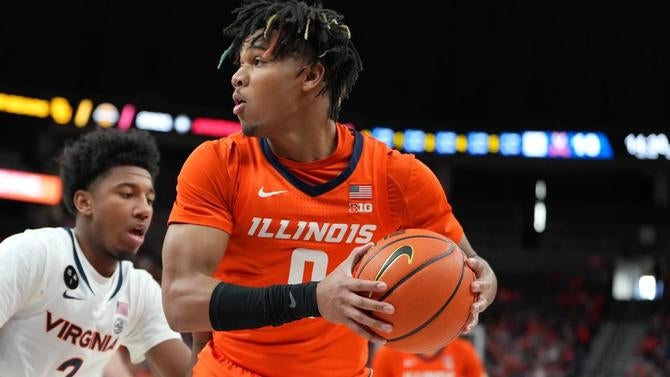 Four more players to watch in Big Ten
Terrence Shannon Jr. | G | Illinois: Shannon led the Illini with 17.2 points per game in his first season with the program after three years at Texas Tech. He's a versatile weapon at 6-6. If he can improve his 3-point shooting efficiency (29.1% on 4.4 attempts per game in Big Ten play last season), it could do wonders for an Illini squad that struggled from beyond the arc.
Keisei Tominaga | G | Nebraska: Tominaga was the Big Ten's best player not named Zach Edey during the final month of the 2022-23 season. He averaged 20.3 points on an absurd 55.7% shooting over Nebraska's final nine games, when the Cornhuskers went 6-3. He is the key to Nebraska's hopes of breaking through in coach Fred Hoiberg's fifth season
Jahmir Young | G | Maryland: Young helped Maryland reach the second round of the NCAA Tournament in coach Kevin Willard's first season by averaging a team-best 15.8 points in his first year with the program after three years at Charlotte. He was particularly great in league play, upping his scoring to 17.7 points while shooting 37.9% from beyond the arc.
Xavier Booker | C | Michigan State: This isn't a preseason all-conference team, and Booker is a longshot for all-league honors as a true freshman. But if the 6-11 freshman can elevate Michigan State's defense, it will push the Spartans toward league title contention. The towering prospect has drawn comparisons to former Spartan Jaren Jackson Jr., who is the reigning NBA Defensive Player of the Year.
CBS Sports Big Ten Preseason Freshman of the Year
After originally committing to Duke, Mgbako withdrew from the Blue Devils' loaded class in April and signed with the Hoosiers a month later, providing a needed boost to an IU squad losing its top four scorers. Mgbako ranked as the No. 10 overall player and No. 2 power forward in his class, according to 247Sports. At 6-8, he is regarded as a defensively versatile player with a great outside shot, which makes him a likely impact player and potential 2024 first-round NBA Draft pick.
CBS Sports Big Ten predicted order of finish

Most overrated team
Maryland: A top three of Jahmir Young, Donta Scott and Julian Reese will ensure the Terrapins are competitive, and the Terrapins should certainly return to the Big Dance in Year 2 under Kevin Willard. But finishing fourth in the league will be a tall order unless Jahmir Young gets some help in the form of other playmakers and facilitators. Highly touted freshman DeShawn Harris-Smith may provide that punch, but relying on freshmen in the Big Ten can be tough.
Most underrated team
Indiana: Skepticism on Indiana stems from the Hoosiers losing their top four scorers from a team that finished tied for second in the Big Ten with a 12-8 league record. While the Hoosiers are light on continuity, they aren't lacking talent. A potential starting five of Xavier Johnson, Trey Galloway, Mackenzie Mgbako, Malik Reneau and Kel'el Ware is easily talented enough to finish higher than sixth in the Big Ten.
Gary Parrish and Matt Norlander give you a forecast of the Big Ten Conference in 2023-2024. Subscribe to Eye on College Basketball, which is available for free on the Audacy app as well as Apple Podcasts, Spotify, Google Podcasts and wherever else you listen to podcasts.
Expert picks
Our Latest College Basketball Stories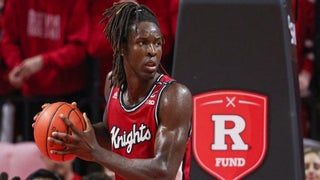 Watch Now: