The Sooners and Cardinals left no doubt about their bonafides in two of the week's most significant results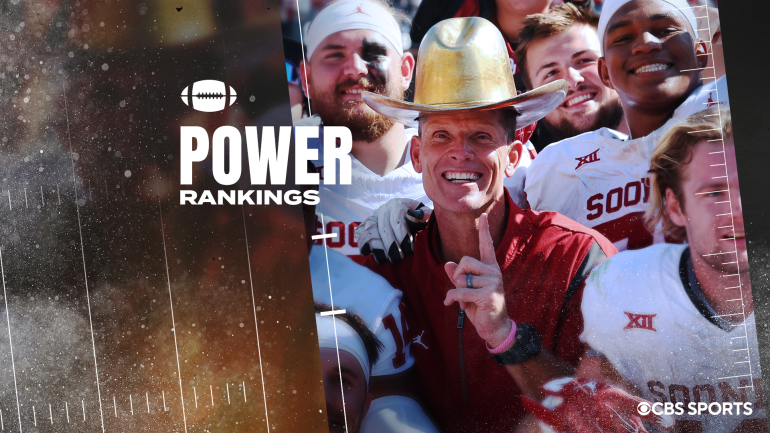 Kim O'Reilly, CBS Sports
Despite what you may have heard, it was a pretty good week for the ACC.  As we near the halfway point, there are 14 remaining undefeated teams. Eleven are in the Power Five, and three are in the ACC (Florida State, Louisville, North Carolina). That's the same number as the Big Ten (Michigan, Ohio State, Penn State) and Pac-12 (Oregon, USC, Washington).
However, there's a big difference. None of the ACC unbeatens play one another in the regular season. That sets up an interesting possibility: an undefeated ACC team could be left out of the College Football Playoff. That has never happened in the CFP era (since 2014) because there has never been a Power Five undefeated that didn't play in its conference championship game since its existence.
Blame realignment and the consolidation of conferences. Blame the elimination of divisions. In the age of super conferences, teams don't even come close to playing all the other opponents. In the 15-team ACC, there are seven "misses" each season.
You have been warned. Beginning in 2024, there is the real possibility 10 of the 25 teams in this week's Power Rankings could be from one league.
We have a preview in the ACC. All three could win out, each finishing 12-0. The league champion could finish 13-0; the loser of the championship game, 12-1. Ah, but that 12-0 golden child? It wouldn't even be eligible for the ACC Championship Game.
Again, it's never happened in the CFP era. But according to ACC rules, it would come to the fifth tiebreaker to sort out the championship game participants: "combined win percentage of conference opponents." We don't know that yet, of course.
And if that's a tie? The teams would be ranked by a proprietary Team Rating Score metric from SportsSource Analytics.
"I doubt it ever it ever gets to that sixth tiebreaker," said Drew Borland, co-founder of SportSource Analytics. "… I hope that scenario doesn't turn out. But the concept of these conferences getting bigger and [league members] not playing each other is very real."
In the unlikely event there is a tie there, ACC commissioner Jim Phillips would draw the teams — out of a hat or something like that.
For now, time to celebrate greatness before the confusion really hits.
Power Rankings
Biggest Movers
12 Louisville
14 Notre Dame
| Rk | Teams |   | Chg | Rcrd |
| --- | --- | --- | --- | --- |
| 1 | Georgia | Finally, we're writing about Carson Beck being a difference maker. The Georgia quarterback completed his first 12 passes, and the BULLDOGS were never threatened. All is forgiven, Dawgs. You do deserve to be No. 1 after ridding yourself of the Kentucky threat — the first game against a ranked opponent. | — | 6-0 |
| 2 | Florida State | The ACC favorites scored the last 17 points to pull away from Virginia Tech. The Seminoles just keep getting stronger. Trey Benson ran for a total of 189 yards in the first four games of the season. On Saturday, he ran for a career-high 200 yards. | — | 5-0 |
| 3 | Oklahoma | It only took two seasons for Brent Venables to get himself and the Sooners on their feet. Venables' fingerprints were all over a goal line stand and three forced turnovers that helped beat Texas. The Sooners don't play a team the rest of the way that was ranked going into Week 6. | 8 | 6-0 |
| 4 | Michigan | That was Captain Quirk (Jim Harbaugh) posing with his defense after a pick six against Minnesota. What would you expect in this Age of Prime? It's way past time for coitizing the competition. The Wolverines are in line for their third straight playoff berth. | — | 6-0 |
| 5 | Ohio State | After a sleepy start, the Buckeyes woke up against Maryland. Kyle McCord (career-high 320 yards, pick six) is still arriving. Marvin Harrison Jr. (163 yards) is all the way back. | — | 5-0 |
| 6 | Texas | Where do the Longhorns go from here? Starting believing that an OU rematch will go the other way in the Big 12 Championship Game. For now, Texas is the nation's best one-loss team. It just can't afford another L in the second half against a manageable Big 12 schedule. | 3 | 5-1 |
| 7 | Washington | Bye. Kalen DeBoer's name is going to be at the top of several coaching vacancy lists, assuming there are several such lists. Not a lot of hot seats at the moment. Hard to believe that, just two years ago, Washington's coach was at Fresno State. | 1 | 5-0 |
| 8 | Oregon | Bye. It was getting dicey there for a minute. It wasn't until Thursday that the Big Ten confirmed the Oregon-Washington game would be among the league's 12 protected rivalries. This week's game with the Huskies might be the first of two between the rivals in this last Pac-12 season. | 1 | 5-0 |
| 9 | Penn State | Bye. A win at Ohio State (Oct. 21) might allow Penn State to punch its playoff ticket. At that point, it might be able to afford a loss to Michigan if all the Big Three in the Big Ten each lose a game. | — | 5-0 |
| 10 | Alabama | Not exactly a blueprint for winning on the road. At Texas A&M, the Crimson Tide ran for 23 yards and committed nine presnap penalties (out of 14 overall). This is why Jermaine Burton came to Bama: nine catches, 197 yards. | 2 | 5-1 |
| 11 | Louisville | How do you lose when Derby City favorites Jack Harlow and Donovan Mitchell are in the stands? Jeff Brohm's magical first season continued with an upset of Notre Dame. For the first time in program history, Louisville beat top 10 teams in back-to-back seasons. Both teams were quarterbacked by Sam Hartman (Wake Forest in 2022, ND in 2023). | 12 | 6-0 |
| 12 | North Carolina | Not a bad week for the Tar Heels. They get Tez Walker eligible, get admonished by the NCAA and then take it out on Syracuse. UNC remains the best unbeaten team you're not paying attention to. | 5 | 5-0 |
| 13 | USC | The bigger statement in the latest edition of Pac-12 After Dark was by Arizona. The Wildcats held the ball for 35 ½ minutes and shredded the USC defense with a redshirt freshman QB making his first career start (Noah Fifita). The Trojans have given up 41 points in consecutive games while giving up a combined 1,069 yards. | 3 | 6-0 |
| 14 | Oregon State | This is the D.J. Uiagalelei we know and love. Five TD passes in beating Cal. The Clemson transfer is on track for a career year in what is currently the nation's best league for QBs. "I'm not going to lie," D.J. said. "I was feeling it today." Second-half schedule backloaded with UCLA, Colorado, Washington and Oregon. | 1 | 5-1 |
| 15 | Ole Miss | Everyone loves clutch. The Rebels are clutch. After scoring 15 straight points against LSU in the final 8 minutes the prior week, Ole Miss rallied to beat Arkansas with Ulysses Bentley IV scoring halfway through the fourth quarter. The loss to Bama hurts but Lane isn't done. A test this week at Auburn. | 1 | 5-1 |
| 16 | Tennessee | Bye. In what mood will Texas A&M be in coming off the Alabama game? Lots to clean up after the Aggies fell to the Tide. Tennessee has never won this game in Knoxville in the series (four games) that goes back to 1957. | 2 | 4-1 |
| 17 | Duke | Bye. The Blue Devils probably needed two weeks to get ready for NC State. That Notre Dame loss was soul crushing. NC State and Duke have met only eight times this century. This is their first game since 2020. | 2 | 4-1 |
| 18 | UCLA | In what was one of the best performances of the Chip Kelly era, the Bruins forced four turnovers (most since 2019) against Washington State. There were three sacks of Cam Ward, including six hurries. Kelly now 9-1 through the first five games the past two seasons. | NR | 4-1 |
| 19 | Washington State | Kapena Gushiken's pick six was arguably the defensive play of the year. Otherwise, the Cougars melted down in the Rose Bowl with four turnovers against UCLA. | 5 | 4-1 |
| 20 | Kentucky | In some ways, it was expected. In others, it was tremendously disappointing. The Wildcats were basically non-competitive against Georgia. That begs a question: Who finishes second in the SEC East? | 7 | 5-1 |
| 21 | LSU | The Tigers' season may have been saved with a stirring comeback at Mizzou. Brian Kelly won his second game after being down by at least 15 at LSU. He was 0-21 in that category at Notre Dame. Jayden Daniels (389 total yards) is sneaking his way into the Heisman Trophy conversation. | NR | 4-2 |
| 22 | Notre Dame | Had to swallow hard and keep the Fighting Irish in the Power Rankings based on … what? Wins over NC State and Duke have been the most impressive. Louisville ended ND's 30-game ACC winning streak with extreme prejudice. The 17-point loss to the Cardinals was worst since the 2020 ACC Championship Game. Hadn't loss to an ACC opponent since 2017. | 14 | 5-2 |
| 23 | Utah | Bye. Cam Rising revealed last week it wasn't just his ACL joint that was hurt, his entire knee was blown out. That begs the question, why wasn't Utah more forthcoming about the injury? Rising himself deserved that much in case there were whispers about his durability. | 1 | 4-1 |
| 24 | Kansas | Backup QB Jason Bean is becoming increasingly more important and effective. Big 12 preseason offensive player of the year Jalon Daniels can't stay on the field. A punishing running game (No. 6 nationally) gashed UCF for 399 yards. There's no shame in being the Big 12's third-best team at this point. | NR | 5-1 |
| 25 | Wyoming | You could place Craig Bohl in 1963, 1973, 1983, 1993 or 2023 and he'd win. The 65-year-old has weaponized Wyoming gritty toughness, 7,000 feet of altitude and loyal following into consistent force in the Mountain West. An upset of Fresno State leaves the Cowboys playing league leader Air Force this week. | NR | 5-1 |
Out: Miami (FL), Missouri, Maryland, Fresno State
Our Latest College Football Stories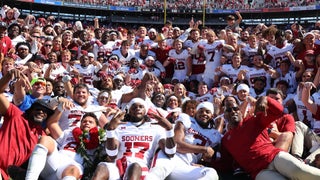 Watch Now: