The LDS round of Major League Baseball's playoffs is back Monday with both NLDS series: It's currently Diamondbacks vs. Dodgers to close out the night after the Braves got a thrilling win over the Phillies. Atlanta's offense came to life late in the game against Philadelphia, and the Braves scored five unanswered runs (and got an unreal game-ending double play) to win Game 2 and tie the best-of-five series. The Dodgers, who trail Arizona in their NLDS matchup, are trying to follow suit.
In the ALDS, the Rangers jumped out early and then tacked on Sunday to take a commanding 2-0 ALDS lead over the Orioles. The Astros, however, were unsuccessful in their efforts to do the same and were instead stymied by Twins starter Pablo López. Minnesota has now tied the series 1-1 as they head back home for Game 3.
The playoff field started with 12 teams, but the Marlins, Brewers, Blue Jays and Rays were eliminated in the Wild Card Series.
Below is a look at the complete MLB playoff bracket, and the complete schedule for the playoffs. All games on ABC, ESPN, ESPN2, Fox and FS1 will be streaming on fubo (try for free).
2023 MLB playoff bracket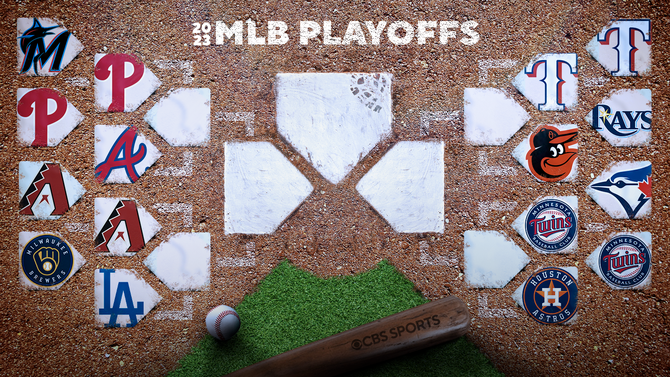 Divisional round scores, schedule

Saturday, Oct. 7
ALDS Game 1: Rangers 3, Orioles 2 
ALDS Game 1: Astros 6, Twins 4
NLDS Game 1: Phillies 3, Braves 0
NLDS Game 1: Diamondbacks 11, Dodgers 
Sunday, Oct. 8
ALDS Game 2: Rangers 11, Orioles 8, (Texas leads 2-0)
ALDS Game 2: Twins 6, Astros 2 (Series tied 1-1)
Monday, Oct. 9
NLDS Game 2: Braves 5, Phillies 4 (Series tied 1-1)
NLDS Game 2: Dodgers vs. Diamondbacks, 9:07 p.m. ET (TBS) — Arizona leads 1-0
Tuesday, Oct. 10
ALDS Game 3: Twins vs. Astros, 4:07 p.m. ET (Fox)
ALDS Game 3: Rangers vs. Orioles, 8:03 p.m. ET (Fox)
Wednesday, Oct. 11
ALDS Game 4*: Twins vs. Astros, 2:07 ET (FS1)
NLDS Game 3: Braves vs. Phillies, 5:07 ET (TBS)
ALDS Game 4*: Rangers vs. Orioles, 7:07 ET (FS1)
NLDS Game 3: Dodgers vs. Diamondbacks, 9:07 ET (FS1)
Thursday, Oct. 12
NLDS Game 4*: Phillies vs. Braves, 6:07 ET (TBS)
NLDS Game 4*: Diamondbacks vs. Dodgers, 9:07 (TBS)
Friday, Oct. 13
ALDS Game 5*: Twins vs. Astros, 4:07 ET (FS1)
ALDS Game 5*: Rangers vs. Orioles, 8:03 ET (FS1)
Saturday, Oct. 14
NLDS Game 5*: Braves vs. Phillies, 6:07 ET (TBS)
NLDS Game 5*: Dodgers vs. Diamondbacks, 9:20 ET (TBS)
League Championship Series
Sunday, Oct. 15
ALCS Game 1: TBD vs. TBD (Fox or FS1)
Monday, Oct. 16
NLCS Game 1: TBD vs. TBD (TBS)
ALCS Game 2: TBD vs. TBD (Fox or FS1)
Tuesday, Oct. 17
NLCS Game 2: TBD vs. TBD (TBS)
Wednesday, Oct. 18
ALCS Game 3: TBD vs. TBD (Fox or FS1)
Thursday, Oct. 19
NLCS Game 3: TBD vs. TBD (TBS)
ALCS Game 4: TBD vs. TBD (Fox or FS1)
Friday, Oct. 20
NLCS Game 4: TBD vs. TBD (TBS)
ALCS Game 5*: TBD vs. TBD (Fox or FS1)
Saturday, Oct. 21
NLCS Game 5*: TBD vs. TBD (TBS)
Sunday, Oct. 22
ALCS Game 6*: TBD vs. TBD (Fox or FS1)
Monday, Oct. 23
NLCS Game 6*: TBD vs. TBD (TBS)
ALCS Game 7*: TBD vs. TBD (Fox or FS1)
Tuesday, Oct. 24
NLCS Game 7*: TBD vs. TBD (TBS)
World Series
Friday, Oct. 27
World Series Game 1: TBD vs. TBD (Fox)
Saturday, Oct. 28
World Series Game 2: TBD vs. TBD (Fox)
Monday, Oct. 30
World Series Game 3: TBD vs. TBD (Fox)
Tuesday, Oct. 31
World Series Game 4: TBD vs. TBD (Fox)
Wednesday, Nov. 1
World Series Game 5*: TBD vs. TBD (Fox)
Friday, Nov. 3
World Series Game 6*: TBD vs. TBD (Fox)
Saturday, Nov. 4
World Series Game 7*: TBD vs. TBD (Fox)
---
Wild Card Series scores

Wednesday, Oct. 4
Game 2: Rangers 7, Rays 1 (Rangers win 2-0)
Game 2: Twins 2, Blue Jays 0 (Twins win 2-0)
Game 2: Brewers 5, Diamondbacks 2 (D-backs win 2-0)
Game 2: Phillies 7, Marlins 1 (Phillies win 2-0)
Tuesday, Oct. 3
Game 1: No. 5 Rangers 4, No. 4 Rays 0 (Rangers lead 1-0)
Game 1: No. 3 Twins 3, No. 6 Blue Jays 1 (Twins lead 1-0)
Game 1: No. 6 Diamondbacks 6, No. 3 Brewers 3 (D-backs lead 1-0)
Game 1: No. 4 Phillies 4, No. 5 Marlins 1 (Phillies lead 1-0)