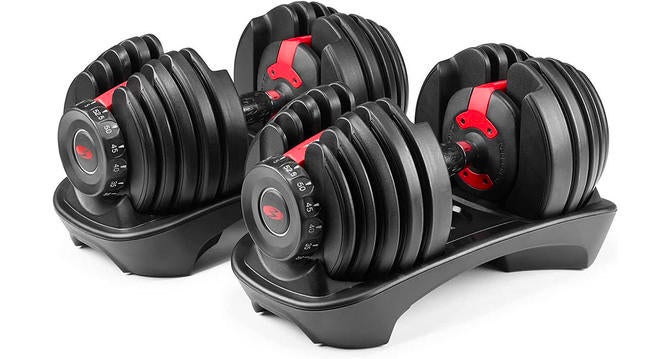 If you've got fitness on the brain, consider upgrading your home gym with a pair of Bowflex SelectTech 552 adjustable dumbbells during the Amazon Prime Big Deal Days event, happening now through October 11. Amazon reviewers love how this one set of Bowflex dumbbells can be adjusted to weigh between 5 and 52.5 pounds, replacing up to 15 other sets of individual weights. Talk about a home gym space saver.
Right now, these 4.8-star-rated Bowflex adjustable weights are on sale for $349. That's a savings of $80, just for Amazon Prime members.
Read on to discover all the best Bowflex deals at Amazon for your home gym. But don't delay — there's no telling how long these deals will last.
---
Top Bowflex deals on Amazon now:
---
The best Bowflex weight deals at October Amazon Prime Day 2023
One of the most trusted names in fitness, Bowflex is known for its high quality adjustable weights, benches, ellipticals, and bikes. Designed for fitness enthusiasts and weekend warriors alike, Bowflex products streamline at-home fitness to give users the most efficient workout possible. An industry giant, Bowflex's Select Tech adjustable weights are one of the brand's top sellers.
Note that you'll need to be an Amazon Prime member to get these deals.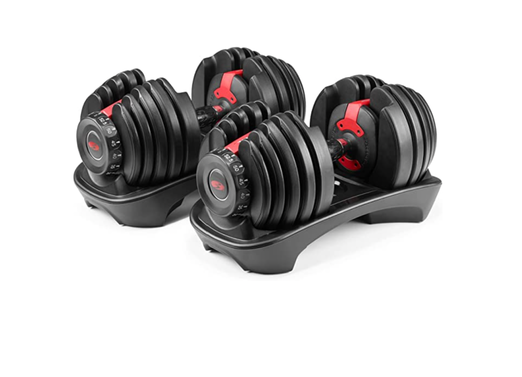 Replace 15 sets of weights with the Bowflex SelectTech 552 adjustable dumbbell set, a CBS Sports Essentials bestseller. Sold as a pair, this weight set can be used with Bowflex's JRNY mobile-only membership (free for two months) for motion tracking technology that counts your reps and tracks your form in real time. It's like having your own personal trainer right at home.
"Easy to operate right out of the box," raves one Amazon reviewer about this 4.8-star-rated weight set. "The weight range is phenomenal. I mean, come on. To be able to have the equivalent of 30 dumbbells ranging from 5 to 52.5 pounds and be able to tuck them neatly away in the corner somewhere? Yeah."
Why we love the Bowflex SelectTech 552 adjustable dumbbells:
The space-saving design is perfect for small home gyms — one set of Bowflex weights replaces 30 other dumbbells.
Satisfied Amazon reviewers say their set of Bowflex SelectTech adjustable dumbbells hold up even with many years of use.
They can be paired with the JRNY app, or used on their own if you don't require coaching.
---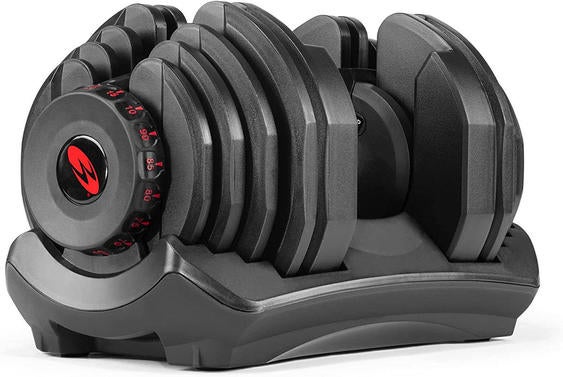 If you're looking to lift heavier than 52.5 pounds, you'll need the Bowflex SelectTech 1090 adjustable dumbbells. The 4.5-star-rated dumbbell can be set to anywhere between 10 and 90 pounds in five-pound increments.
They're not currently on sale, but one verified Amazon reviewer says they recommend these dumbbells 100 percent: "I have had these for a few years now. I use them five days a week. They are great, work as they should, I have had zero problems. I really appreciate the space it saves and the flexibility in the weight range selection."
This top-rated adjustable dumbbell rarely goes on sale, which is why this Prime Big Deal Days offer is so noteworthy.
Need more than one dumbbell? Amazon has a set of two SelectTech 1090 dumbbells, complete with stand. Save $50 with this bundle.
---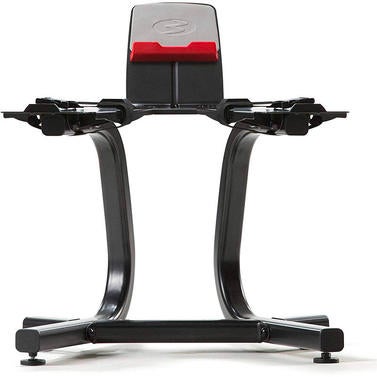 If you're buying a top-rated set of Bowflex SelectTech dumbbells, you're going to want a dumbbell stand to go with it. This 4.7-star option from Bowflex will keep you from bending over, potentially protecting your lower back from injury. The included media rack holds your smartphone or tablet, so you can use the include one-year membership to JRNY, Bowflex's premium fitness training app. Measures 25″ H x 26.4″ W x 26.9″ L.
A CBS Sports Essentials bestseller even at full price, this top-rated weight stand is now $77 off at Amazon for Prime Members.
---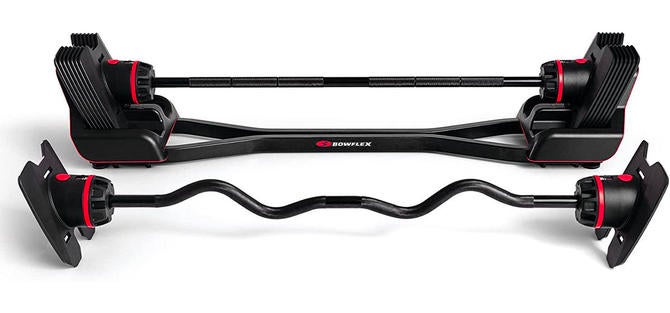 Worried you won't get those lunges in? Bowflex's innovative SelectTech Curl Bar adjusts from 20 to 80 pounds using seven weight settings per bar. Reduce the amount of loadable dumbbells needed by using Bowflex's all-in-one technology.
---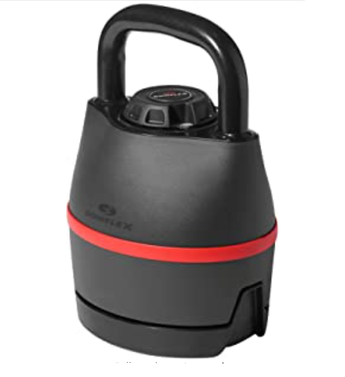 Bowflex's Select Tech kettlebell replaces six different kettlebells by adjusting from 8 to 40 pounds. The ergonomic handle makes it easy to grip. The weight selection dial makes it easy use. Reviewers like that this single kettlebell takes up less space, a key feature for those working out at home. Rated 4.8 stars.
---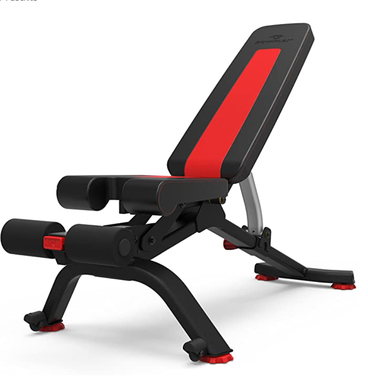 We like the six different adjustments Bowflex's weight bench offers creating endless options for your workout. We also like that at 70 pounds, Prime shipping brings this terrific bench to our front door so the only heavy lifting we have to do is in the gym. It supports up to 600 pounds.
Benches with three, four and five adjustment options are available; all support incline, decline and flat exercises. But it's the five-position version that's on sale for $200 off during the October Amazon Prime Day sale. Note that you'll need to be an Amazon Prime member to get this deal. Rated 4.6 stars.
---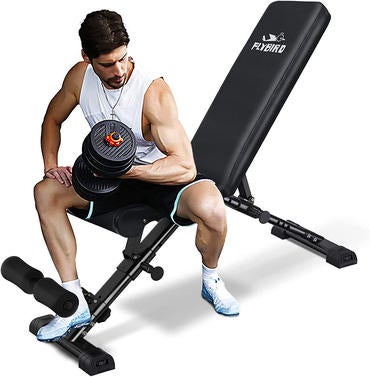 Need a weight bench for your home gym that's capable of supporting your new weights? There's a terrific $50 off deal right now at Amazon on the 4.5-star-rated Flybird adjustable weight bench. The Amazon bestseller (and CBS Sports Essentials readers' favorite) is rated for up to 800 pounds, and can be used for both incline and decline exercises. There are seven back positions and three seat positions. Rated 4.5 stars.
Says one satisfied Amazon reviewer: "It's so easy to fold, easy to open and easy to set the different incline and decline angles. It is fairly light weight and extremely sturdy. It is very comfortable; the padding is firm and the covering is easy to clean."
---
What is Amazon Prime Big Deal Days?

Amazon Prime Big Deal Days is Amazon's early Black Friday sale in October. Some are calling the two-day event October Prime Day or Prime Day Part 2 because of the size and scope of the sale. In 2022, this October sale was called the Prime Early Access Sale.
When is Amazon Prime Big Deal Days 2023?
Amazon's Prime Big Deal Days will take place on Tuesday, Oct. 10 and Wednesday, Oct. 11, 2023. The sale starts at midnight Pacific time.
Do you need to be a Prime Member to shop Prime Big Deal Days deals?
While some of the best Amazon Prime Big Deal Days offers are Prime-exclusive or invite-only, there will also be tons of deals that are open to all shoppers. So even if you don't have an Amazon Prime membership, there will be deals available to you.
If you want to shop the best deals, though, you'll want to tap the button below and sign up for a 30-day free trial of Amazon Prime. Prime memberships costs $14.99 per month or $139 per year, and include access to Amazon Prime Video (Thursday Night Football) and a number of other great perks.
Start a free trial of Amazon Prime
What else is on sale during Prime Big Deal Days?
The second Prime Day event of 2023 will kick off the holiday shopping season with early deals on thousands of popular brands and essentials like massage guns, treadmills, rowing machines, smartwatches, gym headphones, bone conduction headphones, free weights, home gym equipment, fitness apparel, shoes and more.
What other retailers are holding competing Big Deal Days or early Black Friday sales?
Amazon isn't the only retailer slashing prices this month. You can also find great deals on your favorite brands at other major retailers. Here are the top sale events we're watching in the coming week:
Shop other great fitness deals from Amazon's Prime Big Deal Days event