Happy Monday! Jonathan Johnson here as we enter into the October international break after another massive weekend of soccer action either side of the Atlantic.
New to the Golazo Starting XI newsletter? Get yourself the best deal in soccer and subscribe now to ensure you receive updates three times a week.
📺 Footy fix
All times U.S./Eastern
Monday, Oct. 9
🇦🇷 Copa de la Liga: Arsenal vs. Banfield, 5 p.m. ➡️ Paramount+
Tuesday, Oct. 10
🇦🇷 Copa de la Liga: Belgrano vs. Boca Juniors, 7 p.m. ➡️ Paramount+
🇪🇺 UWCL: Paris FC vs. Wolfsburg, 1 p.m. ➡️ DAZN
🇪🇺 UWCL: Manchester United vs. PSG, 3 p.m. ➡️ DAZN
Wednesday, Oct. 11
🇪🇺 UWCL: Real Madrid vs. Valerenga, 2 p.m. ➡️ DAZN
⚽  The Forward Line
🧱 Inter Miami now need to rebuild around Messi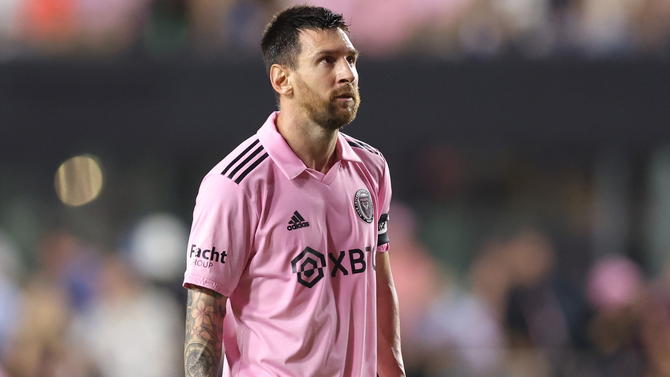 With the regular Major League Soccer season almost over with the last few playoff places left to be settled on the final weekend of action, Lionel Messi and Inter Miami already know that they will not be involved this postseason. Failure to reach the playoffs has cost the likes of D.C. United's Wayne Rooney and Minnesota United's Adrian Heath their jobs while Toronto FC are looking towards the future with former Canada national team boss John Herdman. Tata Martino's men will now be doing the same as they look to retool ahead of the 2024 campaign — their first full term with star man Lionel Messi who already helped them to their first trophy. Chuck Booth broke down what comes next for Messi and Miami.
Booth: "While the offseason hasn't started yet, preparing for it starts now. Miami were able to build almost an entirely new roster in just a month and win a trophy. But they were lacking in critical depth in attacking and defensive positions as MLS has one of the most demanding schedules in the world. Now having qualified for CONCACAF Champions Cup, the Herons will only have a more demanding road next season and they'll need to be prepared for that. Offering the ability to play with Messi, Sergio Busquets and Jordi Alba is one of the best recruiting tools in the world but evaluation needs to be done on who Martino would like to keep from the current roster."
As Booth later mentioned, Kamal Miller has already been signed to extended terms while Drake Callender and Dixon Arroyo could also be extended. However, this is also the chance for Martino and his staff to decide whether or not the squad that the Herons went with for the latter part of the 2023 season is truly good enough for what the club will be targeting next year. With continental soccer to factor in as well as how the team fells short in the U.S. Open Cup between Messi's injury and player unavailability due to international call-ups, this latest window could bring a deeper revamp of the squad than first expected — starting after the season-closing doubleheader with Charlotte.
Sponsored by Paramount+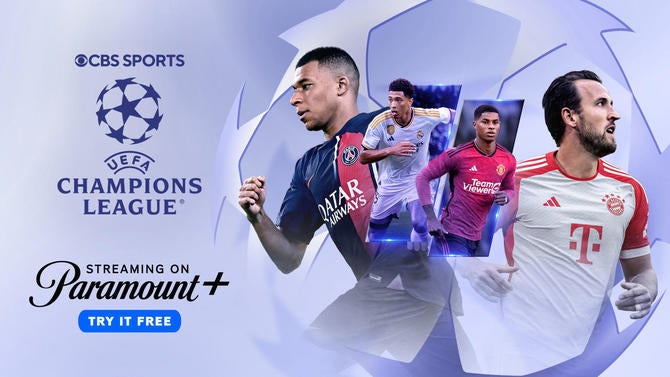 🔗  Midfield Link Play
😎 Arsenal flash title credentials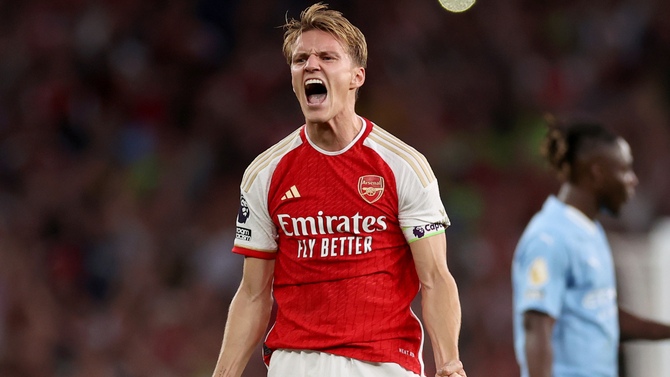 Arsenal's 1-0 win over Manchester City at Emirates Stadium on Sunday has the potential to be bigger than just three points with Pep Guardiola suddenly scratching his head at how his defending champions have lost three out of their last four games while Mikel Arteta's men are now two points ahead of City — level on 20 points with bitter rivals Tottenham Hotspur at the Premier League summit. The Gunners and Spurs are the only two unbeaten sides left in the English topflight with Arsenal now boasting the joint-meanest EPL defense along with City having conceded just six goals apiece all season so far. James Benge broke down Arsenal's defensive masterclass vs. City. 
Benge: "City would end this game with four shots, the fewest they have registered in a Premier League game under Pep Guardiola. This season only Wolverhampton Wanderers have a lower tally in any top flight match. As you might have noted, two of those efforts came in the early flushes of the contest. For 85 minutes plus added time City had two shots, both falling to Julian Alvarez, worth a combined 0.16 xG. From the 58th minute, nowt. That was the sum total of 100 touches in the final third, 49 completed passes and all sorts of ducking and weaving. Arsenal's defense gave no quarter as they put themselves in position to claim their first league win over the champions since December 2015."
Arsenal will need to carry that tight rearguard form into their next few games after the October international period with Chelsea and Newcastle United both away in the five games immediately after the current break. With a home and away against Sevilla in the UEFA Champions League, after having suffered a 2-1 loss to RC Lens last time out, it promises to be a testing period of the campaign for the Gunners, who will know more about their title aspirations come their home Premier League clash with Burnley in just over one month's time. Meanwhile City are also on a tricky run against the likes of Brighton and Hove Albion, Manchester United and Chelsea.
The Morning Footy crew, however, aren't sold that this result will be the defining one of the Premier League season.
🔗  Top Stories
🧪 Pogba faces long-term ban: Francesco Porzio on how Juventus and France star Paul Pogba is facing a lengthy spell out of the game after his second test confirmed increased testosterone levels which could now lead to a suspension of up to four years for the 30-year-old FIFA 2018 World Cup winner.
💥 Montpellier firecracker incident: There was a serious incident during Montpellier HSC vs. Clermont Foot 63 in Ligue 1 on Sunday with the game being interrupted and eventually ended prematurely after goalkeeper Mory Diaw was targeted with a thrown firecracker.
👋 Bye, Wayne: Chuck Booth picks through the debris as D.C. United  part ways with Wayne Rooney after failing to make the Major League playoffs for the fourth consecutive season. Now, Rooney could be the front-runner to take over Birmingham.
😰 Kylian Mbappe's goal drought: Paris Saint-Germain got back to winning ways on Sunday with a 3-1 success away at Stade Rennais in Ligue 1. However, Kylian Mbappe was not on the score sheet.
🧤 Giroud's Milan GK jersey: Pardeep Cattry on Milan deciding to honor Olivier Giroud's impressive stint between the sticks over the weekend by selling replica jerseys with the France international's name and number on them.
🤯 Wild nine-goal NWSL game: Chuck Booth on Kansas City Current's wild 6-3 win over the Chicago Red Stars this past Saturday which saw six different scorers for the Current in a record-tying NWSL game. 
🏅 U-23 USMNT Olympic prep: Pardeep Cattry looks at the latest USMNT under-23 picks as Paris Olympics preparations step up with Marko Mitrovic's roster including Gianluca Busio and Benjamin Cremaschi.
💰  The Back Line
💵 Best bets
Copa de la Liga: Belgrano vs. Boca, Tuesday, 7 p.m.
💰 THE PICK: Boca (+214) — Given their progression in the Copa Libertadores, Boca will understandably be gearing the rest of their season towards that. Considering how far they are off the pace being set by River Plate in the league, they will likely look to pick up silverware elsewhere including the Copa de la Liga where they face a midtable Belgrano side.
📺 What's on CBS Sports Golazo Network
☀️ Morning Footy (Weekdays, 8 a.m.): Get your day started with the biggest soccer storylines on the flagship morning show. Morning Footy is also available in podcast form, so you'll never have to miss an episode.
📦 Box 2 Box (Weekdays, 1 p.m.): The news-driven show quickly recaps all the latest headlines from around the world with panelists previewing the top matchups of the day. 
3️⃣ Attacking Third (Monday, Wednesday and Friday at 4 p.m.): The leading women's soccer podcast and social brand is now a live studio show. Catch our analysts and reporters break down all things women's soccer.
👟 Kickin' It (Wednesday, 8 p.m.): Hosted by Kate Abdo, Clint Dempsey, Mo Edu and Charlie Davies, the new unfiltered interview show returns Wednesday with U.S. women's national team legend Carli Lloyd. 
🥅 Scoreline (Nightly): End your day catching up on all the biggest news and results impacting global football, match highlights from the top soccer competitions and all the can't-miss goals from the day's action.
📺 How to watch: CBS Sports Golazo Network is a free 24/7 channel exclusively dedicated to offering unparalleled coverage of all the top soccer competitions worldwide. You can stream for free on the CBS Sports app, Pluto TV and Paramount+.