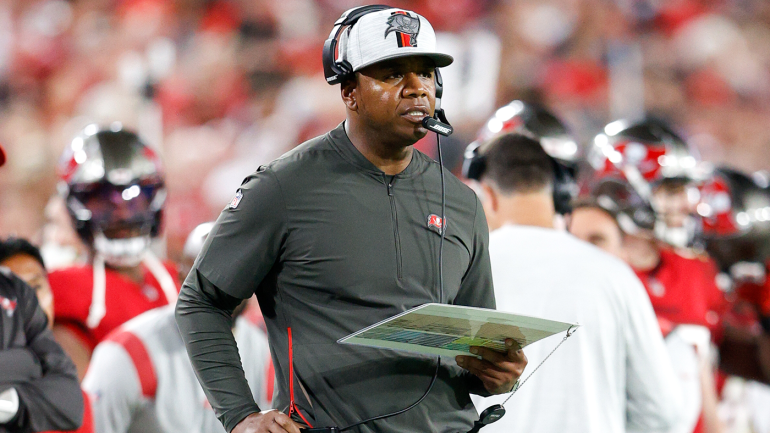 USATSI
A former quarterback and Super Bowl-winning offensive coordinator wants to help the Pittsburgh Steelers' offense get on track. Byron Leftwich, who won a Super Bowl in Pittsburgh as Ben Roethlisberger's backup and served as Tom Brady's offensive coordinator in Tampa, has inquired about a possible role with the Steelers, according to The Athletic's Mark Kaboly (via 93.7 The Fan). 
Leftwich reached out to the Steelers earlier this season, according to the report. The 43-year-old is currently available to work after he was let go by the Buccaneers this past January. Leftwich was let go despite the Buccaneers' offense playing an integral role in Tampa Bay's 2020 Super Bowl season. During his first two seasons with Brady as his quarterback, Leftwich guided a Buccaneers offense that was top-three in the NFL in scoring and either first or second in the league in passing yards. 
The Buccaneers' offense dipped to 25th in the NFL in scoring in 2022, which was one of the reasons why Leftwich was let go. In all, Leftwich has spent five seasons as an NFL offensive coordinator and seven years as an NFL assistant coach that includes two seasons as a quarterbacks coach. 
Before getting into coaching, Leftwich enjoyed a nine-year career as an NFL quarterback. He made 51 starts during his career that included one start as a member of the Steelers in 2012, his final season. In 2008, Leftwich replaced an injured Roethlisberger and helped lead the Steelers to a win over Washington on Monday night. 
Leftwich's inquiry likely occurred amid the backdrop of what has been a tough start for Pittsburgh's offense. Through five games, the Steelers' offense has scored just five touchdowns and has yet to score a rushing touchdown. Despite their issues on offense, the Steelers enter their Week 6 bye with a 3-2 record and atop the AFC North standings.