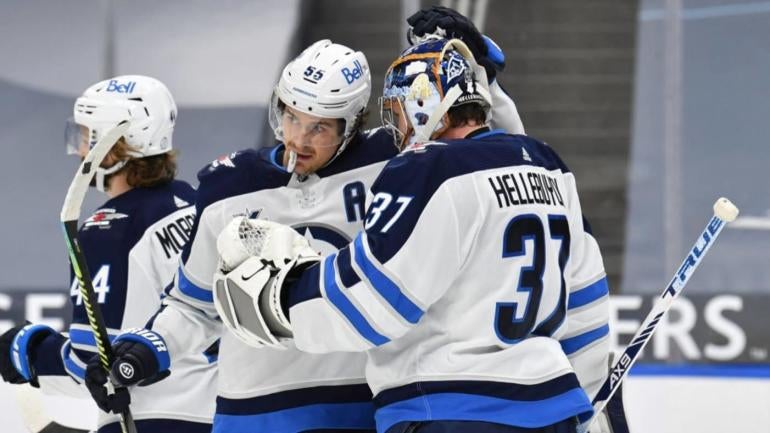 Getty Images
The Winnipeg Jets announced that they've signed goaltender Connor Hellebuyck and forward Mark Scheifele to identical seven-year, $59.5 million contract extensions on Monday. Both contracts will begin in the 2024-25 season and carry an average annual value of $8.5 million. Hellebuyck and Scheifele were slated to become unrestricted free agents following the 2023-24 season.
Hellebuyck is coming off of a season in which he put together a 37-25-2 record to go along with a 2.49 goals-against-average and a .920 save percentage. As a result of his stellar performance, the 30-year-old was named as one of the finalists for the Vezina Trophy as the NHL's top goaltender.
The three-time NHL All-Star was originally selected in the fifth round (No. 130) of the 2012 NHL Draft. Hellebuyck is the all-time Jets goaltending leader in career games played (445), wins (238), shutouts (32), and saves (12,465). He also leads all NHL goaltenders in games played (363) and saves (10,412) since the 2017-18 season began.
Meanwhile, Scheifele is fresh off of a year in which he scored a career-high 42 goals while adding 26 assists. He ranks first in team history in goals (272), playoff goals (19) and regular-season game-winning goals (44). Scheifele ranks second in both points (645) and assists (373) behind only Blake Wheeler.
Scheifele, 30, was selected with the No. 7 pick in the 2011 NHL Draft, and was the first player taken by the team once they made their return to Winnipeg. He has appeared in two All-Star Games in his decade with the franchise.