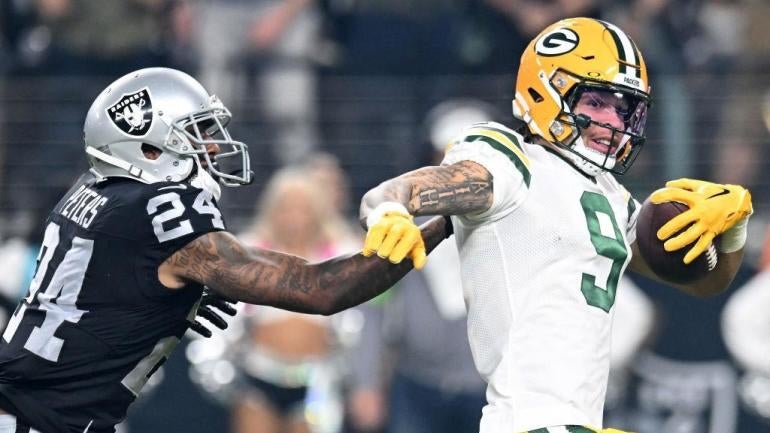 Michael Owens / Getty Images
The Las Vegas Raiders were able to survive the Green Bay Packers on Monday night, thanks to some instinctive play by Marcus Peters. While Peters had a crucial pass deflection that led to an interception, that wasn't his best play of the night.
That actually came in the form of a penalty. 
Packers wide receiver Christian Watson was open by 30 yards thanks to a busted coverage by the Raiders defense, setting him up for a long touchdown. Watson only needed to outrun one player to score a touchdown, but Marcus Peters made sure he wasn't getting into the end zone. 
To bring Watson down, Peters committed a horse-collar penalty at the 6-yard line. The play went down as a 77-yard completion to Watson, added with the horse-collar penalty which was enforced as half the distance to the goal. With the game tied 10-10, the Packers had first-and-goal at the 3-yard line. 
The Packers didn't score a touchdown and ended up kicking a field goal. They took a 13-10 lead, but the Raiders ended up winning 17-13. Without that penalty by Peters, the outcome might have been different. 
"I talked to Marcus [Peters]. It's the right penalty," Raiders head coach McDaniels said to reporters after the game, via a team transcript. "That's a really smart play in a critical time in the game. If it's the first quarter in the middle of the field, you don't want to horse collar. But if you're saving a touchdown on a long play like that, you at least give yourself a chance to play a few more downs, which he did. 
"And then the defense really rose up and played well. I thought they played well for the most part."
Peters finished with a 70.1 passer rating in coverage Monday (4 of 6, 31 yards), but his penalty may have saved the game — and the season — for the Raiders.