Victor Wembanyama flashed all the goods in his preseason debut on Monday, finishing with 20 points in 19 minutes against Chet Holmgren and the Thunder. He hit a pair of 3s, hit the offensive glass, sprinted ahead in transition, made a couple high-end passes and self-created his way to the rim finished, where he finished with both bully-ball power and sublime off-hand finesse. It was total-package stuff. 
And this was just the offense, where Wembanyama, relatively speaking, will be a more of a work in progress throughout his rookie season and first career chapter. Defensively, he's ready to dominate right now, and he showed as much on Monday. 
Let's look at two plays, one steal and one block, that illustrate the unprecedented defensive range Wemby is bringing to the table. 
The first comes early in the first quarter. Wembanyama is defending Jalen Williams, who gets the big man turned inside out and beats him pretty clean to the rim. But Wemby is, first of all, so athletic that he's able turn his hips and start to recover fairly quickly, and from there, he's so long that he's still able to fly in from outside the restricted area and still block what looked like a sure Williams layup. 
Wembanyama is 7-foot-4 with an eight-foot wingspan. You can beat him, as Williams did here, and he very likely is still going to interrupt your shot, if not block it outright.
There haven't been many 7-4 players throughout NBA history to begin with, but to be that big with that kind of reach and that kind of athleticism to put all those metrics to their fullest use, it's truly unprecedented. The ground this guy can cover has the potential to completely recode normal defensive geometry. 
Wemby, in a switch-necessary league, is going to be able to cover smaller guys even if he can't always stay with them off the dribble because he can play such freakish catchup from behind (and also because it will be a chore to get off a clean jump-shot over his contests, let alone make one), and his ability to impact all manner of shots, from all over the court, as a roving helper will be virtually limitless. 
Exhibit B: A few minutes later, Wembanyama is covering Josh Giddey at the top of the key. Cason Wallace drives to the middle, and Wemby, from damn near the 3-point line, stretches, in one lunge, all the way to the free-throw line (the nail, in nerdy NBA parlance) and swipes the ball away, which leads to a run-out dunk for his efforts. 
Honestly, look at this range.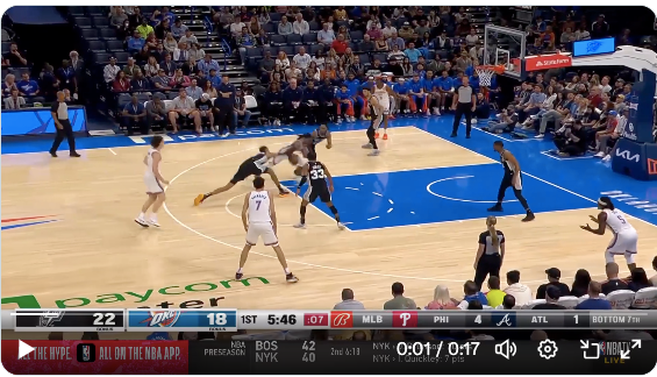 There is almost no position on the court from which Wembanyama cannot impact a play on the defensive end. It's special stuff, and it's going to have him at the top of Defensive Player of the Year ballots for years to come.