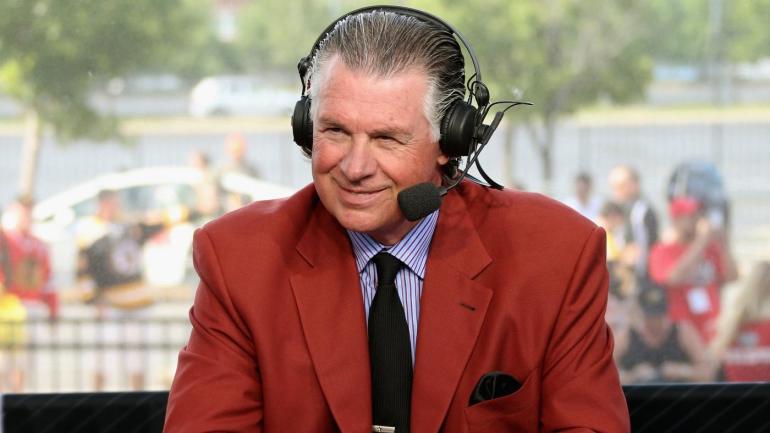 Getty Images
Former NHL coach and beloved hockey analyst Barry Melrose has been diagnosed with Parkinson's disease, ESPN's John Buccigross announced Tuesday. As a result, Buccigross will be stepping away from his role with ESPN prior to the 2023-24 season.
Just hours before the puck dropped on opening night, Buccigross posted about Melrose's diagnosis on social media. He also posted a video narrated by Wayne Gretzky that highlighted Melrose's contributions to the game as a player, coach and TV personality.
NEWS:
Barry Melrose has Parkinson's disease and is stepping away from our ESPN family to spend more time with his. I've worked with Barry at ESPN for over a quarter century. Cold beers and hearty laughs in smokey cigar bars. A razor sharp wit, he was always early & looked like a… pic.twitter.com/gjjSAEuG2s

— BucciOT.Com (@Buccigross) October 10, 2023
Melrose began his NHL career as a player on the Winnipeg Jets in the 1979-80 season. He went on to play a total of six seasons with the Jets, Toronto Maple Leafs and Detroit Red Wings. In that time, Melrose totaled 10 goals, 23 assists and 728 penalty minutes.
Melrose then went into coaching, and by the 1992-93 season, he had become the head coach of the Los Angeles Kings. In his first year behind the bench, Melrose led Gretzky and the Kings to a 39-35-10 record and a spot in the Stanley Cup Final.
The Kings fired Melrose halfway through the 1994-95 season, and he spent a brief 16-game tenure with the Tampa Bay Lightning in 2008-09.
Following his tenure with the Kings, and after his stint in Tampa, Melrose worked as a color commentator and studio analyst for ESPN. Melrose quickly became well-liked for his mullet, stylish suits and his entertaining breakdowns of the game. In total, Melrose spent more than two decades at ESPN, providing insightful analysis and bringing new fans into the fold.