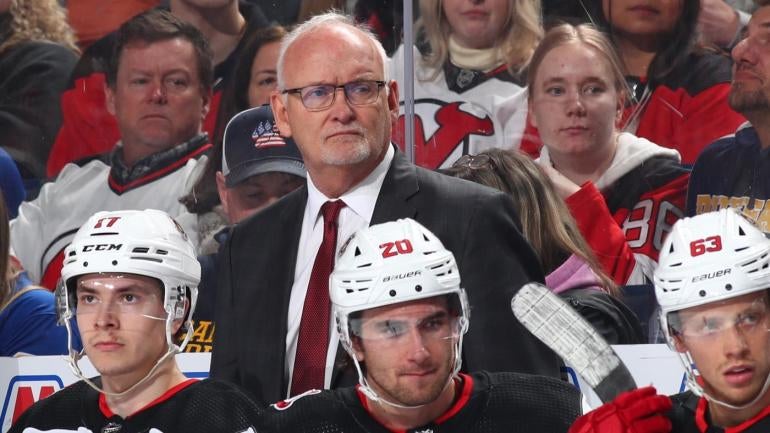 Getty Images
After beginning last season on the hot seat, New Jersey Devils coach Lindy Ruff has now signed a multi-year contract extension, the team announced Wednesday. Ruff has led a resurgence for the Devils, and now they are legitimate Stanley Cup contenders.
After the first two games of the 2022-23 season, fans at the Prudential Center were chanting, "Fire Lindy." Then, New Jersey went on a 14-game winning streak and won 52 games before defeating the rival New York Rangers in the playoffs.
Now in his fourth season as New Jersey's coach, that earned Ruff a couple more years on the job, and Devils general manager Tom Fitzgerald said Ruff has been pivotal in helping the team develop throughout its rebuild.
"We're incredibly fortunate as an organization to have Lindy Ruff behind the bench to guide this group, who've made significant strides under his leadership," Fitzgerald said. "I've always believed that Lindy was, and continues to be, the right man behind the bench for this team. From the beginning, he's done a tremendous job piloting our young group, and we're excited to see this team's continued success under his watch as we take the next steps."
In his own statement, Ruff expressed his excitement about remaining in New Jersey for the near future, and he wants to keep building upon the success the Devils had last season.
"I'm thrilled to commit here to this situation and couldn't be prouder of the great progress that our group made last season," Ruff said. "We have a special group in Jersey and there's an opportunity to accomplish long-term success, make a lot of positive memories and give our fans a lot to cheer about – because our Devils' fan base is one of the best in the League and they deserve to see a winner."
Ruff is entering his 23rd season as an NHL head coach, and he is fifth all-time with 834 wins. He should be able to add quite a few victories to that total this year because the Devils are one of the favorites to hoist the Stanley Cup in 2024.