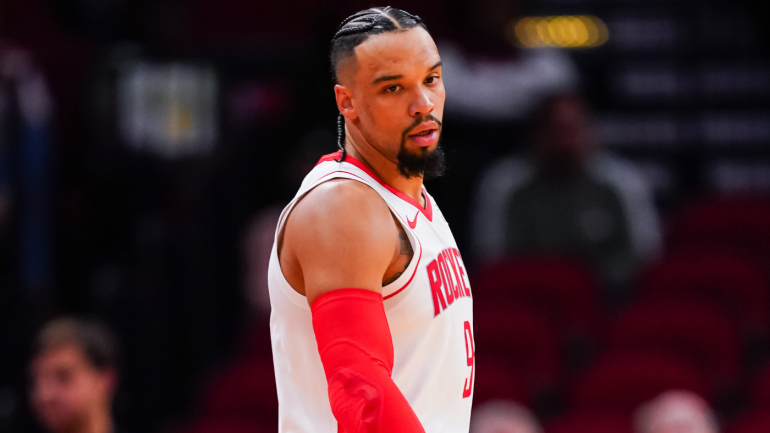 Getty Images
Dillon Brooks is many things, but subtle isn't one of them. He is among the NBA's preeminent trash-talkers and he backs it up with some of the most physical play in the league. He was suspended during the 2022 playoffs for a dirty hit on Gary Payton II and then suspended again last season for picking up his 16th technical foul. The Houston Rockets signed him for the tough mindset he'd help the team play with, and he lived up to his end of the bargain with perhaps the most on-brand debut in recent NBA history.
On Tuesday, the Rockets opened their preseason schedule against the Indiana Pacers. Brooks started the game at small forward, but exactly four minutes and 33 seconds into the game, he was whistled for a foul after hitting Pacers big man Daniel Theis in the midsection. It was eventually ruled a flagrant-2 foul, and Brooks was ejected fewer than five minutes into his Houston debut.
Obviously, the Rockets would prefer that Brooks avoid getting ejected from games that count, but in a preseason matchup, there's little harm done. Brooks was brought in to set a certain kind of tone for a Rockets team that largely hasn't defended or played winning basketball over the past three seasons. Ejections and dirty hits aren't a part of that tone, but playing tough, physical basketball certainly is.
Brooks is in the first year of a four-year, $86 million contract with the Rockets. He's there because his former team, the Memphis Grizzlies, elected not to try to re-sign him in part because of the fines, suspensions and headlines that come with him. The Rockets surely expected all of those things to follow Brooks to Houston, but the fact that they've come so quickly was probably a surprise to the front office that signed him.