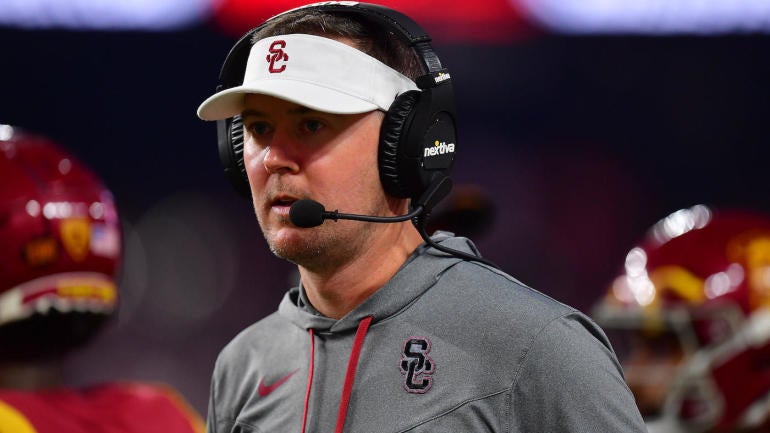 USATSI
USC comes into this week's showdown against rival Notre Dame with a 6-0 record, but many in the fanbase and media have expressed concern over potential red flags surrounding the team's defense after the Trojans surrendered 40-plus points in back-to-back weeks against conference foes. Following his team's practice Tuesday, Trojans coach Lincoln Riley defended his defense and coordinator Alex Grinch, giving them credit for a 43-41 comeback win over Arizona last weekend. 
"There's a lot of great things happening here," Riley said. "We will own the things that need to get better. People need to make sure they're seeing the other side of it as well. That's what we have been trying to say for a long time. … we are venting a little bit of frustration with that to be completely honest. I like the job we are doing there. I think we are set up to play really well in the second half of the season."
Riley brought up a missed Trojans field goal at the end of regulation against Arizona. He believes if USC had made the walk-off kick and won the game at that point, his defense would have received the credit it deserved.
"You get to that point in games like that and somebody has to make a play to turn it around," Riley said on Tuesday. "(If) we (made) that field goal (at the end of regulation) we would be talking about how the defense only gave up 11 points the rest of the day and they started the run that got us back on the same page. But it's one field goal that we don't make that the defense has no control over. All everyone wants to do is look at the final score and it just doesn't tell the entire story. … this is a much improved (defensive) unit. There's no question about it."
The Trojans defense ranks No. 10 in the Pac-12 in total yards allowed (421.3) and No. 7 in the conference in points per game (27). Despite a 3-0 start in conference play and another outstanding start to the season for reigning Heisman winner Caleb Williams, USC continues to slip in the AP Top 25 thanks to questions about that side of the ball. 
USC's defense will get plenty of chances to answer all of those questions and prove Riley right. Five of the team's final six opponents ranked. That stretch run starts this week with a trip to South Bend, Indiana to take on quarterback Sam Hartman in what will be the team's toughest challenge to date.