The Golden Knights will face stiff competition at the top of the NHL this year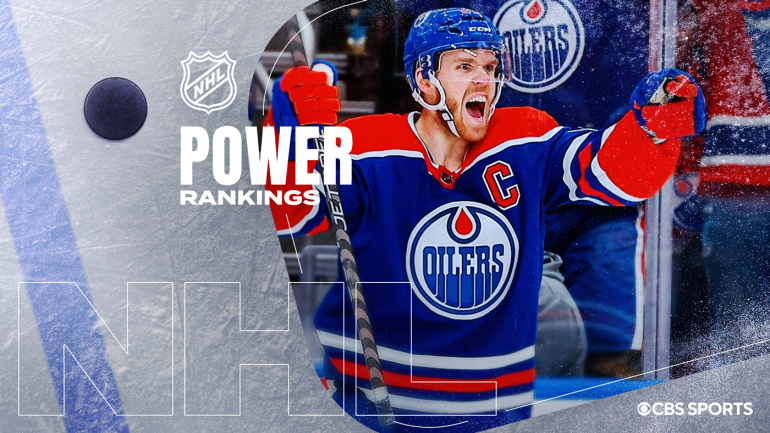 Kim O'Reilly, CBS Sports
The preseason is over, and the 2023-24 NHL regular season is on deck. Before we do that, we'll take a look at where each team stands heading into opening night.
The Vegas Golden Knights are looking to defend their title as Stanley Cup champions, but they are going to get some major challenges from teams in both conferences. The Edmonton Oilers are going to want revenge for what happened in the playoffs last year, and teams like the Carolina Hurricanes and New Jersey Devils are ready to strike in the East.
It should also be interesting to see whether there is a changing of the guard, especially in the East. Veteran squads like the Boston Bruins and Tampa Bay Lightning could give way to the Ottawa Senators or Buffalo Sabres. That said, taking the next step in a loaded division will be easier said than done.
Before the season gets started, here is a look at the preseason NHL power rankings, which will not need to be changed because they will prove correct all year long.
Biggest Movers
8 Penguins
6 Golden Knights
| Rk | Teams |   | Chg | Rcrd |
| --- | --- | --- | --- | --- |
| 1 | Oilers | The time is now for Connor McDavid and the Oilers. This is the best roster Edmonton has had since McDavid joined the fold. The Oilers never had any trouble putting the puck in the net, but keeping the opposing team off the board was usually a problem. That changed last season after the team acquired Mattias Ekholm. His presence on the blue line was exactly what the Oilers needed, and they enter the 2023-24 campaign as a Stanley Cup favorite. | 1 | 0-0-0 |
| 2 | Hurricanes | Carolina has been in the contender mix for several years, but this year might be a special one in Raleigh. The Canes added Michael Bunting and Dmitry Orlov to an already elite roster, and they stand out as one of the NHL's very best teams even in a tough Metro Division. Giving coach Rod Brind'Amour a team with this much talent spells bad news for the other teams at the top of the Eastern Conference. | 3 | 0-0-0 |
| 3 | Stars | The Stars have been quietly building toward contention, and they have officially arrived. Jason Robertson and Roope Hintz are simply electric. Joe Pavelski has some secret anti-aging serum. Wyatt Johnston looks like a budding star. Miro Heiskanen is a Norris Trophy contender. Jake Oettinger can be one of the best goalies in the NHL. The depth includes Matt Duchene, Jamie Benn, Tyler Seguin and Mason Marchment. This team will win more than its share of lopsided games. | 3 | 0-0-0 |
| 4 | Devils | New Jersey might have the best top-six forward group in the NHL. Jack Hughes, Jesper Bratt, Nico Hischier, Dawson Mercer, Timo Meier and Tyler Toffoli is a sextuple that no other team can match. The Devils will be able to come at its opponents with waves of speed and skill. They were able to catch teams off guard last year, and while they won't be able to do the same in 2023-24, it won't matter. New Jersey is bursting at the seams with firepower. | — | 0-0-0 |
| 5 | Avalanche | I'm sure the Avalanche are ready to stop hearing about their first-round playoff loss to the Kraken last year. That was an unceremonious end to a season plagued by injury and frustration in Denver. While Gabriel Landeskog will miss the entire season again, the Avs still have all the makings of a Stanley Cup contender. It helps to have MVP-caliber players like Nathan MacKinnon and Cale Makar driving the bus. | 2 | 0-0-0 |
| 6 | Maple Leafs | Even after getting the first-round monkey off their backs last season, the Maple Leafs are facing a lot of pressure to win something of substance with the Core Four still intact. This looks like the season to do it. The Bruins and Lightning face some rather large questions, so the door is open for Toronto to take the Eastern Conference. Can Auston Matthews provide a transcendent playoff performance and get the Leafs to the promised land? | 5 | 0-0-0 |
| 7 | Golden Knights | This is probably disrespectful to the defending champs, but it speaks to the strength of the six teams above the Golden Knights. Vegas is very much a threat to repeat, especially if Mark Stone and Jack Eichel can remain healthy for the entire season. Perhaps the biggest question about the Golden Knights in their Stanley Cup defense is whether Adin Hill can replicate his exceptional playoff performance in goal. | 6 | 1-0-0 |
| 8 | Bruins | Patrice Bergeron and David Krejci are gone. Taylor Hall, Tyler Bertuzzi and Dmitry Orlov are gone. Despite all those losses, the Bruins are still a very good team. David Pastrnak could be a Hart Trophy candidate this year, and Brad Marchand will continue the culture developed by players like Zdeno Chara and Bergeron. On top of that, Boston will still be elite at keeping pucks out of its own net. That will be enough for the B's to contend in the East yet again. | — | 0-0-0 |
| 9 | Rangers | The Rangers are a great team with a couple of flaws. That was on display last season when they had a strong regular season but fell to the Devils in the first round of the playoffs. There is elite talent at the top of the lineup. Not many teams have a collection of players like Mika Zibanejad, Artemi Panarin, Adam Fox and Igor Shesterkin. The problem for the Rangers might be depth scoring and the strength of their own division. | 1 | 0-0-0 |
| 10 | Kings | Tired of being the Oilers' first-round punching bag, the Kings went out and made an offseason splash by acquiring Pierre-Luc Dubois from the Winnipeg Jets. Los Angeles did give up Gabriel Vilardi to make that happen, but the trio of Dubois, Anze Kopitar and Philip Danault gives the team impressive depth down the middle? Will it be enough to get over the playoff hump? It will be fun to find out. | 1 | 0-0-0 |
| 11 | Panthers | After the Panthers' Stanley Cup Final run last season, it can be easy to forget that they barely snuck into the playoffs after an inconsistent regular season. Those struggles stemmed, at least in part, from injuries. Unfortunately for Florida, they will start the season without Aaron Ekblad and Brandon Montour for a while. This is still a playoff team, but getting there will be a bumpy ride again. | 4 | 0-0-0 |
| 12 | Penguins | Last season, the Penguins missed the playoffs for the first time since the John Quincy Adams administration, and they did not sit on their hands. They made a change at GM, and that new GM swung a huge trade to get Erik Karlsson, the reigning Norris Trophy candidate. Pittsburgh is on track to make at least one more Cup run, but Father Time and a competitive Eastern Conference will make that very difficult. | 8 | 0-1-0 |
| 13 | Flames | The Flames were probably the most disappointing team in the 2022-23 regular season. At least, that is how I feel after picking them to win the Stanley Cup. Calgary wound up missing the playoffs entirely and firing coach Darryl Sutter. That said, the Flames did a lot of things right last year, and there is still a lot of talent on this roster. I would expect a bounce back for Calgary under new coach Ryan Huska. | 1 | 0-0-0 |
| 14 | Wild | Over the last year, the Wild reverted back to their natural form. They insisted on playing — and winning — some low-scoring games. There is no questioning Minnesota's defensive prowess, and if Filip Gustavsson can continue what he did in 2022-23, opposing teams will have a hard time scoring on them. Still, it's fair to wonder whether the Wild have enough offensive juice outside of Kirill Kaprizov. | 2 | 0-0-0 |
| 15 | Senators | Like the Sabres took the league by storm last season, I think the Senators will do the same thing in 2023-24. Ottawa has young talent hidden in every nook and cranny of the Canadian Tire Centre. Brady Tkachuk and Tim Stützle are a nice one-two punch at the top of the lineup, and having Jakob Chychrun and Thomas Chabot on the back end isn't too shabby either. Making the playoffs will still be a battle for this team, but no matter what happens, it will be highly entertaining. | 2 | 0-0-0 |
| 16 | Lightning | For much of this offseason, I felt like the Lightning were being a little slept on in the Eastern Conference. Then it was revealed that Andrei Vasilevskiy would be out for the first two months of the season. Tampa still has Cup-contender talent at the top of its lineup, but the goaltending situation behind Vasilevskiy is rather bleak. The Bolts might struggle to outscore their situation in the crease. | 4 | 1-0-0 |
| 17 | Sabres | After an exciting 2022-23 campaign, Buffalo will make an even stronger playoff push this year. The offensive skill on this team is clear every time you see Tage Thompson do something ridiculous with the puck on his stick. The Sabres will not struggle to score, but they still need to take a step forward in their own end. They sacrificed too much defense for offense last season, and subpar goaltending didn't help. If they can tighten up defensively, and if Devon Levi can be the guy in goal, Buffalo will be in the postseason. | 4 | 0-0-0 |
| 18 | Islanders | I don't know why I have this team outside the playoff picture. We all know that Ilya Sorokin will put this team on its shoulders, and the trio of Mat Barzal, Bo Horvat and Brock Nelson will generate just enough offense to get the Islanders into a wild-card spot. Still, I can't help but be underwhelmed by this forward group overall, and I think the playoff race in the East will be much tougher this season. | 1 | 0-0-0 |
| 19 | Kraken | The Kraken have a tough act to follow after they took down the Colorado Avalanche in their playoff debut last season. Replicating those results might be tough for Seattle given their unusually high shooting percentage and a big season from Daniel Sprong, who is no longer on the team. The Kraken won't revert to the depths of their inaugural season, but I do expect a slight step back for a team that played a little over its head last season. | 4 | 0-1-0 |
| 20 | Canucks | Vancouver seems perpetually stuck in this range. Can the team rise above that this year? I'm not so sure. Elias Pettersson and Quinn Hughes are exceptional. Andrei Kuzmenko was a tremendous find. Thatcher Demko has potential to steal some games in goal. Having said that, the Canucks have been stuck in the mud for a while, and this season may be no different. Maybe Rick Tocchet can get more out of this group, but I'll need to see it first. | 5 | 0-0-0 |
| 21 | Jets | There were some significant changes in Winnipeg this offseason. Pierre-Luc Dubois and Blake Wheeler are gone, and new blood like Gabriel Vilardi and Alex Iafallo joined the fold. Things are different for the Jets, but the competition for wild-card spots in the West should be pretty wide open. | — | 0-0-0 |
| 22 | Red Wings | There is potential for the Red Wings to finish much higher than this ranking. The addition of Alex DeBrincat gives them a much-needed scoring touch at the top of the lineup, but there are still several questions about this roster. The forward depth leaves something to be desired, and the blue line is questionable outside of Moritz Seider and Jake Walman. There is pressure for the Yzerplan to come together this season, but Detroit might fall shy of a playoff spot once again. | 4 | 0-0-0 |
| 23 | Predators | Barry Trotz wasted no time after taking over as the new general manager. He made a coaching change to Andrew Brunette and executed a major roster shake-up. Veterans like Ryan O'Reilly and Luke Schenn will mix in with a few established stars and some promising but unproven talent. The Predators may not be good, but they will be interesting as they try to reinvigorate this roster. | 1 | 0-1-0 |
| 24 | Capitals | The Capitals are heading in the wrong direction, but maybe that's okay. If they take a step back and improve their draft position, that will allow Washington to restock its prospect pool while Alex Ovechkin chases down Wayne Gretzky on the all-time goals list. That alone will be worth the price of admission for Caps fans, and maybe new coach Spencer Carbery can squeeze some more juice out of this veteran roster. | 1 | 0-0-0 |
| 25 | Coyotes | The Coyotes have been lost in the desert for a while now, in more ways than one. However, this year should bring a step forward on the ice. The additions of Jason Zucker, Sean Durzi, Matt Dumba and Alex Kerfoot make the Coyotes look much more competitive on paper. What will really determine how high Arizona climbs will be internal improvement from the likes of Logan Cooley, Matias Macelli and Barrett Hayton. | 7 | 0-0-0 |
| 26 | Blues | The situation in St. Louis has gone downhill rather quickly. There are still things to like about the team up front, but there are huge question marks elsewhere. Most of the Blues' defense is over the age of 30, and they all took a noticeable step back in 2022-23. Jordan Binnington has also been on the wrong track since winning a Stanley Cup in 2019. The Blues might be able to put the puck in the net, but they will still give up more than they get. | 4 | 0-0-0 |
| 27 | Blue Jackets | Mike Babcock's tenure as the Blue Jackets coach lasted about as long as William Henry Harrison's presidency, and now Pascal Vincent will lead a team that struggled immensely last year. Columbus did upgrade its blue line in the offseason, and the addition of Adam Fantilli will make the Jackets more exciting, but there is still a lot of work for GM Jarmo Kekalainen to do. | — | 0-0-0 |
| 28 | Ducks | The Ducks avoided serious disaster by getting RFAs Trevor Zegras and Jamie Drysdale signed just before the start of the season, but it will still be a long year in Anaheim. The Ducks will probably be better on defense simply because they cannot possibly be worse, but it's clear this rebuild needs a couple more years before it picks up any kind of steam on the ice. | 1 | 0-0-0 |
| 29 | Blackhawks | This season should be relatively stress-free for Blackhawks fans. They've already got their generational player. Now, it's about watching him grow and being bad enough to draft more elite talent in 2024. Chicago will almost certainly be successful in that reward, so sit back and enjoy The Bedard Show. | 1 | 1-0-0 |
| 30 | Canadiens | The Habs are still firmly in rebuild mode, but they have enough young talent to be entertaining. This will be a big year for Cole Caufield and Nick Suzuki, though. Montreal has pinned its hopes on those two players, and it's time for them to prove that they can be legitimate franchise cornerstones. | 4 | 0-0-0 |
| 31 | Flyers | Even with Sean Couturier expected to be back this season, the outlook for this Flyers team is rather ugly, and that's okay. Philadelphia needs to keep progressing its young talent while acquiring some more. This year, the Flyers will be squarely in the race to win the draft lottery. | 3 | 0-0-0 |
| 32 | Sharks | After trading away Erik Karlsson, the Sharks are easily the worst team in the league. Tomas Hertl and Logan Couture will provide some talent within the forward group, but it is a tough scene in San Jose these days, which is by design. Things will get worse before they get better for the Sharks. | 1 | 0-0-0 |
Our Latest NHL Stories